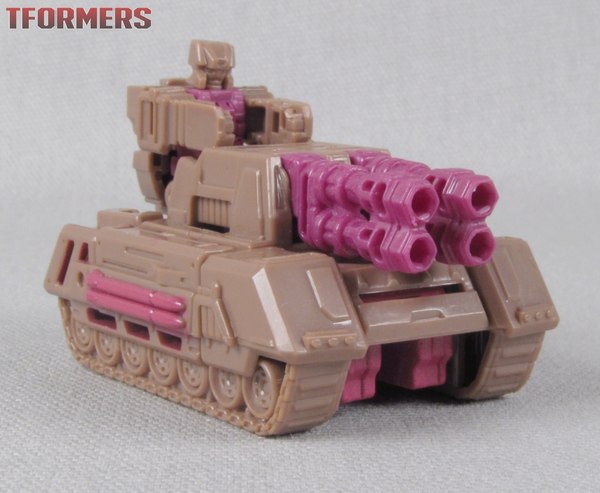 Click on any image to view the gallery!
Wave 2 Titan Masters are here! Man, hope the other size Wave 2s show up as fast... But anyway, we're going to start with the vehicle reuses. First up is Skytread!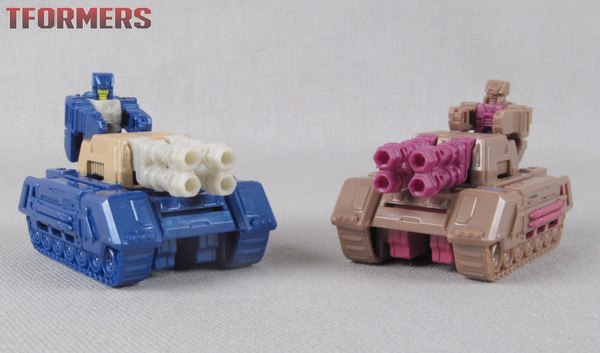 Skytread inherits Terri-Bull's vehicle. In his previous life as the Duocon Flywheels, Skytread had a single body composed of a magenta jet and a reddish-brown tank. Titan Master Skytread... pilots a tank that turns into a jet! That's ballpark, right?
The tank is actually a bit less colorful than Terribull's blue, tan, and gray tank, but the color seems better distributed for a tank as well as just a tankier color scheme. It's a light brown with red guns and red missiles painted on the side. It looks nice, and it works exactly the same way as Terri-Bull's did.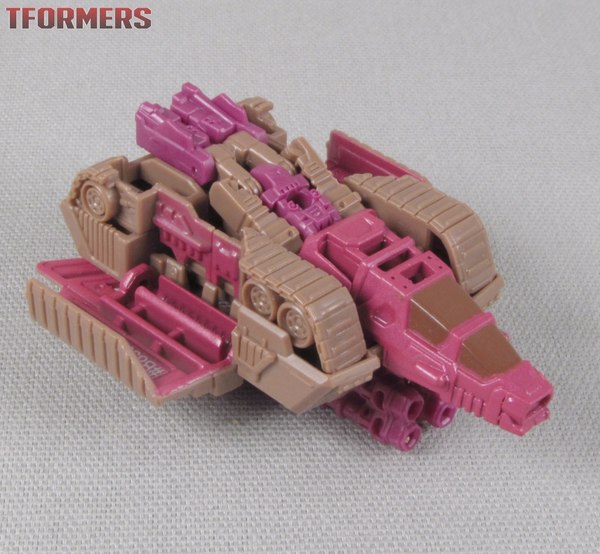 By necessity, the Jet can't be as monochrome as G1 Flywheels'
or
Titan Master Terri-Bull's. But the two-tone deco looks good and makes functional sense for Integrated Mode. Skytread is a bit more difficult to plug in for his Reverse Jet Luge, probably because of the shape of his backface - it's a bit more square. (In fact, I didn't realize I wasn't plugging him in properly when I took these photographs.) But he snaps in firmly once you get him there, and he looks more like a part of the jet than Terri-Bull, blending into its color scheme well enough. Although as is typical, the magenta plastic and paint don't quite match.
Weapon mode is pretty much unchanged, and still works just fine while looking just a touch unwieldy when held by smaller figures. Go with Voyager or up.
Skytread has slightly weak knees but otherwise works pretty well as a tiny robot. He reuses Terri-Bull's body, so no resemblence to the original Flywheels.
Skytread's vehicle is just as good as Terri-Bull's, and arguably has better paint. On top of which he has a fantastic headsculpt. At $5 US a pop I don't think it's too much of a stretch to justify buying both. If you only want one of each vehicle... I think Skytread is slightly better than Terri-Bull in most respects. But it's close enough that you can just leave it down to which face or vehicle color scheme you prefer.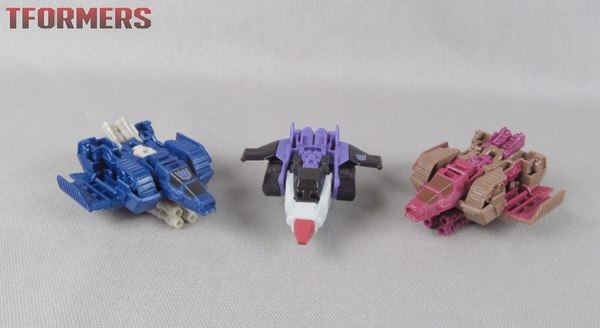 | | |
| --- | --- |
| Reviewer | RAC |
| Date | July 31st 2016 |
| Score | (8 out of 10) |
| Reads | 5214 |
Back to Reviews Index