A year after the rediscovery of Luna 1, Fortress Maximus and Red Alert maintain watch over its wonders: a cooling hot spot, a graveyard of Titans, a planetary thruster array, and the latest additions, the population of Roboids currently undergoing the slow process of rehabilitation. And as they see off one of their guests on his way to resume his life, they are joined by an unexpected - and very unwelcome guest. "Departures" written by James Roberts, art by Priscilla Tramontano, colors by Joana Lafuente.
First a word of warning: The Transformers #56 was written to be published before this issue. The shipping order got switched however, which means that this issue has quite the spoiler in it - but one that would be inconsequential at this point without the recap paragraph on the credits page explaining exactly what's what. So while it may not be specifically necessary to skip reading this issue until after TF 56 comes out - the timeline will just be a bit out of whack, mainly - definitely skip over the credits page so you can go through without the context that spoils everything.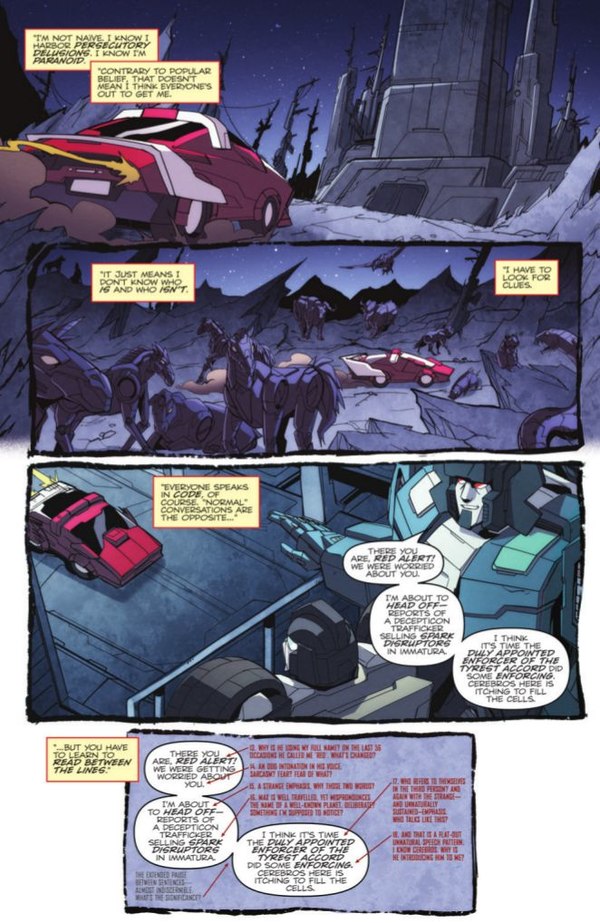 Probably my favorite page, but I wish Red's annotations were more readable on the preview.
Anyway, thanks to the solicitations, it's no spoiler to say that Prowl arrives on Luna 1. And he's greeted in an ever-so-satisfying way. I'll echo RAC in the sentiment that Prowl's been wholly overused and needs to go away for no small amount of time. His development path since the start of Robots in Disguise has been interesting, but also quite erratic with a bit more stop and start than has really served it at all, and by this time he's fallen in to a path that is probably irredeemable without an end involving "permanent" death. But as much as I hate to admit it, Prowl is actually pretty entertaining as written by James Roberts. Prowl takes a very flippant attitude in being Prowl here, quite different from how he wound up under Barber and more recently Nick Roche in still holding a smug superiority but playing it all with hard edged seriousness. This interpretation of Prowl comes off as actually capable of having some fun. It's certainly a necessity to his use in this issue where he is not supposed to be playing the villain. And villain or not, being able to read Prowl in a story without getting anywhere within a range from annoyed to somewhat angry is a plus.. That might well be the issue's big win.
Another win lies with Red Alert. Rather like we have occasionally had "Ultra Magnus vision" to depict how he (literally in those cases) sees the world, we get something of a similar idea for Red. This is more figurative, shown as Red Alert picking apart a speech bubble worth of dialogue for all of its comic book dialogue tropes, but coupled with some of his own internal monologue about his personality issues, it stands up as something you believe he does all the time. There's an implication of a visual side to this with the suggestion of seeing a pattern in something supposedly random, but without any guide markers in the art it doesn't clearly come off as meaningful or helpful at a casual glance. I'd have liked to see a bit of a more overt jump in to that side as well, honestly, to tie the setup in to the eventual payoff.
This issue sets down its position in the overall timeline as being a year after Tyrest activated the Killswitch. We know there was some time between that event, and Dark Cybertron happening, and then of course after Dark Cybertron there was a six month jump before MTMTE and (formerly)RID picked back up. Which since at this point it's also a month or two after what we saw in The Dying of The Light leaves a surpsingly narrow window of time for all the goings on since the respective issues 28 of both titles to have happened within. And up to a point I can buy in to that. MTMTE was mostly happening within the space of a few days between issues 28 and 38. But between 40 and 50 as things became more "episodic" the individual stories struck me as having downtime in between. It kind of goes with the tedious, meandering nature of that stretch of issues where it felt like we would never actually get anywhere ever again. I suppose at a stretch it can work as presented, but it really feels like events are squished down - not to mention making that six month jump feel now like a bad narrative move. Creating a disconnected starting point was kind of necessary, but firmly grounding us to a specific point in time, then realizing as a reader that maybe as much as two thirds of it (counting the undisclosed time lapsed between Remain in Light and Dark Cybertron) happened off panel, NOW it feels like fixing a problem that would have kind of worked itself out anyway. This is part of why, as much as I like having a timeline of events, sometimes I think it's more harm than good to pin down where a story takes place in time to that specificity. And here it really feels superfluous. There's at best very little purpose to stating the time, and I more feel like it helps nothing at all. Maybe it'll carry some importance to be a specific day next issue?
Priscilla Tramontano is bringing the lineart for this issue, and it's a fun change of pace! Her style is very expressive, which serves some parts of this issue quite well. There's also a quality to it that I can only think to describe as a fluidity. The art isn't keeping itself stuck to precise consistency from panel to panel if the next part of the sequence is served by having some exaggeration one way or another. It keeps a nice feeling of energy throughout, and it's really enjoyable to read. The action is also easy to follow for the larger part, though I did find a couple places where it feels more like a hard jump rather than a smooth progression between steps. I'd put that as much to having to get a lot of content in a given page as I would blame anything else, though. But I love the smaller things. There's great facial expressions all through, for one. And here's a really important one: everyone's face is pretty distinctly different from each other. At a certain point, you'll probably notice a general trend where particular features might change between characters, but the underlying structure is basically the same from one to the next. It's kind of like becoming conscious of your own breathing where once you pick that out it's hard to stop noticing (you're welcome!). So I think when we have an occasion where this is not the case, it does deserve special attention. Along that line, there's one page with four short, but full page width panels stacked on top of each other. It's a sequence of Prowl with only small pose changes from one to the next, and I just love that (to the best I'm able to tell) each one is drawn uniquely, even where the body parts stay static. Honestly, if reusing elements in a place like that is appropriate and helps get the job done on time I'm really not gonna hold it against anyone. But it's fun to see this execution. Joana Lafuente is still on colors, and pairs well with this art style. But then, Joana is a fantastic colorist who seems to pair well with anything. I wish I could point to any specific standout coloring this issue. The moon's constant twilight state throughout possibly precludes any such opportunities. But the coloring is just really consistently strong all the way across.
My favorite cover associated with this issue is the incentive cover, which sadly is the one that has no information on the credits page of the preview or the full digital copy as of the time I read it. However, the style is very much like the incentive cover from Transformers 55 by Carlos Valenzuela, and I'm presuming this cover is his work as well. I'll be glad to correct this if it turns out I'm mistaken! I love the coloring style on this, as well as the different take on the MTMTE models for Rodimus and Magnus. I think I made the comparison with the TF 55 cover, but it kind of has a feel of classic toy boxart. Especially in the case of Magnus it's easy to imagine if this specific design had a toy in G1, its packaging art could easily have looked something like this.
Priscilla's art makes up the main cover, and I really love this as well. The linework really sells the scale of the Titans - naturally helped by Red Alert and Fortress Maximus tiny in the foreground. And the colors are just beautiful on this. The incentive cover hits the right buttons for me just a little more in different ways, but this cover is easily the most attractive of the set - a rare case to find that as the issue's main cover!
Next month, we're finally there. More Than Meets The Eye ends with issue 57 next month. ...and then of course resumes its main storylines under a new title and numbering rolled back a little later on. And maybe has a Revolution tie in somewhere in between...? This whole event is being needlessly complicated. But next month we'll see how the MTMTE leg of Titans Return wraps up!
| | |
| --- | --- |
| Reviewer | ExVee |
| Date | August 15th 2016 |
| Score | (8 out of 10) |
| Reads | 3772 |
Back to Reviews Index