Starscream has ordered Windblade to spy on the Combaticons - or else her secrets will become known to all. It's a difficult position to be in - but unlike Starscream, Windblade has friends. "Things We Said We'd Never Do" is written by Mairghread Scott with art by Sara Pitre-Durocher and coloring by Joana Lafuente.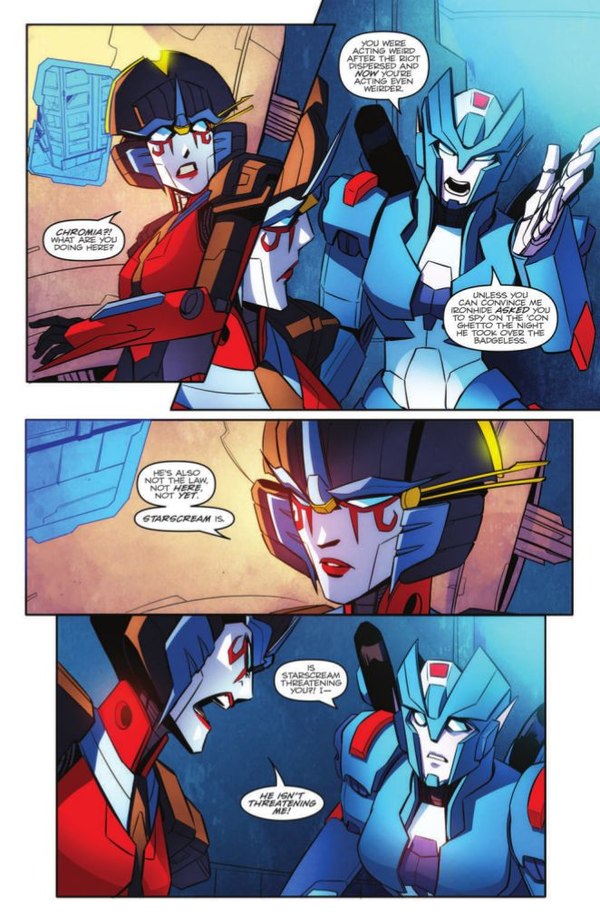 Static conversations are the bane of any comic artist, but this one's looking good and dynamic. Nice!
Windblade goes to have a talk with Metroplex and asks the Titan to spy on the Decepticon slums for her. Chromia appears and wonders why Windblade would possibly want to do that. Reluctantly, Windblade explains that Starscream has threatened to reveal Chromia's role in the Acrolight incident from the first
Windblade
series and Windblade's subsequent coverup of the bombing. Chromia isn't willing to let Windblade sacrifice herself for Chromia, but that's not the point. Windblade is doing this for the same reason as always: to preserve the peace. So to do that they have to find Swindle's body before Starscream does, and Chromia agrees to take over the investigation.
The pacing here is a little odd. The first two issues of TAAO were pretty tightly paced, each of them taking place over the course of roughly a day. Here, largely to facilitate the length of Chromia's investigation, issue #3 is said to take place over a couple
weeks.
Which, frankly, if you glossed over those captions you'd never suspect and you'd assume it was all just day #3 since the series started. It's maybe a bit crowded for a single day, but what's shown seems light for the timeframe given. It's only three captions, but they give for an odd feel.
Outside of that, the resolution of the investigation is enjoyable, if not surprising. The scene at the beginning of the issue between Windblade and Chromia is my favorite part of the issue as it explains Windblade's motivations for participating in the coverup of Chromia's bombing. It's an interesting perspective, that her sense of right and wrong isn't as important as maintaining the peace. From anyone else it'd sound like a justification for doing horrible things - but so far, compared to some of the other characters we follow in IDW Transformers, she hasn't. She's just worked for and protected others who have, and never for their own sake. It's a more complicated take on the concept of the "greater good" that is invoked so frequently in IDW Transformers.
The other thing that makes the scene at the beginning my favorite is Sara Pitre-Durocher's art. Static conversations between two people are traditionally
the
toughest thing to make dynamic and interesting. And the conversation, which takes place over four and a half pages, is plenty dynamic thanks to constant shifting of positioning, angles, and most of all expressions. The expressiveness serves well in an issue that concentrates all its action into a fairly short scene near the end. (There's a panel of pure exhausted frustration during Chromia's investigation that is fantastic.) And one last thing I'd like to note is a very nice piece of staging that very cleverly keeps an important plot point out of view until the very last panel of the issue.
With Priscilla Tramontano off on Luna 1 with Fort Max in this month's issue of
More Than Meets The Eye,
Joana Lafuente steps in to take over coloring. She's very good with directional light, which is important in comics full of hard-edged metal people. The lighting on Windblade's headpiece is particularly nice in several scenes, odd as that may be to say! The most interesting thing I noticed: there's a pair of panels, side by side, where on first glance Chromia is lit from opposite directions while remaining stationary. Then I noticed that the light remained consistent on the other character in the panel.
The closest light source is slightly above Chromia, and she was hunched over in the first panel. When she sat up straight, it hit her.
The coloring is just that good.
The main cover is painted by Sara, and it's typically gorgeous. It's the Combaticons in profile, from the tallest to the smallest, with the deadest(?) to the right. (Swindle... maybe
doesn't
Live?) As always, the lighting and coloring here are spectacular. The glow of the optics for the four Combaticons (and the giant looming in the background...) along with the glow of Swindle's gaping chest wound... nice touch! The Subscription Cover is by Alex Milne with colors by Josh Perez, showing the four Combaticons (see Brawl's leg behind Onslaught?) surrounded by Badgeless as a scheming Starscream looks down on the scene and the blood-red walls of New Iacon close in on them. It's a great image, and one of those times that Milne's fine, careful linework reminds me of the great Syd Mead. Continuing on the "Starscream in the Sky with Scheming" motif, Retailer Incentive cover artist Thomas Deer gives us a battle-ready Windblade as a piece on a chessboard being manipulated by a crowned Starscream - complete with pawns marked with the names of colony worlds. The coloring feels very classic and `80s here, especially on Starscream, and I like that. Another month with great covers all around.
Next issue is, to my knowledge, the last one before
Revolution
and should wrap up the "Swindle Lives" arc. So far, slightly odd pacing choices of this issue notwithstanding, I've enjoyed TAAO a lot and I'm looking forward to its first story hopefully coming to a satisfying conclusion.
| | |
| --- | --- |
| Reviewer | RAC |
| Date | August 15th 2016 |
| Score | (8 out of 10) |
| Reads | 4421 |
Back to Reviews Index