Click on any image to go to the gallery!
This is a tough one. Scattershot has a lot to live up to and a lot of competition. You can compare him to the G1 toy, the G1 cartoon, Combiner Wars Silverbolt, the individual release of Scattershot, and even the unreleased Unite Warriors version. Where to even start?
Let's start with the most obvious one: YES! Scattershot is better than the individual "Betatron" release from Combiner Wars. (You can see ExVee's review of that
here.
) Hasbro has spoken recently about being more careful about color-matching their plastics, and Scattershot 2.0 is very obviously a benificiary of this. The darker red plastic is now a proper maroon, and the color layout more closely matches G1 Scattershot: red wings, maroon body, red nose with white cannon.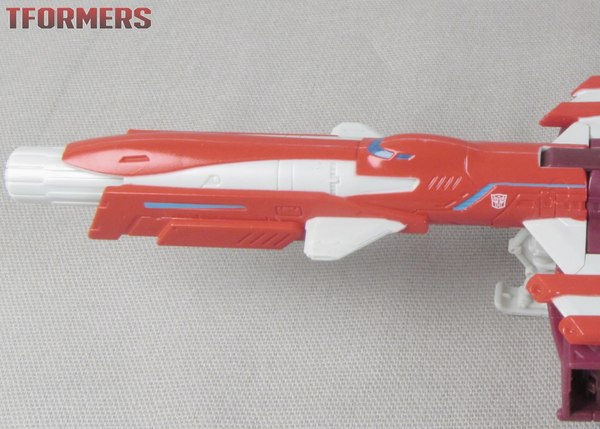 If the funky nose sculpt that makes Scattershot into a lumpy passenger space jet with a squared rounded cannon nose still bugs you... well, no helping that. I like the blue highlights as seen on the nose, the very edge of the wings, and the undercarriage. The transition between colors is its biggest failing.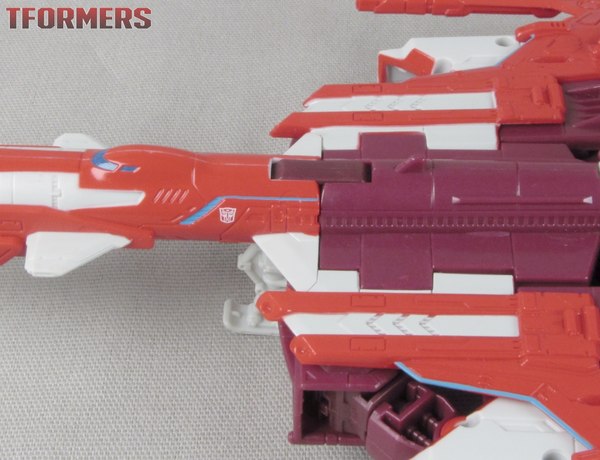 The nose abruptly goes from red to maroon simply because that's where we change over from one part to the other. Considering that G1 Scattershot's red goes further back they could've painted the center of the fuselage too, since all the red is paint. But there's so much paint in so many other places I'd imagine that something had to give.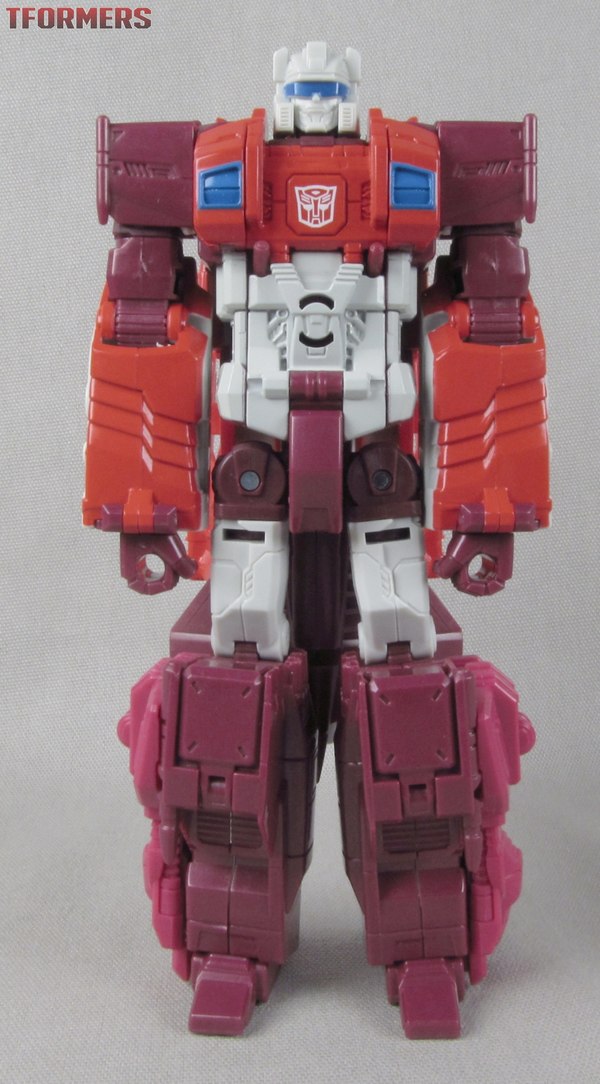 Robot Mode is so very ALMOST THERE. There's about four things it could do to be a closer match to G1 Scattershot - and the saddest thing is that Wave 5's Scattershot did all but ONE. Those would be 1, red fists; 2, red crotchplate; 3, white hip joints; and 4, white knees. The crotchplate was the darker red on the other Scattershot as well, but otherwise all those parts would be welcomed here.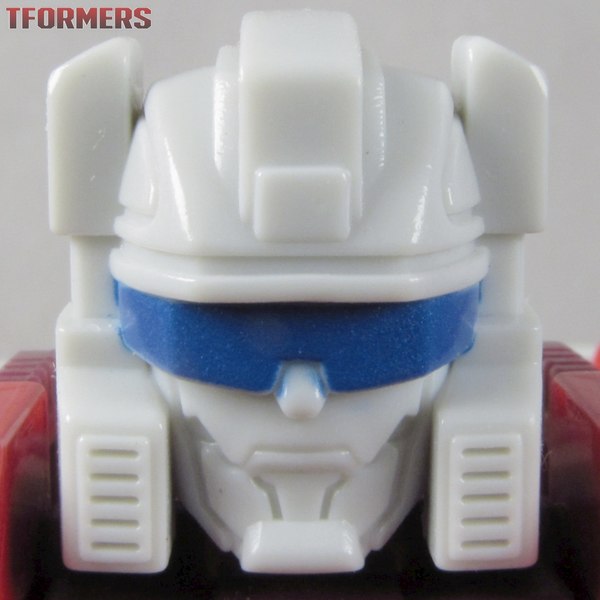 Now mind, I'm talking about a match for the animation version, which the new paint job on the head supports. The red on the arms and the chest would need to be magenta to match the toy. As it is, the only magenta on the figure itself is on the sides of the legs.
Another thing complicating this review process: it is really, really hard to find good photos of the colors on G1 Scattershot. They simply do not photograph well unless you are really on the ball. I hope this one isn't as finicky, and I hope I'm on the ball...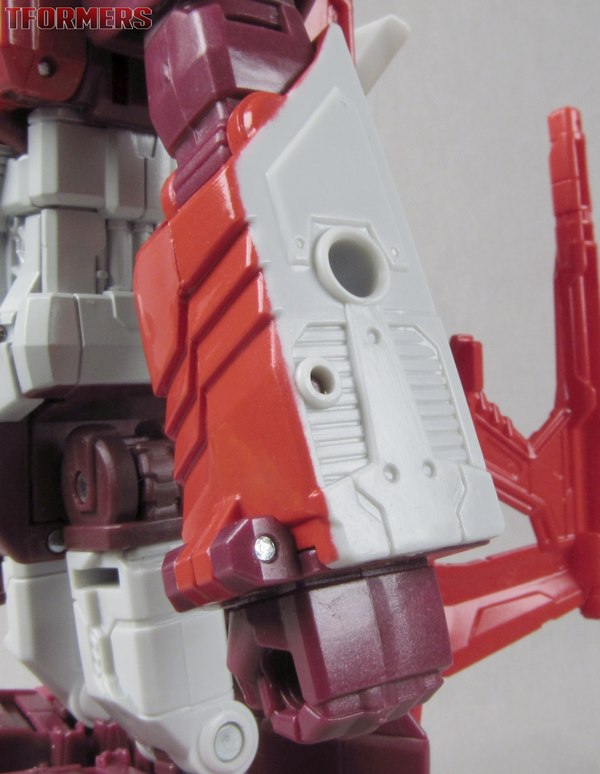 But something I want to draw attention to is the forearms. The red forearms on Wave 5 Scattershot gave Betatron some red thighs it did not need; Computron's thighs have always been white. Solution: paint the fronts, and only the fronts, of Scattershot's white forearms red. It's a fair attempt to solve a difficult problem with no good answer. Takara went the other way: one white panel on red forearms. Tough call on that one, I think. Oh, and a word of caution about the fists: these hinges have broken on multiple instances of the mold, including both Silverbolts. Be careful, huh?
As with the other Scramble City leaders, Scattershot has lost his base mode. But that's a bigger deal here because it was actually used onscreen in the G1 cartoon. As with many of the other issues that come from this being a Silverbolt remold, there is no elegant, perfect answer to this.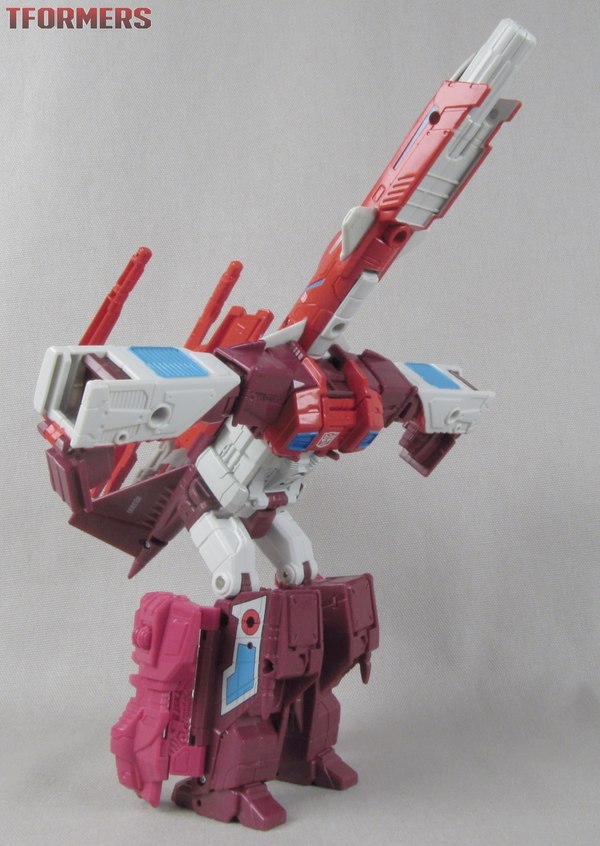 This is close as I can get to the spirit of the original.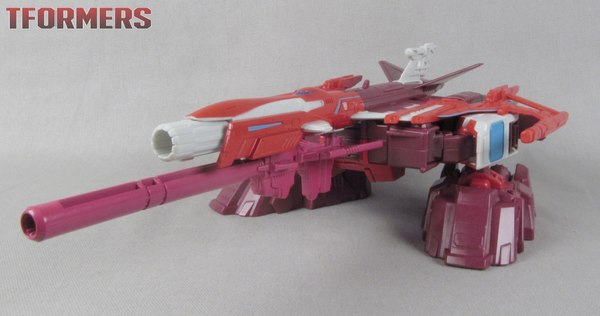 This is the most fun!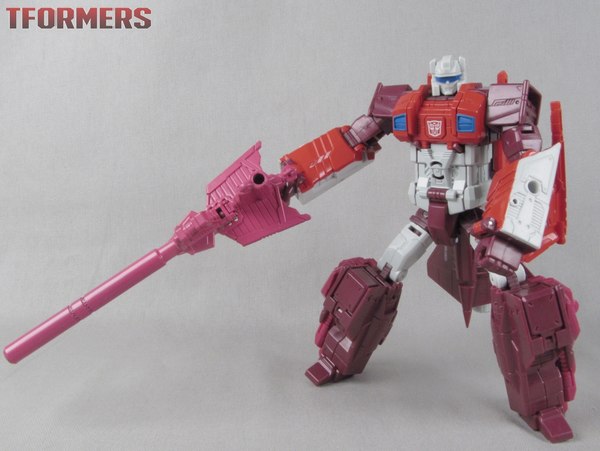 Scattershot's accessory is a vexation. That's not what it's called, it's just... vexing. It's just Silverbolt's gun, but it's magenta. G1 Scattershot's gun was maroon. This is molded in maroon, but painted magenta.
Why?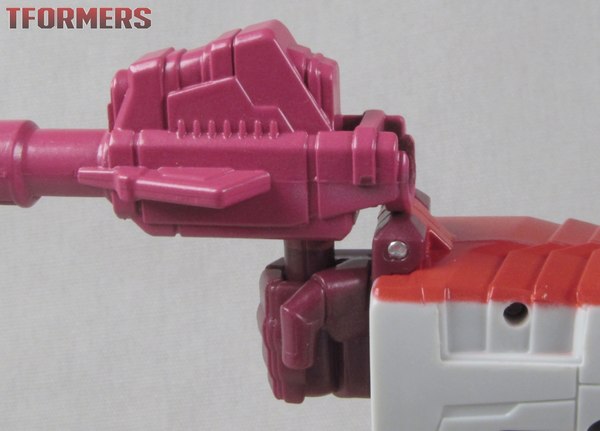 On top of which, the combination port for the shield and gun is already causing paint rubs.
Double Why?
Also, the front and back halves of the gun don't really combime securely, but that's nearly always been an issue with this weapon.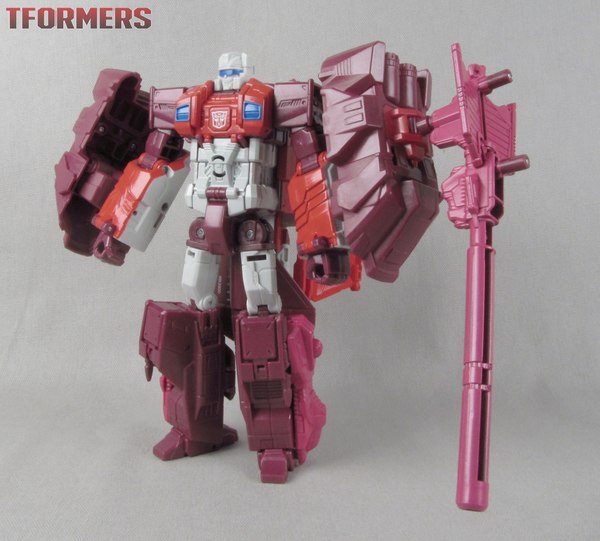 We're going to save Torso mode for our seventh and final review where we tackle Computron himself. But taken on his own, Scattershot is significantly better looking than the version that could be taken on his own. I feel bad for people who bought that, especially at full price; Hasbro Toy Shop and discount stores have both taken to selling that figure for $12-15 US. But if you have one, you could always look into transplanting his knees and hips to this figure.
Scattershot may have gone gold, but there's still room for fan patches and tweaks here and there. Scattershot International Edition's bonus material includes a new chestplate, weapons, and kneecaps. These all make for a slightly more accurate Scattershot in Robot Mode - but I have to admit to preferring the US version's vehicle deco. As is common with this set, I think this is a really good take on Scattershot operating within Hasbro's retail price points and limitations. ESPECIALLY compared to the Wave 5 version. It's just that Takara was able to go the extra mile.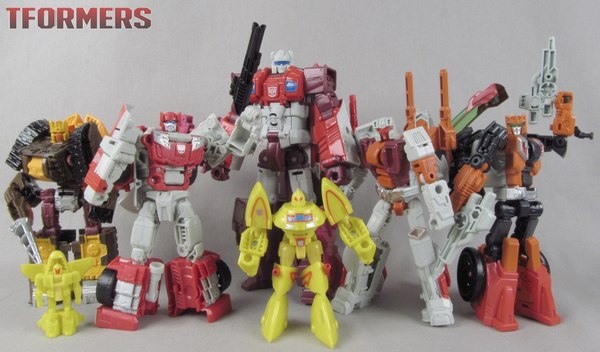 | | |
| --- | --- |
| Reviewer | RAC |
| Date | August 21st 2016 |
| Score | (8 out of 10) |
| Reads | 5112 |
Back to Reviews Index