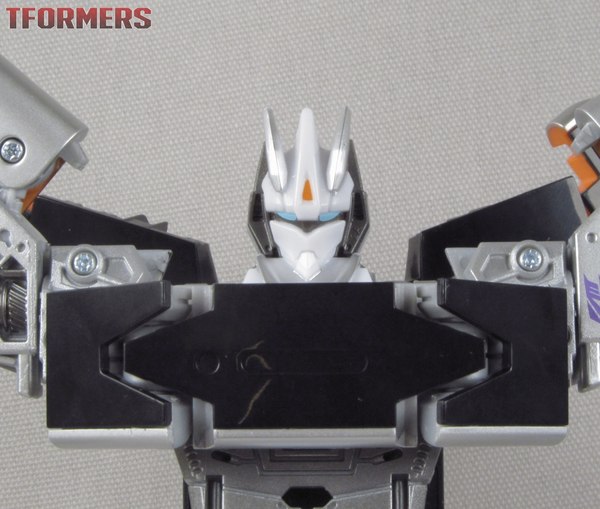 Click on any photo to go to the gallery!
Hasbro was kind enough as to provide us with a copy of SDCC Tablet Soundwave to review! A marvel of engineering, the figure turns from a tablet so thin it verges on 2-dimensional into a robot. And somehow, it manages not to become frustrating going between the two.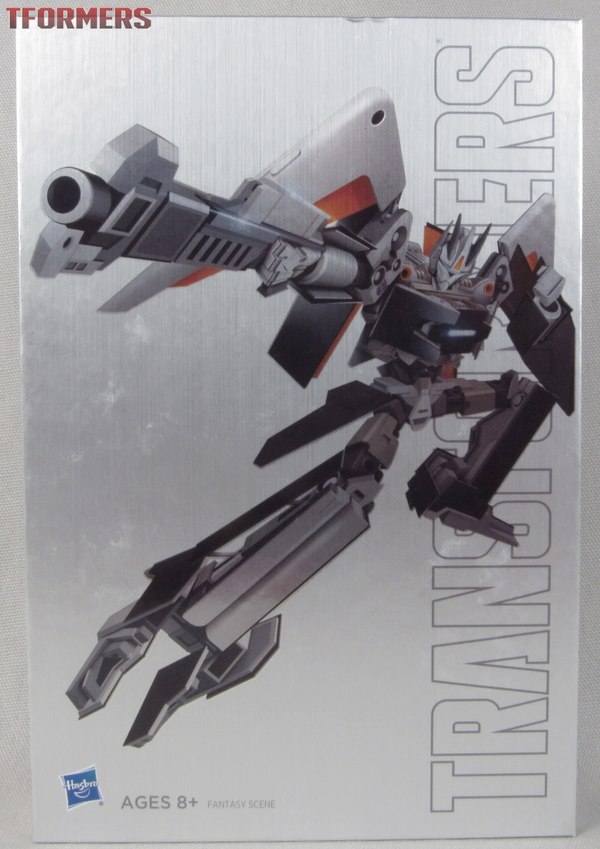 Presentation is half the story with this one. The box is very, very similar to the one my own tablet came in, if smaller. It even has a mock anti-static bag for the tablet, which can also be left on to hide the back of the figure where all the robot bits are.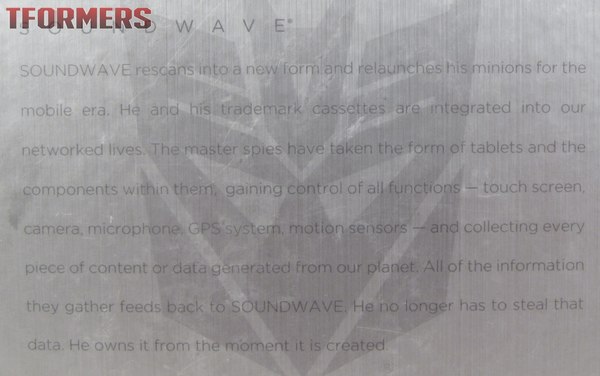 If you have even a passing interest in information security, Soundwave's bio is... kind of chilling, actually! I like that it also calls out the Titans Return tablets as being in on the act, though. Cute.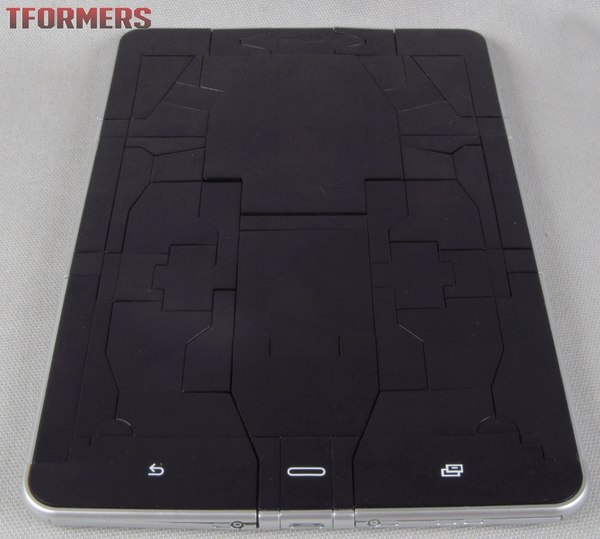 The tablet is a pretty good approximation of a tablet, though with all the seams for transformation it does look somewhat like a pre-dropped tablet.

But look how thin this is!
Those thirty steps aren't as frustrating as you might expect. It was a little scary the first time for me - but only because I expected it to be more delicate than it is. Once you figure out what turns what way and how far, it's not very difficult at all.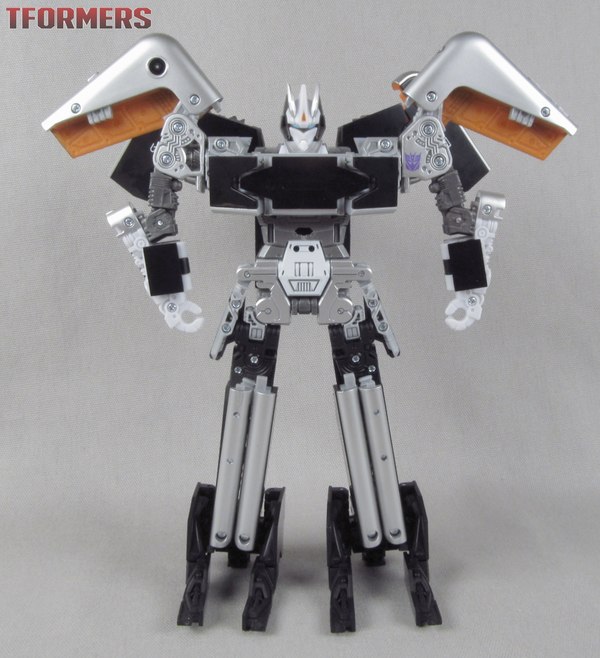 And makes a surprisingly good robot! It's still a pretty flat robot - it feels kind of G1 in that regard - but it does a good job adding depth where it can.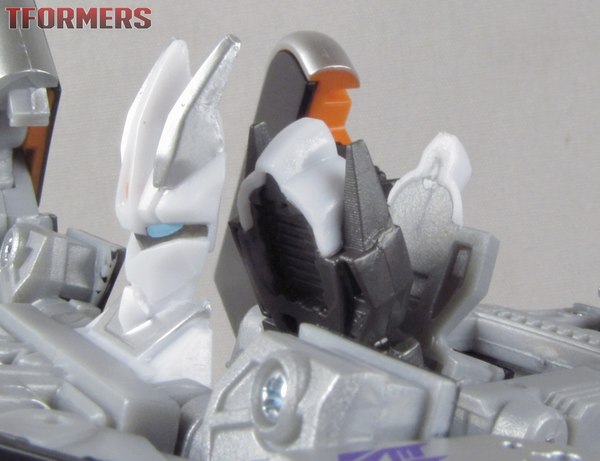 Weirdest, creepiest part: Soundwave's head is in three parts.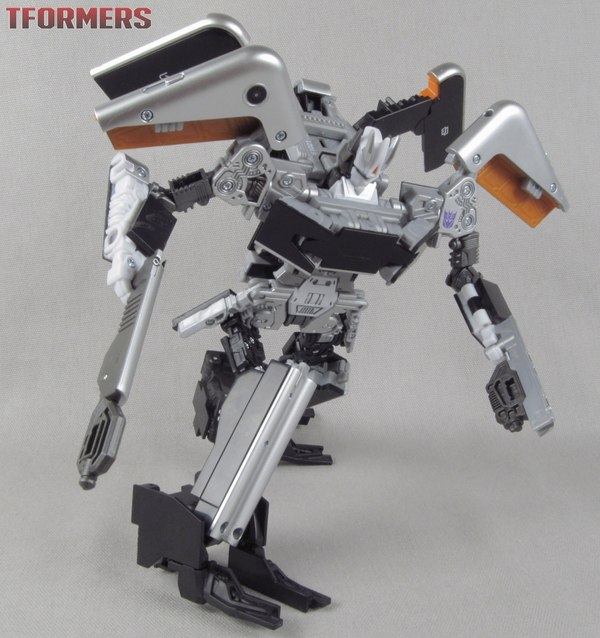 Articulation is respectable too, considering. The head doesn't move, of course, nor the waist. But the arms swing both forward and outward, and there's a respectable elbow joint. (In fact, there's two; you can use one of the transformation joints to swing the arm inward, gorilla style.) The hips remind me of toys that try to emulate a ball-joint where one can exist, like G1 Jetfire... or Soundwave! They can move outwards, but the angle of the transformation joint makes that not too useful. The knees are good, and there's a post-knee swivel which, coupled with the range of the ankles and the broad feet, provide more poseability than you'd expect it to have.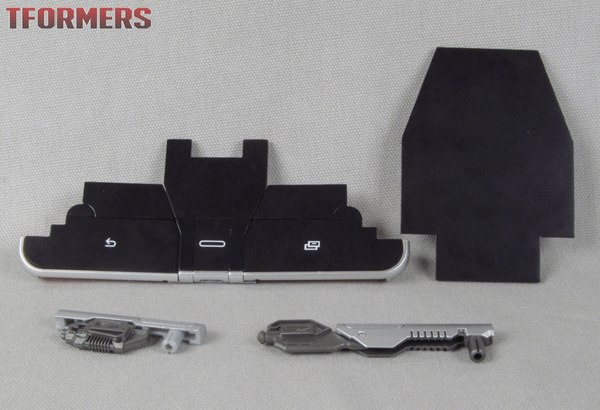 The accessories consist of a big cheaty shield that takes up the center of the tablet's screen, and a blaster. Technically it was pretty obviously designed to be two blasters, hence the two pegs. But with a shield on one arm, they combine to make something more practical as well.
There are only two things I don't like about Soundwave. Besides the fact that he looks nothing like Soundwave.
First is this backpack. Let's look at it by itself.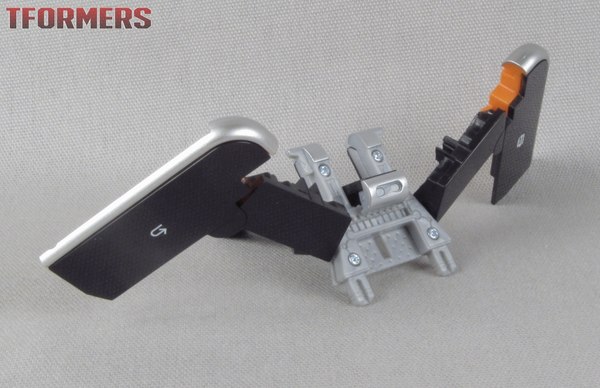 This is so close to being a Laserbeak you guys.
All they really needed to do was find a way to put a head in there somewhere. Such a missed opportunity. But it does give the figure some added depth that may have been deemed more important than awesome little bird robot accessories.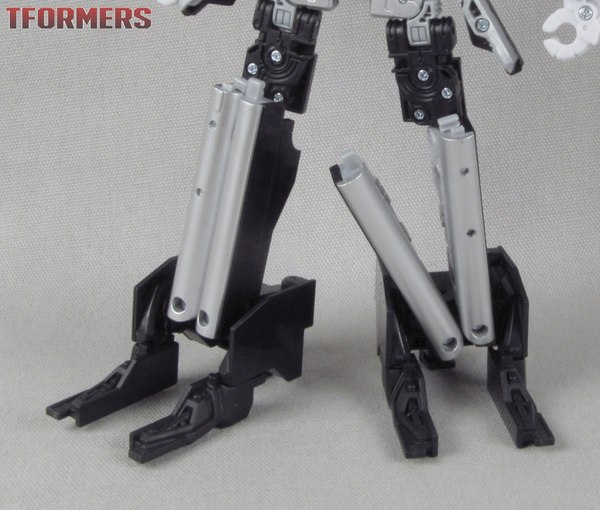 Second and more irritating is that the legs do not lock together, relying on pressure to keep themselves whole. Depending on the pose you want, that may well be a problem.
It's not essential by any means, but if you decide you want one, I think you'll be satisfied with it. It's about Voyager size in Robot Mode, which going by SDCC prices means $40 isn't that unreasonable I suppose. It's odd and unique enough that the usual pricepoints are difficult to apply here. But overall, this is actually a really nice figure for what it is. Based on the XiaoMi Mi Pad 2 and intended primarily for China, this version has a silver finish to differentiate it from the goldtone Chinese release. It's fun to play with and transform, and a pretty nifty concept executed very well.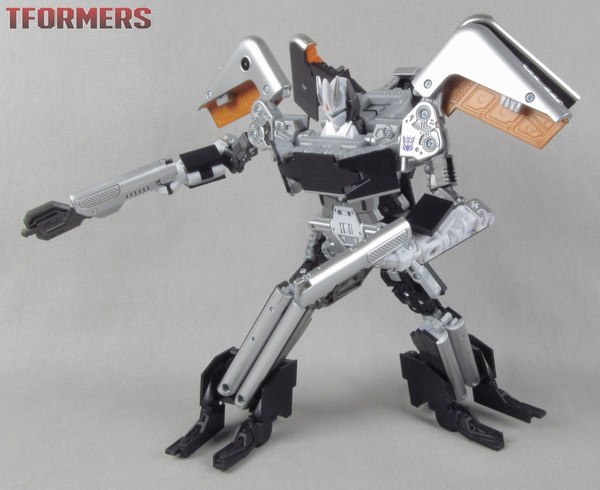 | | |
| --- | --- |
| Reviewer | RAC |
| Date | August 24th 2016 |
| Score | (8 out of 10) |
| Reads | 5060 |
Back to Reviews Index