The Earth based Autobots are doing cleanup operations in the aftermath of the final battle with Galvatron's Decepticon faction. Meanwhile, Earth's new Autobot City has its first visitor, none other than the resurrected Sentinel Prime, and he has some business with Alpha Trion... "Titans Return: White Light" is written by John Barber and drawn by Livio Ramondelli.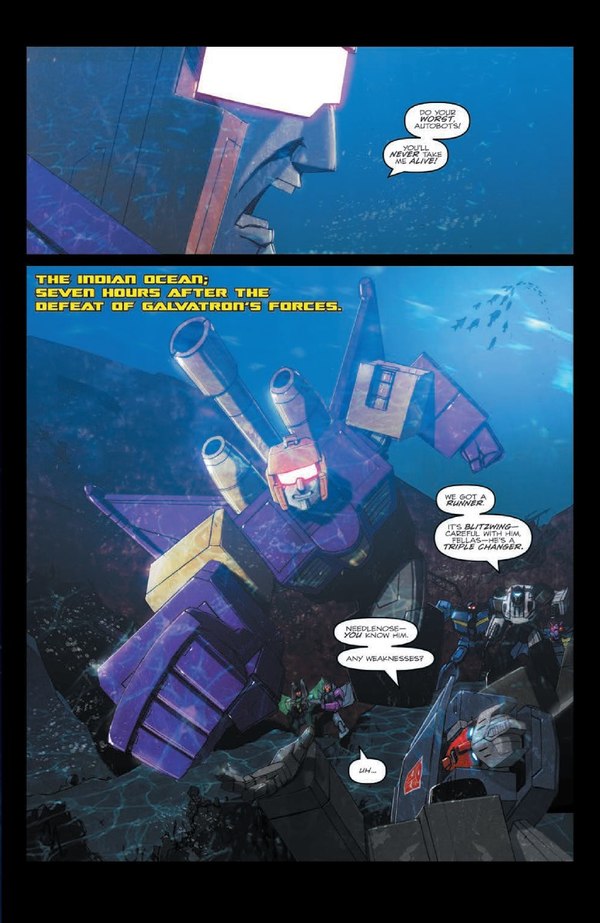 Oh, Blitzwing. Your day is only gonna get worse from here...
It says Titans Return on the label, but this is really Revolution set up. No small amount of space is devoted over to introducing GI Joe characters and making them the new most important part of the line of defense against the Transformers' incursion on Earth. Honestly I feel a little confused by it when we have two major events very much running in to and over top of each other. The issue feels much more concerned with laying groundwork to the next thing, making what it's actually supposed to be about more of an afterthought. More Than Meets The Eye did manage to spoil a portion of the immediately relevant story: some of the nature of Titan Masters, certain identities, and maybe without that happening this issue would have felt like it had a chance to do more on its own. As it is, a somewhat lengthy fight sequence was probably the most memorable thing in the issue that didn't relate to Revolution-building - and in story terms that's something I see more as a space filler than a real contributor to plot.
It's really a curious thing how this all shook out. There must have been some really strong need to have Revolution kick off exactly when it is if it's partly taking over the toyline tie-in mini-event. I think both things have importance, afterall. Revolution's properties need a little bit of organic development in to this world before everything is dropped in at once. But this is something I ideally would like to see in small portions over a few months, rather than slightly heavy-handed introductions practically the night before the big show. But Titans Return could have really stood to benefit from some meaningful focus time to itself. The pieces we've seen between this and MTMTE 56 show notions of an interesting framework having been built under the Titan Masters. It's something that the Titans Return one shot totally failed to do anything with, which is a real loss of opportunity. And unless next month's issues 57 really pick up the ball on this, I feel like this is going to mostly end up lost as Revolution plays out and two of our three main title books then have to reorient themselves to their retitled relaunches. Time and thought has gone in to the nature of what things are in Titans Return, it'll be sad if it mostly has to go unspoken because of bad timing as a result of really crowded scheduling.
Livio is showing quite an improvement these days. The look of characters is more consistent from panel to panel - excepting of course the unfortunate instances where panels are copied in their entirety. Action still isn't great, but I didn't have too hard a time figuring out the intent of fight panels. By itself that represents a substantial step forward. I ended up kind of liking how his human characters were rendered. His style really seems to suit things that are meant to be more soft-edged than robots. And what helps a lot is a much more calmed down version of his coloring style. There are areas where there's kind of heavy filter use, but it's kept in places where it's actually appropriate. One scene needs a bit of fog to obscure things, and that's managed well. Another has dark corridors. But there's plenty of places where characters are cleanly, brightly lit and you can actually SEE THINGS. It's good to see a Livio issue where I feel like I can genuinely say that things turned out pretty decently on the visuals. Not to say you don't still get things like the ocean surface that looks like a retouched photo with characters laid over it, but let's take this a step at a time.
Finally covers. The main cover is a Livio piece, and is sadly probably the most typically Livio piece in the issue. It's filtered a little too much and the structure of Sentinel looks weird. Plus it took much too long to realize Aileron was even on the cover. The Casey Coller subscription cover is neat, featuring a Scarlett appearance with Alpha Trion's headless body (Toywatch?). But this is all just prelude. The far and away winner in covers is the retailer incentive, by Kei Zama and colored by Josh Burcham. Very strongly in the style of classic comic book art - reminding me in particular a bit of Transformers: Generation 2 - it's a great shot of Optimus and Soundwave teamed up, with Soundwave using his abilities to cast a lot of fun effects on the cover. It's a dynamic, eye-catching piece of art in a style that really speaks to me. And so we return to the largely unobtainable RI cover being the best of the issue. Oh well, at least art prints are always a possibility...
| | |
| --- | --- |
| Reviewer | ExVee |
| Date | August 29th 2016 |
| Score | (6 out of 10) |
| Reads | 3506 |
Back to Reviews Index