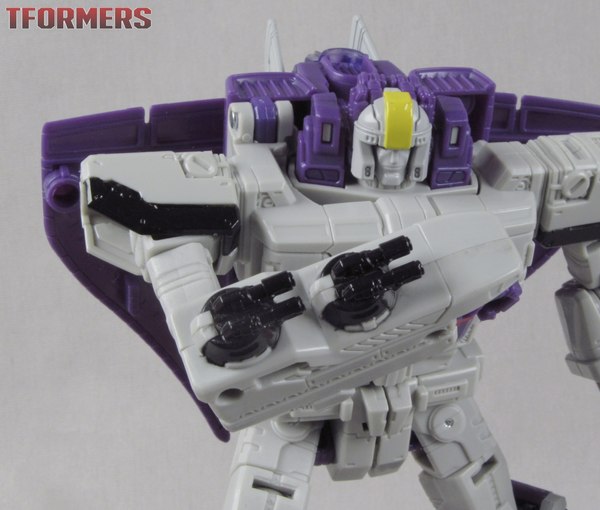 Click any photo to go directly to the gallery!
Hasbro seems to be looking for ways to get a full set of classic Triple-changers out to us in a pretty short timeframe. Previously it took us seven years to get five out of six of in the modern line, and now we're poised to get four in Titans Return in the space of about a year. Here's the first of them!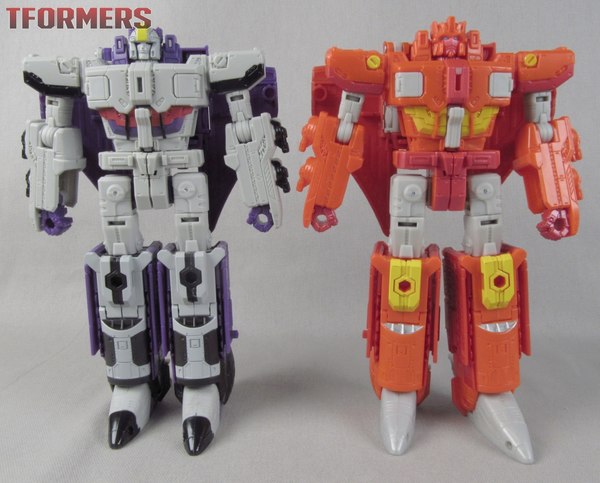 The way that we're doing that is by making them double-up as other characters. Sentinel Prime was so obviously Astrotrain. So it's unsurprising the mold makes a pretty good representation of the character! It's mostly animation flavored, but a lighter gray than you'd expect animation Astrotrain to be. Kind of a midpoint between the toy white and cartoon's dark gray. The purple wings are toy-inspired, and the legs seem to be too.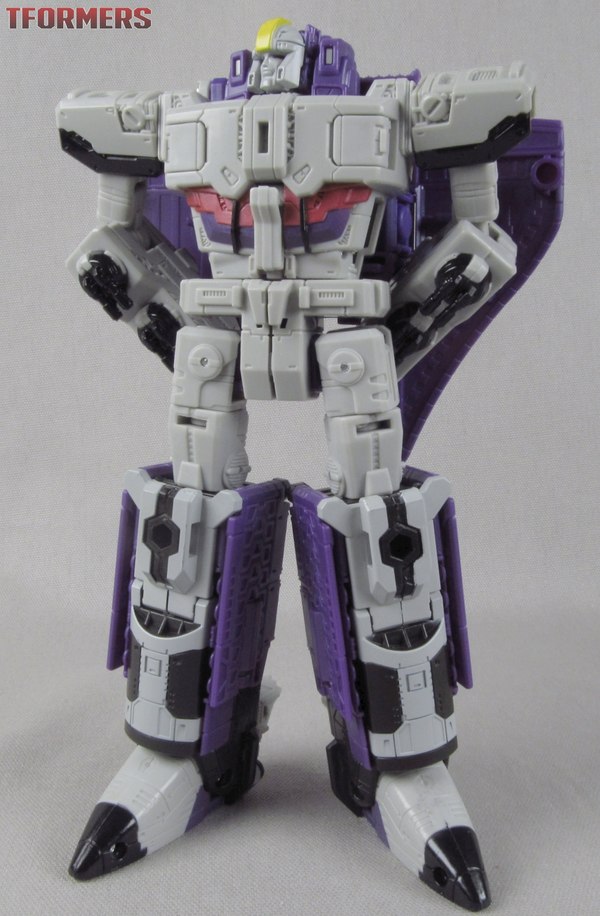 The shuttle-nose feet are new, and the black tips make Astrotrain look amusngly dapper.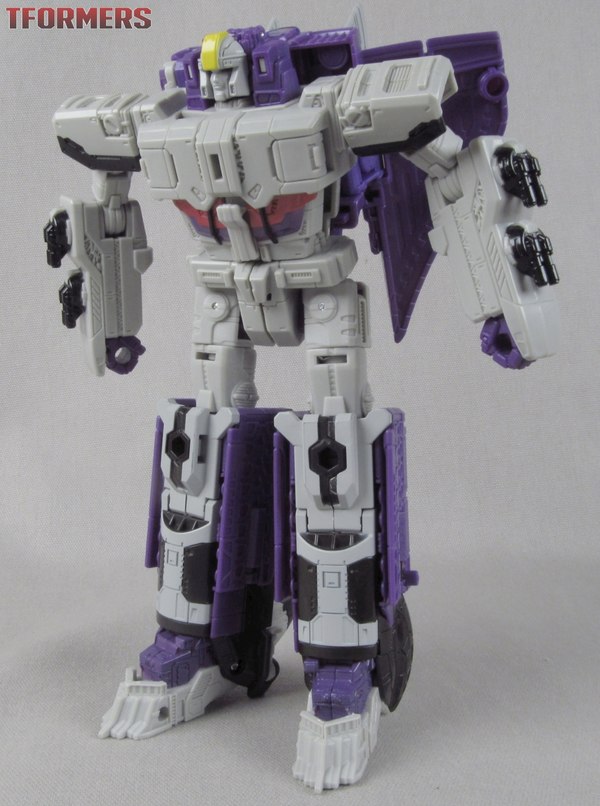 If you want more casual and cartoonlike rectangular footwear, you can use the train side instead. Kind of. They're angled in a way that makes it clear this was not intentional, but you can make it work.
Sentinel Prime's pop-up combat earmuffs finally make sense: they're Those Things! The Things on the side of Astrotrain's head! Those also help Darkmoon's purple body blend in more and make the Titan Master head shape ("cube") work better than usual for round-headed characters. Astrotrain's head moves as well as any Titan Master's, but you can also move the entire platform it's plugged into so you get some head movement with Those Things popped up.
The shoulder swivels, with a separate joint to swing outwards under the shoulder armor. There's an upper-arm swivel, and really good single hinge elbows. The legs work well, but both Wave 2 Voyagers have issues with malfunctioning ratchets. There's a large difference between the left and right hips. I can't hear the click on Astrotrain's right hip ratchet at all. It still catches, just not as strongly. Outward movement is good, but his crotch tends to want to split open. Man, groin pulls are the worst. The thigh swivels work fine. The strong knees and weak hips alternated on mine. My left knee is downright dangly. The transformation hinge can be easily be used for ankle articulation.
Let's start with the shuttle mode. It's super easy. Push down Those Things. Remove Darkmoon. Fold up the fists. (Nice stiff ratchets on those.) Turn the legs sideways, point the toes, and push them together. Fold up the flaps on the front and back of the legs. Fold the wings down and in, and tab them to the arms. And spread the tailfins out a bit.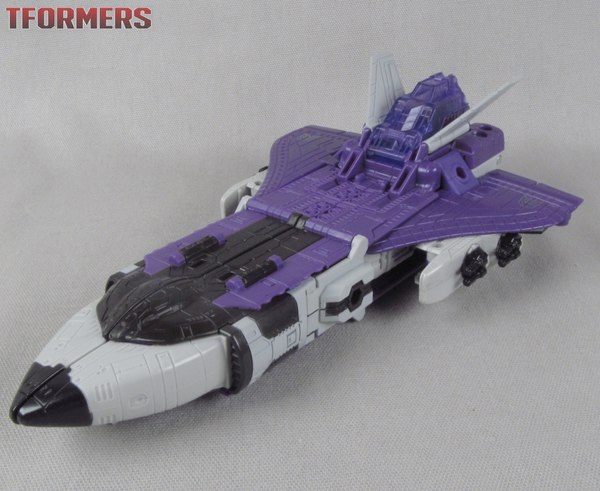 It's not exactly a space shuttle, considering it's much squatter. But it's definitely a spaceship! The color layout's not close to G1 toy or toon, but it doesn't look bad. There's a lot more purple on top now and all in different locations. And lots of nice molded detail as well.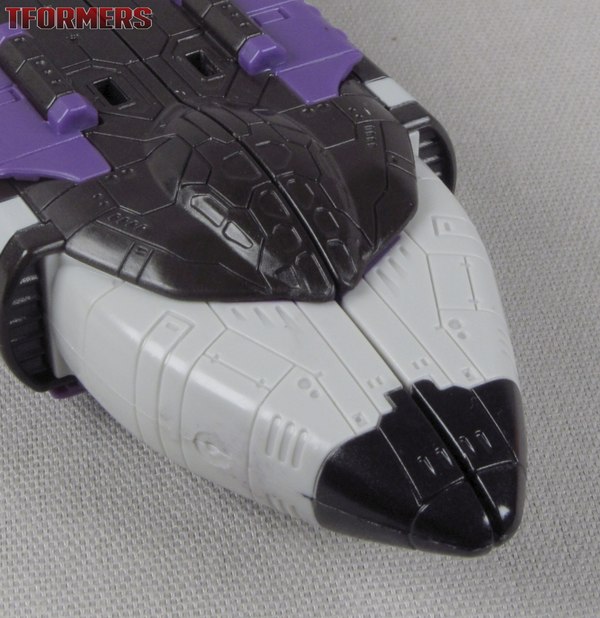 Maybe TakaraTomy's release will paint in some of the cockpit details. I think that would look great.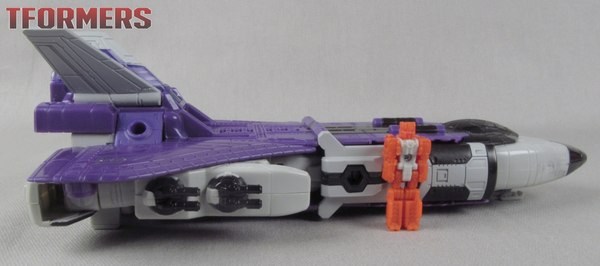 There are guns under each wing along with some places to attach the hand weapons. He's got fold down landing struts on the bottom of the ship which work fine, and the clear purple block in the back is a cockpit for Darkmoon.
Train mode's a little more complex, but not much. From ship mode pull up the wings. Swing the arms up. Pull the backpack up and swivel it around. Do that groin pull thing on purpose this time, Lock down the wings, turn the toes around, and flip down the side panels on the lower legs.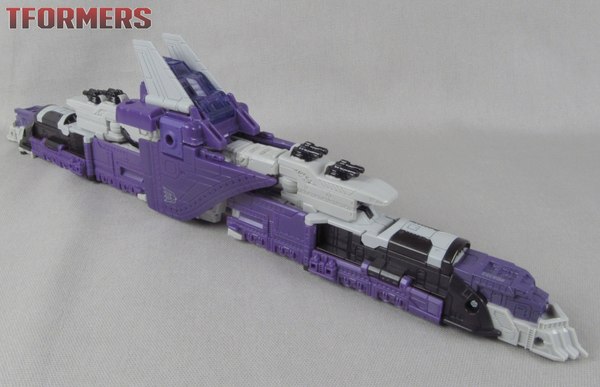 It's not exactly a steam locomotive, but neither is it just a modern bullet train. With interesting futuristic cowcatcher details on each end and a variety of molded in guns, the train mold made a bit more sense for Sentinel Prime. He needed to be able to make himself run on time. It looks good, but someday I want Archaic Choo-Choo Astrotrain again.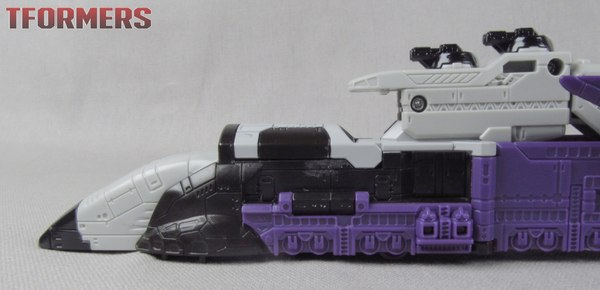 If you want to go a little more sleek, his shuttle nose feet look nicely bullet-trainy. I also like to do just the back that way because having the front and back of the train be identical just looks weird to me.
Neat detail: look at the tiny doors! Nice. Though since recent comics have revealed Titan Masters to be human-sized, who would they be for...?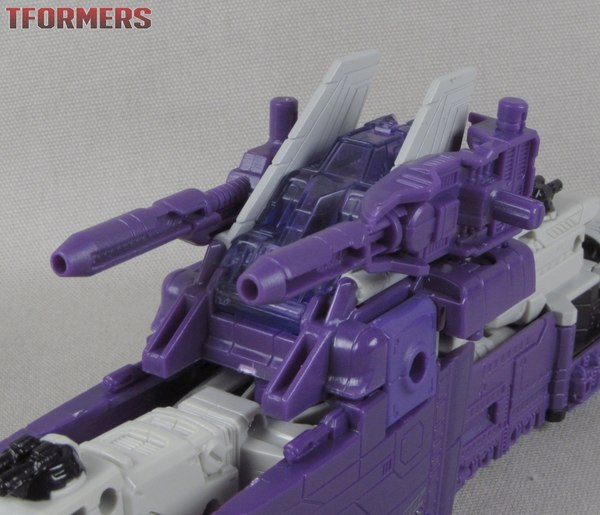 There are two sets of 5mm sockets for the weapons. Two on the side, and two on the top. The two on the side are loose on mine, floppy loose in one case. On the other hand, it can't be a coincidence that the seated gun fits around the fin just perfectly when you put it on top like this. So there you go!
Classics Astrotrain got a more toy-based gun, but Titans Return Astrotrain has a pretty nice match for the animated version, right down to the peg on top matching a part of that model. Nice!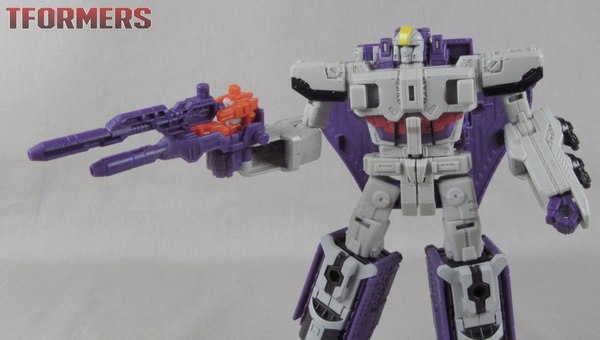 The manned gun can be used as a turret if you place it right, or of course combine with the other gun to make a Take Your Child To Work Day Handgun. As with most of those, there's not really a freestanding mode for that - pity. The pegs are placed to allow for as close to symmetrical attachment as possible. This is one of the better instances of that in the line so far.
Astrotrain, like Sentinel Prime, feels very basic. But not in a bad way. It does everything it sets out to do very well! I hit the QC Lottery on Sentinel so I have a slightly higher opinion of him, but even with some increasingly typical tolerance issues, this is a really good figure. And the Robot Mode in particular is a great representation of Astrotrain. I missed the 2006 figure, so if you did too or you want a larger Astrotrain to go with your existing OR upcoming Voyager Blitzwing, you should be pretty happy with this.
| | |
| --- | --- |
| Reviewer | RAC |
| Date | August 31st 2016 |
| Score | (8 out of 10) |
| Reads | 10230 |
Back to Reviews Index