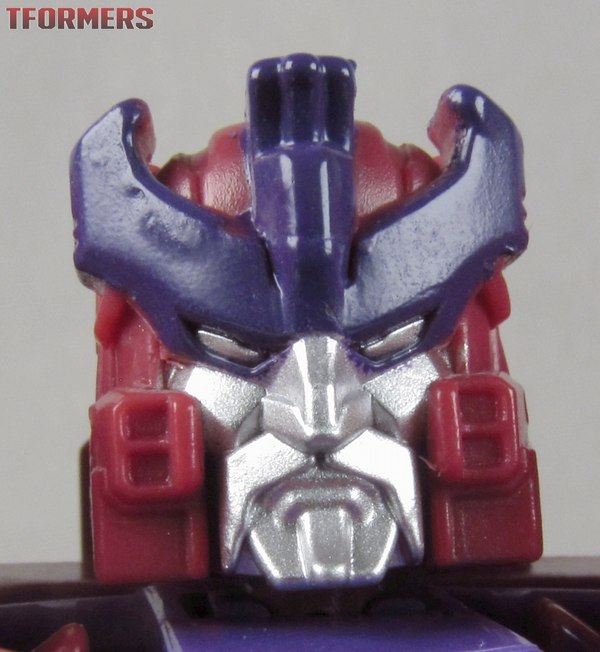 Click on any photo to go directly to the gallery!
Alpha Trion was introduced as a link to Cybertron's ancient past - and the creator of Optimus Prime and Elita-1. His role has expanded over time, and today's Alpha Trion is a secret Prime, one of the thirteen mythic progenitors of the Transformers. In most incarnations he's an advisor, a dispenser of wisdom, not a combatant.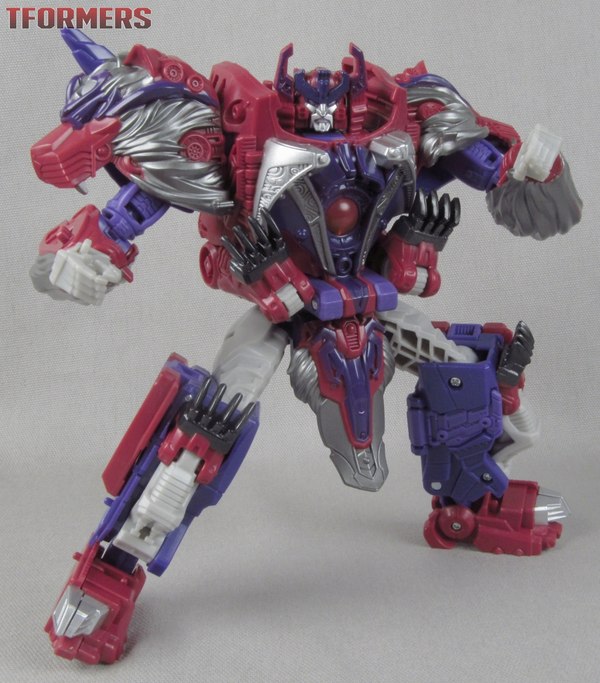 So what's up with
this?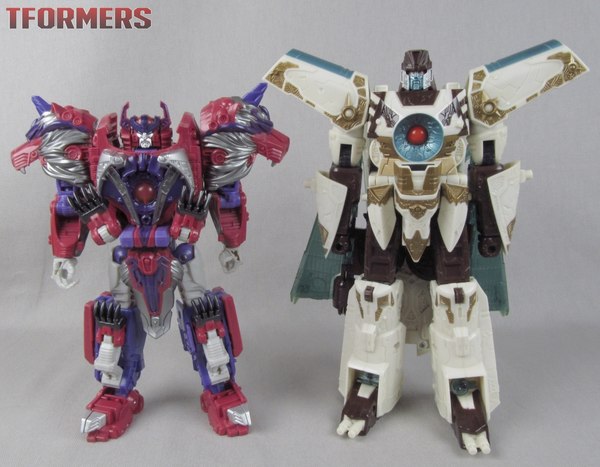 This is the first non-Kreon rendition of Alpha Trion to hit retail, but it's not the first version ever. The Transformers Collector's Club made an Alpha Trion from Cybertron Vector Prime, fellow member of the Thirteen. But before that happened, plans had been made by previous fan club license holder 3H to make an Alpha Trion using either Beast Machines Snarl or LioConvoy. This figure has design elements of both, giving us a sword-wielding spaceship lion... that looks very little like Alpha Trion. So it goes.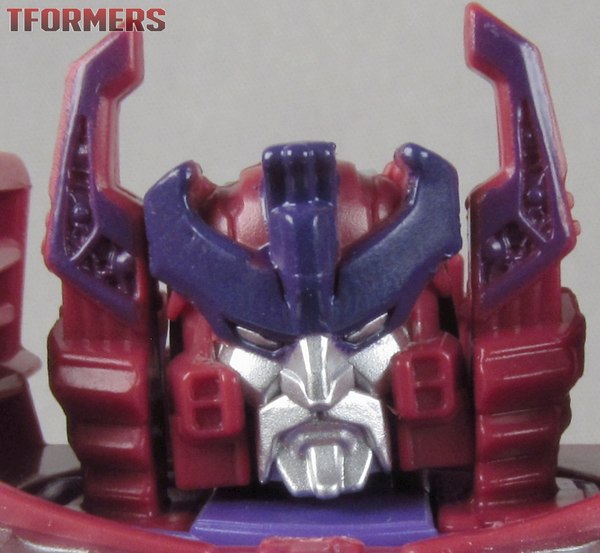 G1 Alpha Trion had wide horns on his helmet which the Voyager Titan Master head gimmick emulates. Again, in a more action-ready, barbarian kind of way. The lack of paint wraparound hurts it. As with Sentinel Prime and Astrotrain, the entire head assembly swivels somewhat - so you can move the head once you've thrown up the horns.
The shoulders swivel freely, and the arms swing out as far as the lion head chunks allow. There's an upper-arm swivel, and because it's a transformation joint the elbows have great range for a single hinge. The wrists swivel, as all sword-wielding Transformers' wrists should.
There's no waist joint. The waist accordions out for transforming, so you'll want to hold him by the lower body to move the hips' super-stiff forward range. It'll probably pop loose sometimes anyway, but less so if you hold it right. Lateral range and the thigh swivels are kind of loose. Luckily the knees are back to stiff, and so far falling over from the looseness of some leg joints hasn't been a frequent thing. The transformation joints allow some fudging for the ankles, but not a lot of functional posing.
Let's lionize this old man. Retract the horns - mine requires the button to be held in to catch. Remove Sovereign. Fold up Trion's arms, making sure his thumbs are flush with the back. Pull the cockpit block up and over. Fold the arms back. Tab together the kitty face. Accordion the waist so you can bring the forelegs around. Swing the waist around and connect the cockpit block to the lower torso. Fold up the robot feet. Unfold the lion feet. Lastly, tab in the sword.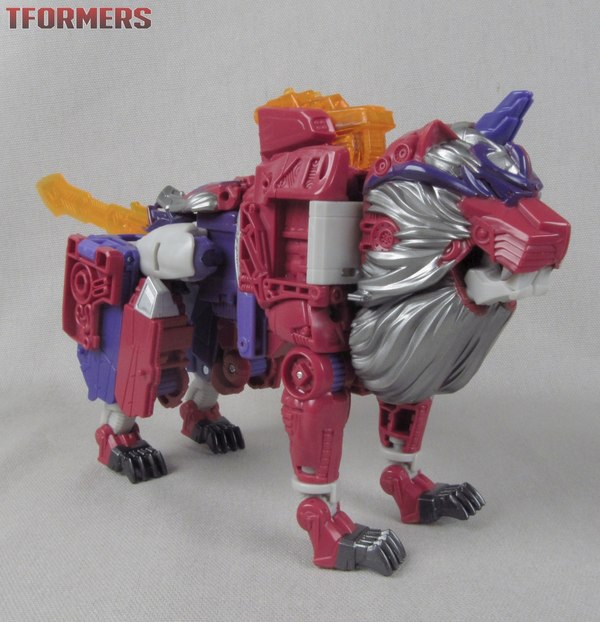 This may sound like a backhanded compliment but: this is not sleek at all, and I like that. It feels like a G1 beastbot to me, all blocks and chunkiness with a few streamlined sections. The headsculpt is quite nice. There are eyes down in there but they desperately need some paint.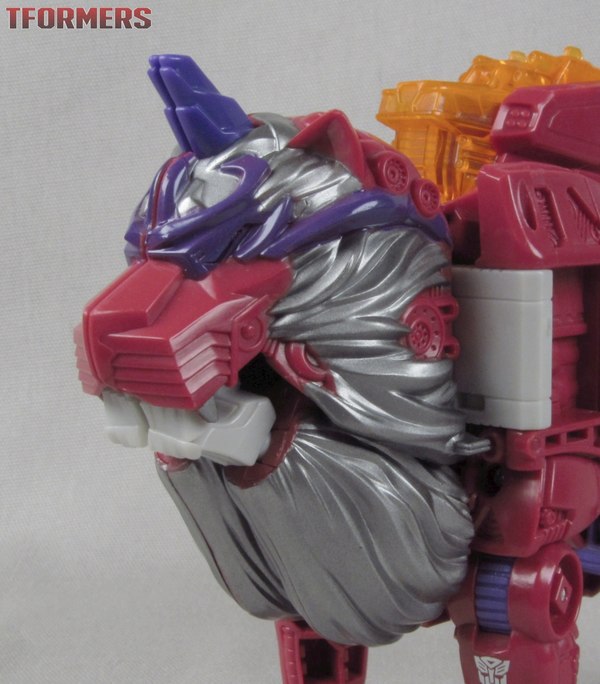 It does kind of look like Alpha Trion is biting his nails from some angles. Bad habit, but he's far too old to be broken of it.
Lion articulation is minimal. You can move the forelegs right up until they hit the mane. There's very little you can do to move the hindlegs without looking very un-catlike. The robot hips are still stiff enough to pop things apart, so beware.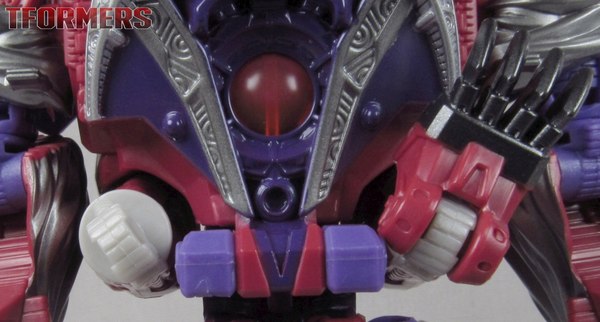 The front paws are a problem; their hinges are very weak. They're designed to ratchet judging from the ridged pieces they attach to, but the path of least resistance dictates that they pop off the shallow pegs instead. So, they flop around and can't really bear weight. Argh.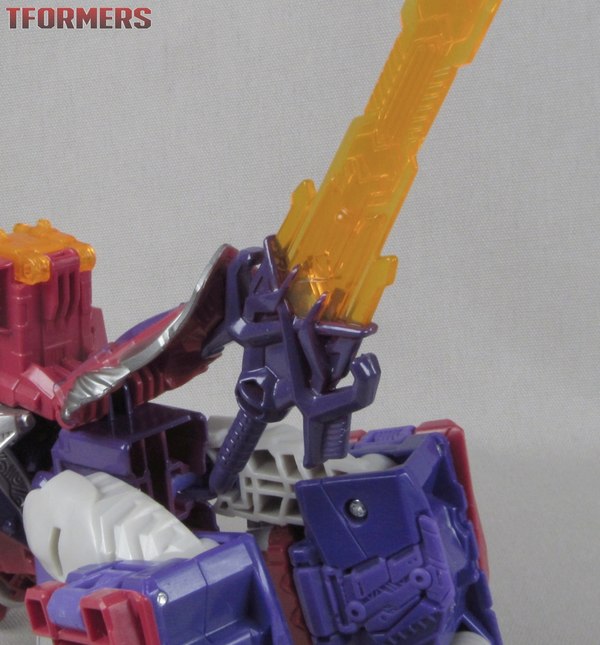 Also, the tail WILL pop off. A small bracket to a long painted piece at a weird angle from above - it's like the trifecta of bad Transformers engineering ideas! Luckily if you get sick of that, you can just stick the sword where the sun don't shine.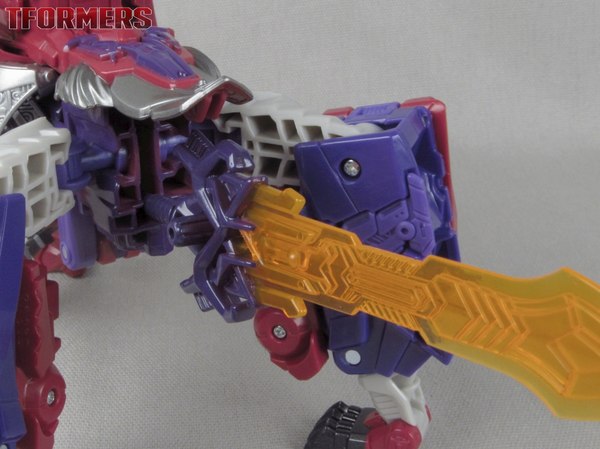 I'm serious! It wedges up into his hip block perfectly securely.
Time for shipping. From robot mode, get to where you folded up the arms, then turn the lion head halves the opposite way and tab them into the chest. Turn his legs sideways. Point his toes. Lock his legs together. Unfold the red flaps.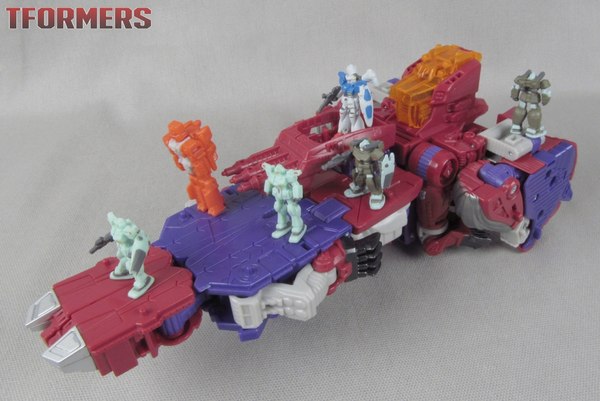 Alpha Trion's ship mode strongly resembles an `80s anime space battleship, like something out of Macross or Mobile Suit Gundam. Adding the turret accessory doesn't change that impression a bit. It's also pretty easy to see Broadside in the frontend of the ship, which is very aircraft carrier-like. The orange section opens to seat Sovereign, and there are four pegs for other Titan Masters on the bow.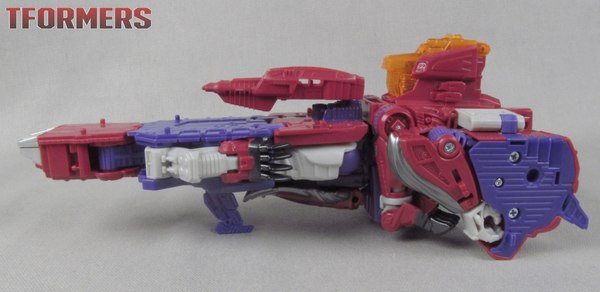 The ship is a pretty shallow illusion: look at him from any angle except top-down and it starts to crack under the strain of all the lion bits. But for my own tastes, I like this.
The sword looks like it belongs in the Masters of the Universe 2000s revival. Actually the whole figure sort of does! There's no good place to store it in robot or ship modes. It just hangs off the side of the ship, further bringing the battleship mode down. You can plug it into the back of his robot shoulder, but it obstructs the arm.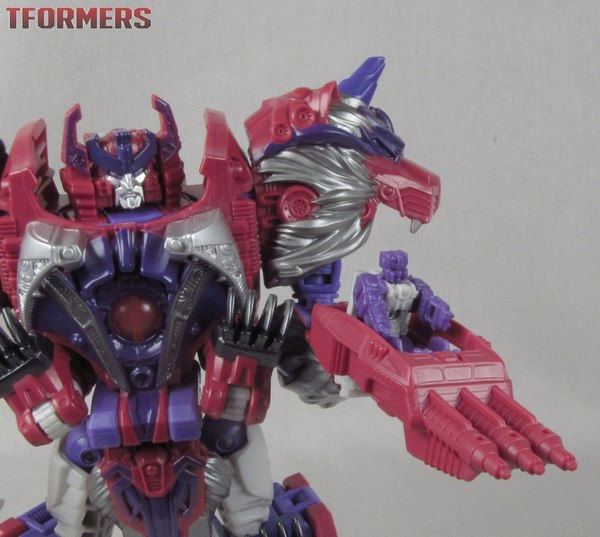 The turret has the same problem with Beast Mode. You can stick it on the hindleg, but it's so... asymmetrical. You can put it underneath, but that's both meh-looking and impractical. It's an okay gun for the robot, but the peg is shallow and can be tough for him to hold. And it still doesn't store anywhere. It's covered with notches and things that look like you should be able to do more with it. But you can't, at least not here. I suspect it's designed to do other things with Broadside.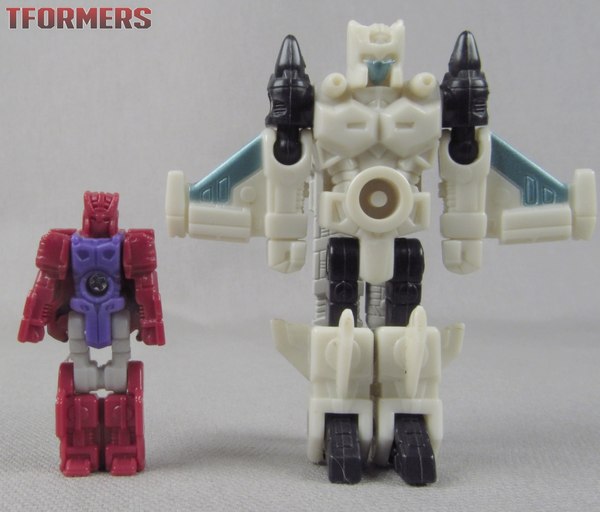 Sovereign is based on Safeguard, Vector Prime's Mini-Con. As a Wave 2 Titan Master he's got pins at the hips and knees, and his joints are all very stiff. He's pretty much flawless. Even without the added horns, he makes a good-looking head and a good likeness of Alpha Trion.
This figure tries to do a lot of different things at once and doesn't excel at any of them - including look like Alpha Trion, though I've come to like the look. With the loose paws and the pop-apart waist, parts fit and plastic tolerance issues in Titans Return have officially become tiresome. This needs to stop being a thing now. That aside, he looks good in all three modes - even if my favorite mode looks good only at certain angles, and that sword-tail attachment for the lion was just straight up a bad idea. I'm trying hard not to make this sound like a better or worse figure than it is - it doesn't excel at anything but doesn't fully fail at anything either. It's a good looking figure with a number of small, irritating flaws that add up. That can be forgivable - but I suspect it'll depend on how much you want an Alpha Trion figure that doesn't look very much like Alpha Trion.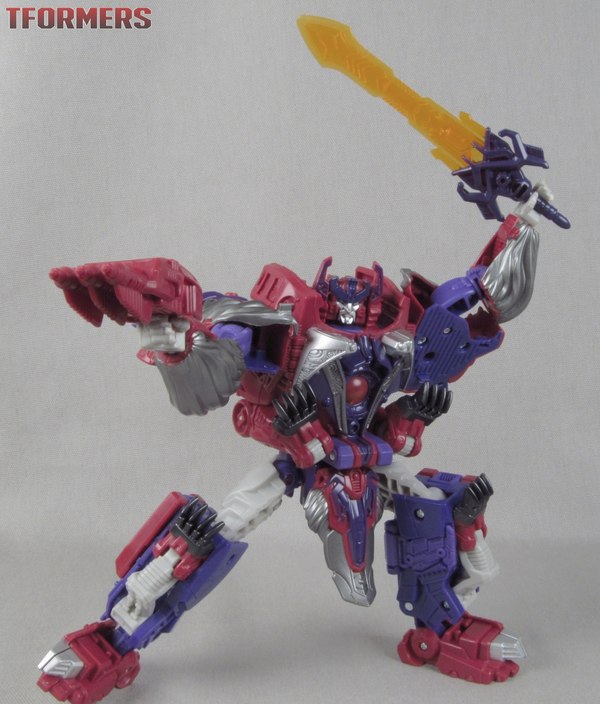 | | |
| --- | --- |
| Reviewer | RAC |
| Date | September 5th 2016 |
| Score | (7 out of 10) |
| Reads | 8792 |
Back to Reviews Index