You say you want a Revolution? Well, you know, we all want to change the Hasbro Shared Comic Universe.
Revolution Chapter One: Concorde Hymn
is written by John Barber and Cullen Bunn, with art by Fico Ossio and colors by Sebastian Cheng.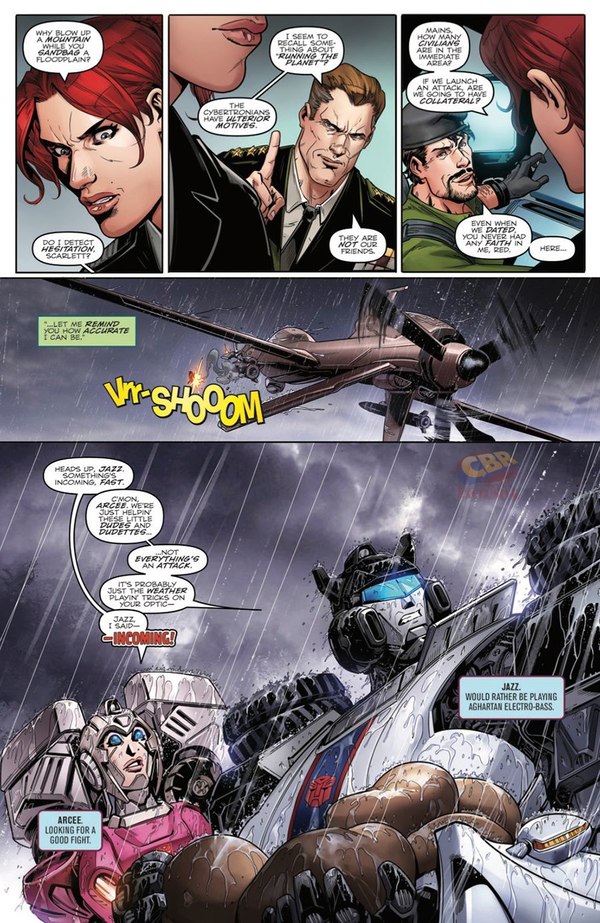 Angry Scarlett may as well be this book's mascot.
Ian Noble, AKA Action Man, attempts to rescue former GI Joe member Big Ben from Mount Olympus in Greece - only to find him impaled on a crystal formation that is about to go critical. Before he dies, Ben gives Action Man a piece of vital information: Ben's killers - and the killers of his squad - were wearing GI Joe dog tags. Action Man escapes as the
Ore-13
crystals explode.
The Autobots detect the explosion, which presents them with a couple of new challenges. First, the humans will undoubtedly blame this on Optimus Prime, Current Ruler Of Earth (For Its Own Good). Secondly, there's a massive deposit of Ore-13 beneath Autobot City, and there's no way to tell whether or not it will explode as well. But with GI Joe headed for Arcee and Jazz's disaster relief mission, there's no time to worry about point number two...
This reads so much like a Marvel Event Comic to me, which I'm pretty sure was the goal. We've got the ingredients you'd expect from a superhero mega-crossover: a disaster, a mystery, a misunderstanding bringing two groups of heroes in conflict with one another... which can only lead to tragedy. At this particular moment, I think I have a pretty good idea of who the villain is. One of them, at least. If you've been keeping up with the Revolution prelude shorts at the end of IDW's recent comics, you'll probably think of it as well. The path of the story seems to tread fairly familiar paths for this particular genre, though of course that could easily change.
I want to say more, but I'm trying to avoid spoilers. But a problem I have with this issue is that while the misunderstandings between the Joes and Autobots are natural enough given the circumstances, the story's progression depends on one single character being overly aggressive, jumping to conclusions, and making poor choices, and it doesn't reflect very well on that character at all.
Fico Ossio is new to Transformers comics to my knowledge, but he does a good job with this. His style is very glossy, but his compositions are easy to read. He's good at drawing Transformers and humans alike as well. I do wish he'd be a bit more conservative with Windblade's headdress/helmet/hair thing, but it's kind of a tricky thing to draw and very much open to artistic interpretation. I don't know whether to blame it on Ossio or the script, but by the end of this issue I was so sick of seeing angry, grimacing Scarlett. That said, Ossio's strengths outweigh those couple of weaknesses. He's good with scale, which in a book which contains humans, Transformers, and Transformer combiners all in one place is important. He's good with every element that goes into this comic, and is quite talented at detailed backgrounds besides! Colorist Sebastian Cheng complements Ossio's art with equally slick coloring, especially for the scene that takes place in the midst of a thunderstorm.
There are so many covers to this comic it's positively ridiculous. Abandon completism: It brings nothing good to your life and merely makes a hobby into a stressful pursuit
you don't need
. I could write an entire other review just covering covers; instead I'm going to highlight a few that are extra-noteworthy.
First off, I hope you like the main cover by Tradd Moore, because there's like three different versions of it. The "Retailer Summit" version colored by interior colorist Sebastian Cheng is the best of the three. Alex Milne and Josh Perez have contributed a cover exclusive to the Indonesia Comic-Con, and it's a lovely, chaotic battle scene featuring everyone you could hope for and at least a couple players who are currently out of the action or dead. Guido Guidi knocks a Marvel-style homage out of the park as always, showing Optimus and Megatron slugging it out while disguised as WWII-era Earth military vehicles on his incentive cover. Nice! I also like the Granite State Comic-Con cover by Ben Bishop, showing Soundwave deploying Laserbeak while Zartan hitches a ride. It could easily have been a cover originally intended for
Transformers vs. GI Joe.
Comics legend John Byrne also contributes a cover, showing a host of Hasbro characters running across. Lastly, the Sharper Collectables cover is noteworthy because it features a Livio Ramondelli illustration of Victorion as colored by Eddie Nunez - and it's really quite nice! It's a rare thing to see Livio colored by someone else, and a chance to see his lineart separate from his very stylized colors lends me an extra appreciation for it.
The first issue of
Revolution
is a very good example of the kind of superhero comic-style crossover it's seemingly trying to be. It's not my preferred direction for Transformers comics - and I'm hoping that the monthly TF comics will be able to channel the positive aspects of this shared universe without being overtaken by the need to feed annual crossovers - but it's a decent comic all the same. I just wish it didn't feel quite so much like the plot is currently being driven by one character's foolish mistakes. Let's hope subsequent issues feel a bit less forced in that regard - there's plenty of tension and opportunities for error to go around, so hopefully we'll get past this.
| | |
| --- | --- |
| Reviewer | RAC |
| Date | September 19th 2016 |
| Score | (8 out of 10) |
| Reads | 3832 |
Back to Reviews Index