Bruticus is on the loose! Four live Combaticons and a corpse have united to become the fearsome combiner, and it's up to Ironhide's new police force to stop them. But where does this leave Windblade, and how far will she go to protect Starscream's secrets - and her own? "The Line Between Us" is written by Mairghread Scott, with art by Sara Pitre-Durocher and colors by Joana Lafuente.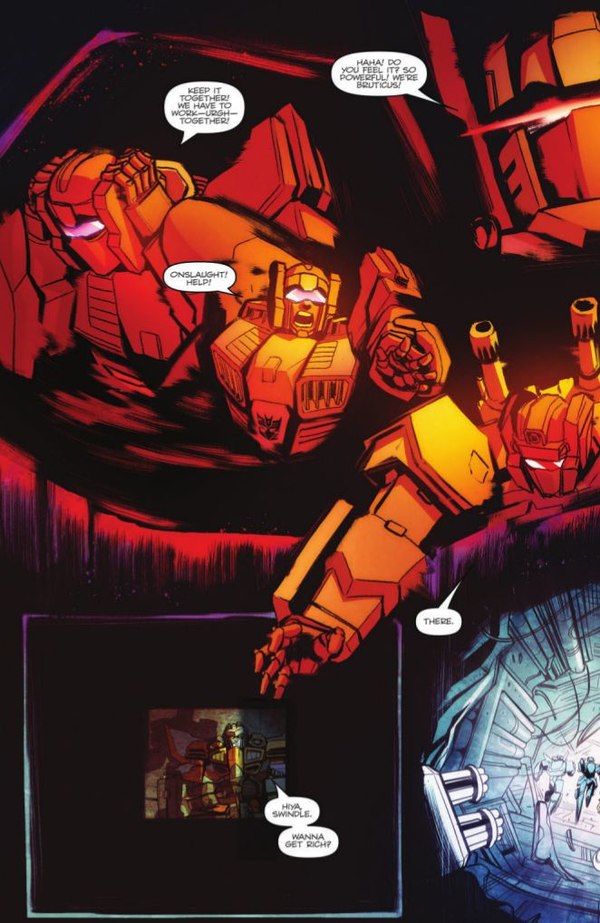 I love this two-page spread.
The Combaticons have what they came for: Swindle may not live, but the secrets within the recesses of his mind are now theirs. If only they could resist the urge to
burn everything
. As Ironhide's security forces scramble to contain their first of many disasters, they wonder: why isn't Blast Off answering his communicator...?
The first full storyline in TAAO comes to a fairly satisfying close this issue. Unsurprisingly, none of the players in the conflict come out with a clear "win" - except perhaps Ironhide, whose security force is seemingly here to stay. The issue feels short(it's not- same 20 pages as any other issue), but that's not a negative. The pacing is brisk and the story moves quickly, which a battle should. Bruiticus' thought processes and actions are a neat expansion on what we saw throughout
Combiner Wars
, with the added wrinkle of one of the components being Mostly Dead. Blast Off tries to take control, and seeing his desire for justice wrestle with Onslaught, Brawl, and Vortex's desire for revenge is a nice thing.
That's exemplified in the two-page spread at the beginning of the issue, and what a beautiful piece of work that is from Sara. An excellent composition that expresses the idea of the mental processes very well. The rest of the issue is of course more straightforward, taking place outside of Combaticon Headspace, and the art is as always clean and attractive, and the battle easy to follow. And yet things begin to "feel" rougher as the battle intensifies. It took me a couple of readthroughs to figure out how that was being accomplished, but as the issue goes on more and more solid black is being used, both on figures and on the background, making for a darker and more intense feel and giving the pages with the Bruticus battle a distinction from less action-oriented scenes elsewhere in the city. Nicely done!
Joana Lafuente's second issue of coloring TAAO is again excellent. She gives Combaticon Headspace and Swindle's memories their own distinctive looks, and overall just does a fine job on the issue. The night-time battle takes place just before dawn, and the shifting of the light as dawn breaks is handled particularly well as well. It's been nice to see two different approaches to coloring getting equal time in the first story arc, and I'll be perfectly happy to see either Lafuente or Priscilla Tramontano coloring the book any day.
Three covers this month, and Sara Pitre-Durocher's is my favorite once again. She has such a talent for composition. Red Ironhide in the burning city, looking up at the smoke-filled sky at the enormous silver-gray Bruticus. A very natural, logical flow of colors and subjects. This should absolutely be a poster. Priscilla Tramontano's subscription cover plays with the scale of Bruticus as well, having Windblade and Chromia doing battle with a gigantic hand. Simple but effective, and the size and speed of Bruticus' punch is well-conveyed. Thomas Deer's cover has Ironhide, Windblade, and company looking up at... well gosh, I wonder who? I particularly like how Deer has handled the light of Windblade's sword in this composition. As always, we have three great covers - but I'm partial to what is fortunately the easiest one to get.
So that's
Till All Are One's
first story arc. I'm pretty satisfied with it overall, and I think this book is only going to keep getting better. Mairghread Scott and Sara Pitre-Durocher work extremely well together, and both colorists who've worked on the book so far have done excellent work as well. Next month, we have a brief
Revolution
intermission with guest artist Naoto Tsushima, which should be fun to see. After that, though, I'm really looking forward to seeing where the regular creative team goes. I will be here for as many issues as they see fit to put out.
| | |
| --- | --- |
| Reviewer | RAC |
| Date | September 19th 2016 |
| Score | (9 out of 10) |
| Reads | 3535 |
Back to Reviews Index