The end has come. An army of Titans rise from Luna 1 to purge Cybertron at the command of Sentinel Prime. Prowl lies dead, Red Alert has joined Sentinel. With only Fortress Maximus and Cerebros left, how can Luna 1's protectors possibly save the day? "Last Light", written by James Roberts, art by Priscilla Tramontano, colors by Joana Lafuente.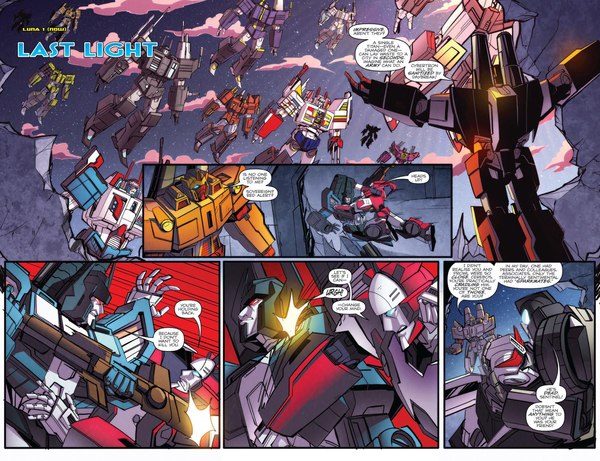 Click for full size, 1800 x 1384
The final issue under the More Than Meets The Eye title is a focus for Red Alert. It's no surprise that the injection marks in his neck that were revealed waaaaaaay back during Shadowplay are being paid off in this story. Red having been influenced and fighting back internally are the major theme of the issue. I think I'd care more if Red Alert had not been removed from the story before the first year was over with, and then removed further almost a year later to take up residence with Fortress Maximus on Luna 1. I never had much of a chance to care about this iteration of Red Alert, as I look back on it all now. This issue is giving Red an opportunity to grow and change a little bit, to advance in a way that should give a feeling of being very important... except I've been given no reason within this series to care. And the reveal of the trick with his memories was a non-starter since even the earliest preview told enough so that it was very obvious what was meant to be happening. There was a lot of effort put in to building Red Alert here, and it ended up just having no resonance for me at all.
I don't think it's really a spoiler to acknowledge that the expected outcome - Fortress Maximus the dude becoming Fortress Maximus the Titan - happened. I liked that the way it was done was not what you'd probably expect it to be. But that in itself produces some questions and issues which I can't really detail since that would give a little too much away. I can note that the mechanism used feels extremely convenient, to the point where there's no reason that most anybody shouldn't end up trying to do the same thing. But at the same time it shouldn't be that easy, so I hate that the mechanism exists now. Further, the battle between Titans got very little attention, because as I noted in the first paragraph, this is about Red Alert. I feel, then, that the priorities of the issue might have been somewhat misplaced, and the elements that were necessary as being a part of the "Titans Return" tie in had to be forced a little bit. If they'd been the true focus, a good story could have been crafted around the same concepts used anyway, but not making them also feel like semi-background elements going on.
Priscilla Tramontano's art continues to be quite enjoyable. I like the design variety she brought to the numerous Titans, making each one unique, but all keeping a consistent feel. The only flaw there which I would point out is not having a real feeling of the massive scale of the Titans. That's a tricky order especially when they're the only subjects of a panel, but looking at it they read as being as agile as any smaller robot, and of course they then seem smaller as a result. On the other hand, I love the reveal panel of Titan Fortress Maximus. I'd love to see that as a solid, clear art piece without another panel overlaid on it. Really fantastic posing, and the shot is framed wonderfully. And, Priscilla got a chance to do her own version of that famous Prowl shot. You know the one.
More Than Meets The Eye is not ending. I mean, it is in terms of the title ceasing, but the story is due to be picked back up under the Lost Light header in December. A letter from James Roberts at the end of the issue strives to make this distinction clear. As well as reminding everyone that there will be a More Than Meets The Eye: Revolution one shot in November. The story, the world, will carry on. Since I began reviewing the series with issue 12, I've subsequently reviewed all but 4 of the 45 issues that followed. I haven't enjoyed everything I read in that time, something I make no secret of. But even through the more difficult times I keep coming back in the hope of catching once again the quality that grabbed me and held my attention so focusedly for almost three years. More Than Meets The Eye has been an excellent book with an even more excellent creative team contributing to it. The first time I read this, and what was at the time Robots in Disguise, I found myself really impressed with the kind of stories IDW was bringing to us, taking Transformers fiction in a new direction and exploring it in a way we rarely, if ever, had the chance to before. Despite missteps, or changes of course that I didn't care for, at its heart, MTMTE has continued to proceed with that mission. I would be sad to see it end outright, especially with so much of the original story concepts left to be explored and resolved. I look forward to Lost Light launching in December, and I hope for the storytelling to feel refreshed and ready to break free of the rut I so frequently complained of during the 40's. We've made strides to the end already, so I find myself very hopeful for December to roll around. And as I look back, I realize how appropriate the book's title truly was. Anyone picking it up expecting just another licensed property book that was a glorified toy ad would be surprised to say the least! The depth of characterization, the themes, and issues addressed, the always top-notch quality of the art. It wasn't just a good licensed title, it was a good comic book, full stop. For whoever ventured to pick up an issue for the first time, it was truly More Than Meets The Eye.
| | |
| --- | --- |
| Reviewer | ExVee |
| Date | September 26th 2016 |
| Score | (5 out of 10) |
| Reads | 5974 |
Back to Reviews Index