Sentinel Prime explains all! Inviting Optimus Prime to join him in making Cybertron great again, the exposition is heavy as we learn about how Titan Masters have totally always been around, and serving the will of Nexus Prime and his allies. And on Earth, Prime's team are engaged during their salvage operations. "White Heat" written by John Barber, illustrated by Livio Ramondelli.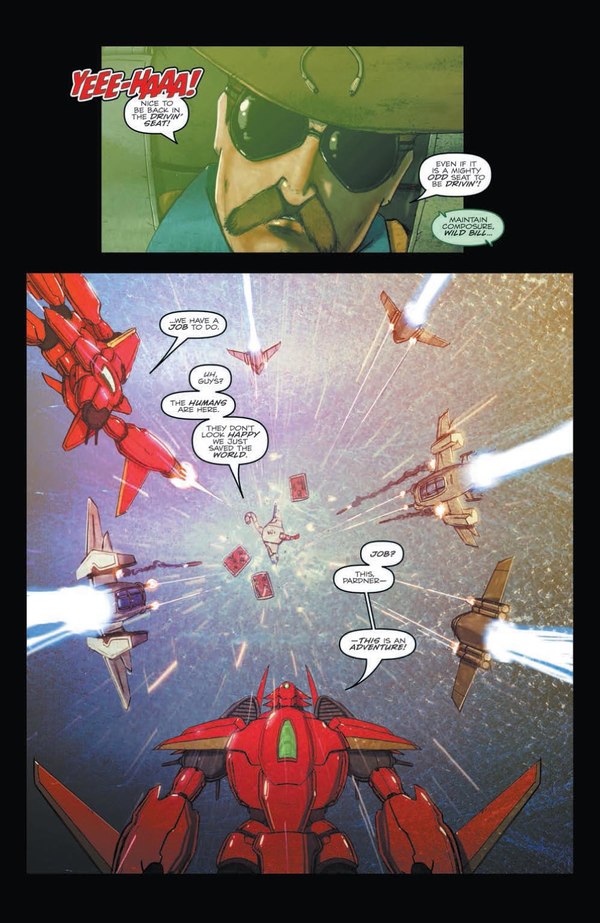 ...yeah, that sure is a face shouting "YEE-HAA" up there...
The Transformers is, in a sense, ending not too far from how Robots in Disguise started: a lot of talking. The series that gave us Robot Politics and made it a fascinating read from month to month serves up its final issue by basically laying the groundwork for the future. There is a mild amount of action, but it feels more like a matter of obligation than something required for the plot. Sentinel spends a lot of the time talking about the Primes in a way that definitely doesn't telegraph some larger presence in, oh, say a year or so from now. Of course, some of what's being talked about sort of ties in to Revolution, at least thanks to having a context from the advance previews released recently. In essence, if incorporating the Thirteen Primes to this continuity was something you weren't fond of, then you're not gonna be very happy with where we're seemingly going. But all this issue is really aiming to be, it seems, is a chapter end. The composition of the last page makes that abundantly clear even if the tone of the writing wouldn't. It acts as a closer for its title much better than its MTMTE counterpart did, leaving you feel like some stuff is wrapped up just enough to permit shifting to a little different direction. Immediately that will be Revolution, of course, but this is also to serve switching to Optimus Prime's self-titled book later in the year. Ultimately, Titans Return as a miniseries/tie-in comes off as intensely pointless. These couple issues and the associated one shot bring in Sentinel and the concepts of the Titan Masters and all... just long enough to send them away because the next big thing is already here and waiting. I'm left to sit here and wonder what this was perceived to accomplish. Of course I feel much the same about the Combiner Wars cartoon, but that's a matter for another day. But like the Combiner Wars comic event before it which similarly felt as though it squandered a great deal of its potential, I feel that the hooks put down by this will not be adequately picked back up again. Indeed, the concept of exploring a combiner's mind basically didn't even happen until the August issue of Till All Are One - well removed from the run of issues that was supposed to be all about the combiners. So then, how long will it be before anything of substance can be made of Titan Masters fictionally? That's truly where I hit an obstacle. This whole process drips of a rushed expositionary exercise to simply get these things out and in the canon before there won't be a chance again for a year or more. I had similar thoughts about some of the things that happened during Dying of The Light over in MTMTE. I keep coming back to Revolution messing with things negatively, and what I believe to be the truncation of Titans Return is just another thing I can attribute to the process. For as much as this comic event was talked up during last year's New York Comic Con, it sure did turn in to a hi-and-bye of a thing, didn't it?
Some of the technical merit of the visuals is still improved, as I observed last month. But there are still bad choices, like the interior page I used as the example image atop the previous paragraph. Blackrock briefly shows his human face again, which looks like ...have you ever seen those figures they make where they scan your face and put it on the toy's head? And it looks fuzzy and strange, like an old CGI texture map in a Playstation 2 game? That's what Blackrock's face reminded me of. Livio is improving in various areas, but then sometimes things like that pop up and it just feels like a set back for everything else. It takes me out of the moment, and starts me thinking about Grand Theft Auto 3 instead. Man, I miss flying tanks around. I sadly found the ocean battle really difficult to read. That was one place where things seemed to backslide. It was darker than it should have been, making the already tough to distinguish figures harder to identify as any particular individual. And when you can clearly see them, no one seems like they're interacting with their environment. And when set in and around water, that's a hugely important piece of the visual puzzle. It is, I'm afraid, not the greatest artistic sendoff for this title. But one credit where it's due - I like the idea with Livio's cover, the main cover for the issue. The split of Optimus and Soundwave works for me on a few levels, and overall is a pretty strong piece of work from Livio.
So while my euology for this book will likely not be as extensive as I did for MTMTE, I think I'd not be giving it a rightful due if I didn't acknowledge it a bit. All 57 issues will always be Robots in Disguise to me. The digital copies and previews we get are even still filenamed as "RID", so even internally there is at least someone who still regards it as its old title too. I've seen John Barber himself and a few of the artists keep calling it "exRiD" or some variation. That's because the book did a lot to cement its place long before marketing forces required that it change. And sadly that is probably the book's legacy. When a concession was needed to make something else work, this was the sacrifice. The end of the Robot Politics arc met a months-long holding pattern where all momentum was lost so that MTMTE could finish its then-current storyline before going to Dark Cybertron. The book lost its name for a cartoon series tie in that lasted only a fraction as many issues. Combiner Wars struck it when it had just finally regained its stride again, though thankfully that was quickly recovered from! And finally the Revolution project takes away its name again, and in my estimation truncates what became its final story. Things are set up for the future, and hopefully the recovery is just as swift after Revolution as it was after Combiner Wars, but... this book really didn't get treated great when you look back on it. It is therefore a huge credit to John Barber that every time, no matter what bus it got thrown under, he pulled the book back out and got it on its feet again and kept making it really interesting - compelling - to read. He kicked off with the hardest task I can imagine, making a book about the political affairs of post-war Cybertron entertaining and engaging. And he succeeded. When I refer to Robot Politics, it's with reverence, and respect. It's a mark of accomplishment that I don't want to forget, and that nobody else should either. If you succeed at that, you can eventually succeed at anything. And Robots in Disguise did. With Barber still on the writing duties, I have great hopes that Optimus Prime will hit the ground running with all the momentum of the 57 issues behind it. I want to say also a big thank you to Andrew Griffith. His style defined the look and feel of this series. While there were guest artists along the way, Griffith is what made RID itself. I regret that he won't be continuing forward to the new title, but I wish him well on whatever project he finds himself going forward.
You know, as much as I and everyone else resisted the change of name, it's actually pretty appropriate. Even being tripped up by circumstance every so often, this was always the book that got back on its feet, found its direction again, and stuck to it as much as it possibly could. It always strove to have something interesting to offer in the story it was telling. You could count on it more often than not, rather than wondering after a time whether there would be a meaningful substance to this month's issue or not. As I think more and more, this was a series that deserved to drop the sub-title, and simply stand on its own as The Transformers.
| | |
| --- | --- |
| Reviewer | ExVee |
| Date | October 3rd 2016 |
| Score | (7 out of 10) |
| Reads | 3718 |
Back to Reviews Index