Enter the Micronauts! But how does Microspace fit in with the Ore-13 crisis?
Revolution Chapter Three: O Ship Of State
is written by John Barber and Cullen Bunn, with art by Fico Ossio and colors by Sebastian Cheng.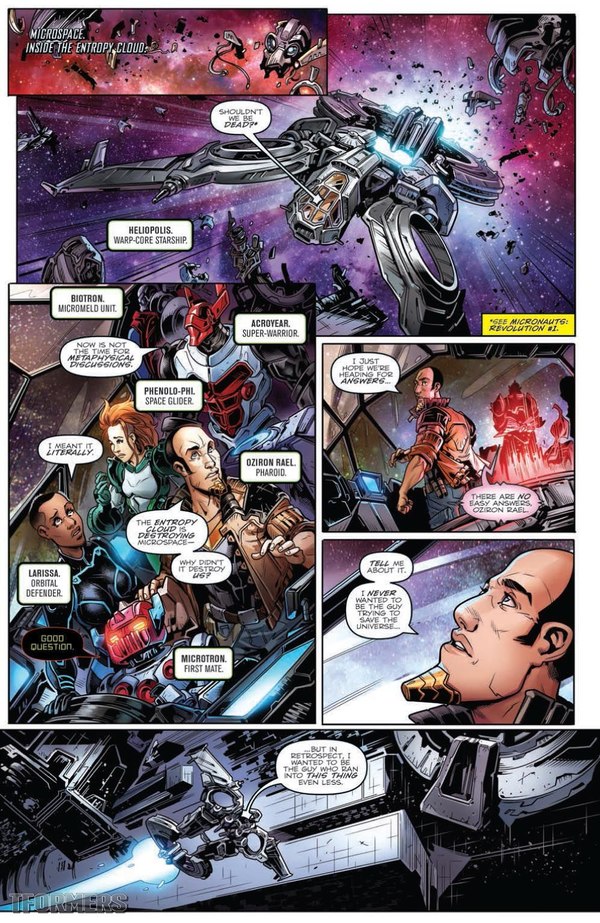 I have so many questions!
Inside the entropy cloud that threatens the existence of Microspace - home universe of the Micronauts - said Micronauts have found the probable source of the problem: the body of Micronus Prime, one of the Thirteen Primes, patron bot of Mini-Cons, and creator of Microspace. Their arch-nemesis Baron Karza informs them that Micronus' body holds the key to the salvation of Microspace, and only the `nauts can save it. Back on Earth, Matt Trakker informs Scarlett that he's realized what she and Miles "Mayhem" Mannheim weren't telling him - that the Transformers are living beings - and Matt is not okay with Kup being tortured. Scarlett informs him that her pain is more important than anyone else's so she doesn't really care, and Mannheim escorts him out.
Last week I was praising
Revolution
for juggling so many characters and still being pretty coherent and followable without reading the supplementary comics. This week stumbles in that regard.
Micronauts
is the problem, and it's a simple one of time: its heyday was 1976-80, also known as three years before I was born to when I was one. I realize that my age is not a universal one, but I can count on one hand the number of TF fans I know who are 5-10 years older. (Hi, Headmaster Don!) And Micronauts may be a treat for them, and I hope they enjoy it. But there's really not any explanation of who they are in this book. MASK exists on Earth, and we're present for their formation in issue 2, and we know Earth's situation very well. Rom is a Spaceknight and fights the Dire Wraiths. You can get the gist of that in a single sentence. But here we're being introduced to a group of new characters and their
entire universe,
and there's not enough time within this book to really do that.
And in my opinion, supplemental material should be just that: supplemental. Optional. I shouldn't need another comic series to make heads or tails of the one I'm reading now, especially if I've followed it since issue #1. Now, this would be a great place for the profiles at the back of the book to bring us up to speed, and in later issues maybe they will. But instead, we get profiles of Miles Mayhem, Matt Trakker, Roadblock, Mainframe, and Victorion. Victorion and Roadblock don't even appear in this issue! (Okay, Victorion's in
one
panel. And has no lines.)
On the art front I'll start with Scarlett, who only scowls in two of her panels this week. Improvement once again! Fico Ossio's art remains strong, and he does well at handling the variety of scales that this project demands. That's got to be difficult. I'm sure this was done well in advance, but there's also no drop of art quality on a weekly book, and that's quite a trick! I'd love to know how long he was given to complete each issue. On the face side of things, the two women from Microspace do indeed have a different face than Scarlett, but one different face between them. They look pretty similar to each other in terms of facial features. Also, his interpretation of the Transformers characters with the most humanoid faces is of the school where you draw them exactly like human faces but shiny - I've never liked that personally. And on Windblade, who features heavily into this issue, it's especially not working for me.
As I said before, I don't think Ossio's extremely glossy, detailed style of art would work as well as it does without a colorist that knew what to do with it, and Sebastian Cheng clearly does. It's a complex comic with a lot of different places and characters- I can only imagine the stack of references he has to sift through every issue.
Guido's cover this month is in his retro-Marvel style and features Rom and Acroyear together. Nice! Brandon Peterson's subscription cover has a really great Optimus Prime head in the background and Micronauts in the foreground. Very cleanly done and I like the designs. This month's
Retro Toy Watch!
has us taking another, more brief look at Adam Riches' Imaginary Toy Multipack cover. Now, scale's been borked on these since the first one, when MP-10 Optimus Prime and GI Joe Real American Hero 25th Anniversary Scarlett were nearly the same size on a cover. But this time we've got two Micronauts next to RAH 25th "Specialist Trakker," who of course is MASK's Matt Trakker. They should be all approximately the same size; Micronauts are 10cm tall which is more or less in the same scale as GI Joes. They're about half the size, which compared to what we see in the comics is too
big.
So hey, artistic license and that's cool, but toy
pedantry
nerdery
is kind of my day job, so...
The issue seems to hint at one more set of reveals, probably of the overall villains of the piece. But I hope that's the last - we're nearing capacity. I think if you remember Micronauts better than I do you'll get a good bit out of this. But as for me it's getting kind of hard to follow.
| | |
| --- | --- |
| Reviewer | RAC |
| Date | October 10th 2016 |
| Score | (6 out of 10) |
| Reads | 3858 |
Back to Reviews Index