Escape the White House! The Dire Wraiths have infiltrated the highest levels of the government and now threaten the president herself. Only Marissa Faireborn remains to protect her as the two try to escape the infested White House. But with no clear route to safety, Marissa has to call the one number she knows she can trust. And her backup comes with a dog. "Thundercracker & Buster Save The World (And Marissa Faireborn Helps Too)" written by John Barber, art by Andrew Griffith, with colors by Thomas Deer.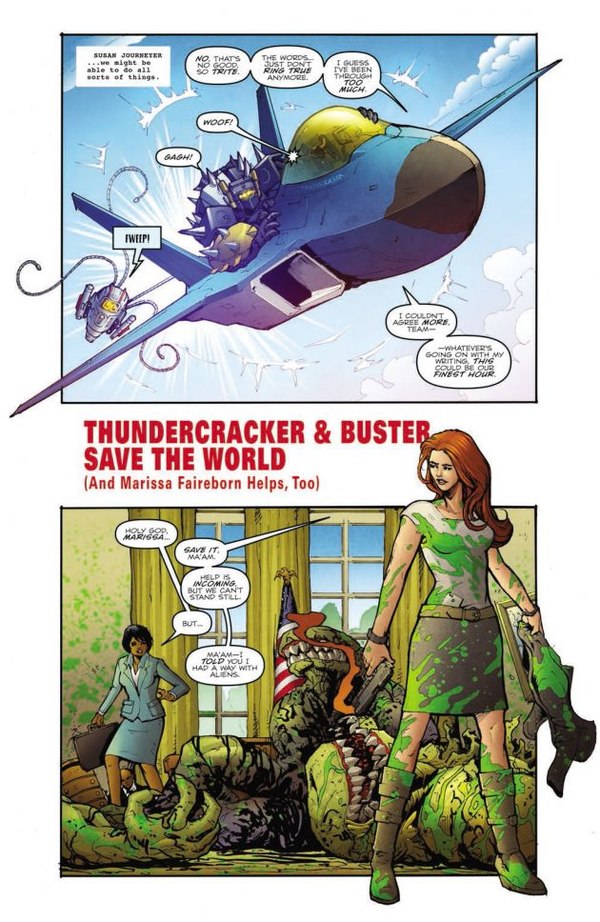 I am unexpectedly sad at the idea of seeing the two of them leave now.
The "Story So Far" page is a little light on the background, but the president's dialogue fills in enough of the gaps early on to catch up to what's happening, and basically everything is going wrong. Which stands as the ideal lead in to what becomes a standard "escape the alien invaders" scene from a larger movie. Plot is... maybe not super heavy in this one. It is part of a much bigger narrative structure, but in case you aren't reading every single tie in, it also has to work well enough by itself. And by being a fast moving escape/battle, it manages to not demand much of the reader or leave you feel like you're missing out on a lot of other events. It's a good balance job that way of being a bridging one shot and working with the collective story of ...what, probably close to a couple dozen other issues across an array of titles by the time Revolution is complete? After having Marissa be unceremoniously sidelined as her department became irrelevant so GI Joe could be folded in to this world, it's really nice to see her have a really good performance here. Marissa hasn't had the greatest run for a lot of the time she's been around, and eventually the writing itself seemed to be running with the joke, making her end up sympathetic. So it's enjoyable to see her get at least one more strong pay off. Of course, I'm afraid it's more like a send off and after this she might wind up still not getting much time in where the story goes next. But I guess it's a high note, if so. A little less good in this is Thundercracker, who comes across a little hamfistedly shifting character tracks. The early part of the issue uses his ongoing screenplay fantasy to establish how he himself is sensing the flaws in his "writing" and is losing interest. His participation seems to have a lot to do with getting him off the line of characterization that Barber had up until now been taking him along. The ending also implies that he might go off the radar for a while too. Taken with Prowl bugging off to Luna 1 and seemingly going to the control of James Roberts, it makes Thundercracker's turn now feel very blatantly like a result of Barber's step down from editorial. Thundercracker isn't going evil or rejoining the Decepticons or anything, but he does kind of pointedly drop his most significant character trait that was held since issue 28 or so. At least he's keeping the dog.
I like Andrew Griffith's work in this quite a bit. The wraiths shedding their human disguises (frequently!), them attacking the (rather few) actual humans around, and the wraiths getting attacked and killed by Marissa, Thundercracker and friends are all done really nicely. I mean, there's a fair amount of gore, though most of the worst stays pretty much off panel. But there's some mild unpleasant stuff here. But the art handles it all very well. I noticed more than a few really nice facial expressions over the course of the issue, including - surprisingly - from one of the Dire Wraiths. I didn't even expect those face designs to be able to effectively emote. They're just sci-fi monsters, after all. Thomas Deer's coloring job is good as well. Though I feel bad that my chief praise of it is that it feels highly consistent with Josh Perez's work on The Transformers itself. The style matches so well that I may not have actually realized it wasn't Perez before going back to the credits page. On the one hand, if Deer was going for that visual consistency, excellent job! But at the same time, sorry that's what seems most distinctive about the work. Now, the art in the issue isn't entirely perfect. It's not anything on the technical level, it's more just a continuity problem that I ended up noticing. Not too much of a spoiler here, but Thundercracker loses his right arm in the course of the issue. But even on the next page his right hand is seen in a panel. In another instance, on the same page as a wide shot shows him missing the arm, he then has two hands again. It's nothing that crops up to affect the way the story plays out, which also means it could, if desired, be corrected for the collected volume this issue will eventually appear in. It just ends up being a little bit nagging when you notice it.
So even if Thundercracker or Marissa won't be appearing again for a while, good use was made of this issue to give them a nice departure from the series until such time as they're needed again. I ended up liking Thundercracker a lot since his reintroduction upon the book's return to Earth. Especially when so much importance was placed on what was happening with Soundwave's Decepticons, Thundercracker provided a needed other point of view and someone outside of Soundwave's system to interact with. It made some really strong scenes that cemented how the Decepticons were the most compelling thing in the book at that time. Marissa was more often left holding the idiot ball, which is a shame since issues like this show how much potential she has when a story lets that be called out. I hope she has a place in the new order of things once the crossover dust settles down. She never made the kind of impact Thundercracker did, but I'd like to see her get a chance to still.
Next month, The Transformers becomes Optimus Prime, and that is probably never going to not be weird to me.
| | |
| --- | --- |
| Reviewer | ExVee |
| Date | October 24th 2016 |
| Score | (8 out of 10) |
| Reads | 3518 |
Back to Reviews Index