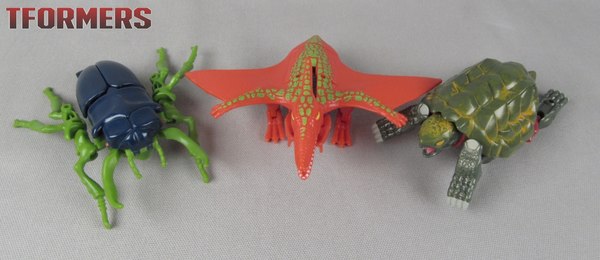 Click on any photo to go to the gallery!
As I said in
the Cheetor review
, Beast Wars marks the dawn of what is essentially the modern Transformers format, complete with size classes that are still in use today(albeit sometimes by different names). And while those pricepoints endure, the approach to making a figure at each price has evolved over time, sometimes subtly.
And sometimes not! The Basic Beasts are very different animals from their modern descendants, the Legends class. While they don't have the Mutant Masks that lend some very `90s charm to the Deluxe and larger figures, they do have their own unique feature to be abandoned later: auto-transformation.
Terrorsaur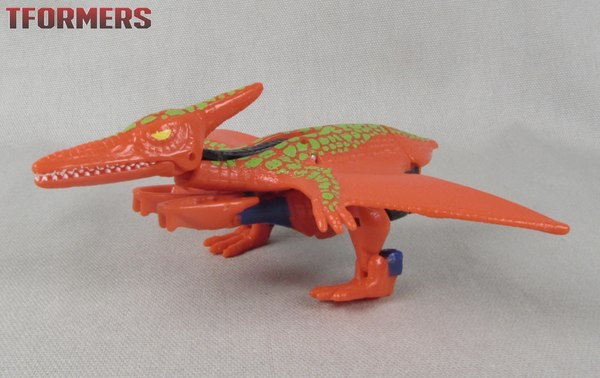 I'll start with the character that made the cut for TV. Terrorsaur is where it's easiest to see this Basic style as a continuation of the auto-transforming jets that were planned for the end of
Transformers: Generation 2
(and thanks to the success of Beast Wars, ultimately saw release as the
Machine Wars
Basic Jets). I mean, what's the functional difference between a jet and a pteranodon, right?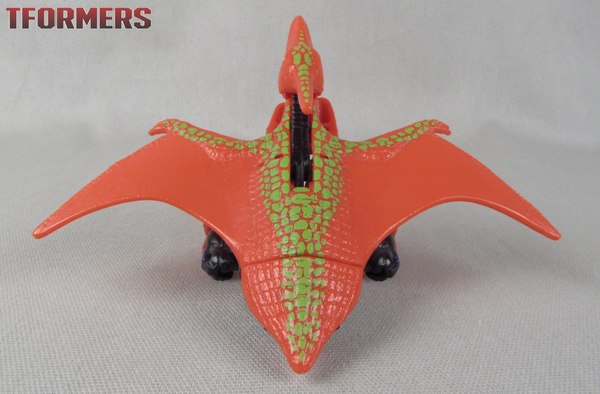 Terrorsaur has green spots across his back that are unique to his original toy form. He's also of course not yellow-beaked like his TV self. Like Cheetor, a fairly simple form is spruced up with a lot of subtle, organic surface detail. The body is scaly, the wings are leathery. There's even some veins on the underside of the wings... though you probably don't want to look at the underside of the toy
too
closely. In the grand tradition of Transformers fliers, there's a lot of leftover robot bits on the under
carriage
belly.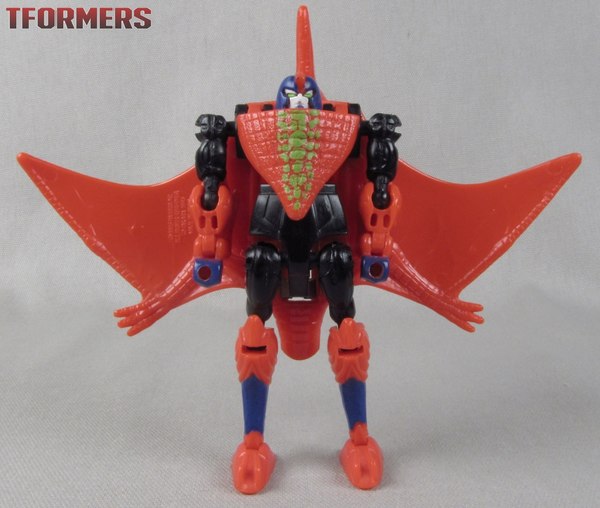 Most of the transformation is accomplished by pulling back on Terrorsaur's head. The hands and feet still need unfolded, but you end up with a mostly-transformed upside-down robot! And in this form the differences between TV Terrorsaur and Toy Terrorsaur are yet more pronounced. His helmet is purple as are his shins and hands, and he retains a green stripe down the chest. And he's got a lot of black where the CGI model had metallic silver. He looks pretty good, but also very different from the show. But you can see how he got the Scheming-but-largely-incompetent-lieutenant part, because those inverted beast-wings sure do scream Seeker to me. As with Cheetor, there's less sculpted surface detail for the robot parts, but it's less odd looking at this scale.
Articulation is, well... Basic. Nine ball-joints in all: head, shoulders, elbows, hips, knees. It works pretty well, especially with the transformation hinges in his ankles helping the legs along. They can get a little loose with time though, so you may have to distribute his weight appropriately. Mine is having some troubles with floppy joints at this point.
Snapper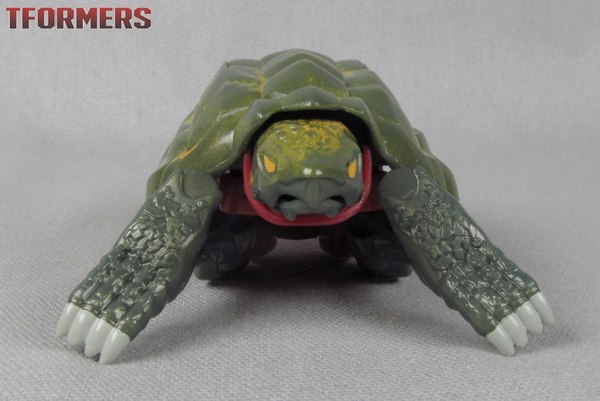 Now, here's something that I feel should be recognized: Snapper is a one-off. There is one character by that name in the
TFWiki
, and only one toy of him was ever made. Heck, he only appears in one piece of Beast Wars merchandise, a very early card game that is all but forgotten today. And let's face it: since he was a minor character created after 1990, he will
never
get any kind of recognition in future toylines. And he never even got adapted as a Beast Wars Second or Neo character or toy!
So: this is Snapper. This is the
only
Snapper. And that's kind of a pity because there's nothing about the toy bad enough to justify that. He's actually pretty neat.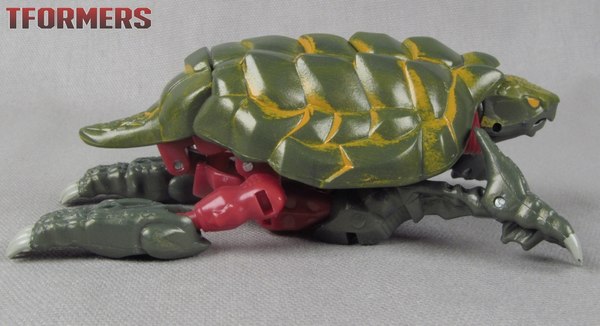 He's a little undercarriagey as a snapping turtle, much the same way Terrorsaur's beast mode is. But since he's supposed to be sitting on the ground and not flying through the air, it's arguably less noticeable. The sculpt is again good, with great plates on the turtle shell and a yellow-orange paint wash to bring out the detail. The forelegs are a bit funky, since they're actually robot feet at an odd angle to
look
like forelegs. The turtle's jaw is articulated, and the head is on a deep-set ball joint that gives it some range of movement.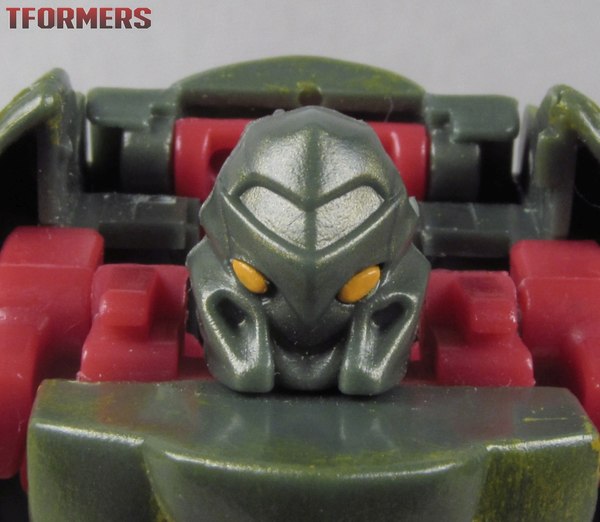 90% of transformation is achieved by pulling on his tail, which folds down to become a chestplate. The turtle head retracts and ends up looking a bit like a tail itself when seen from the back. Beast Wars, at least at the Basic and Deluxe sizes, has a pretty strong unified aesthetic. Transformation adds an extra color and smooth, machined-looking robot parts to organic, textured beast parts. Besides a big turtle-shell backpack, Snapper adds big, weird clawed hands and a face with a set of Predator-like mandibles.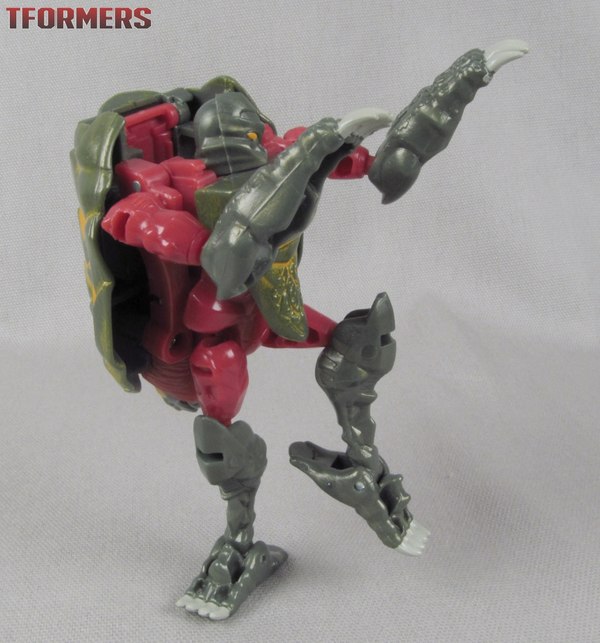 Articulation is the same as Terrorsaur save for the head, which is a very limited swivel. The claw hands don't present a change in function so much as effect; he's ready to be a backup dancer in the all-robot remake of the
Thriller
music video. They did think to give him broader feet to help balance the weight of the shell - or maybe that's a side effect of how they did the turtle forelegs. Either way, much appreciated.
Overall, Snapper is pretty nice. Looks good in both modes and is fun to play with. But let's look at one more Basic Beast!
Insecticon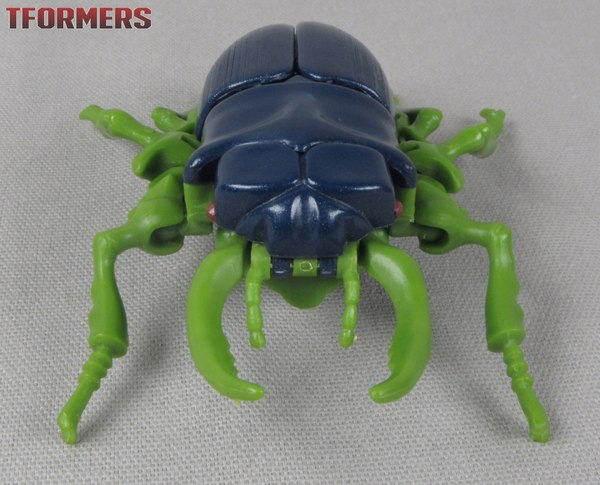 Insecticon would be as far down on the Obscure-O-Meter as Snapper but for two things: first, he's named after a subgroup we've seen before and since. Second, he
almost
made it onto the Beast Wars show. He was ultimately cut from the episode
"Power Surge,"
with his lines given to Waspinator.
Insecticon is pretty similar in construction to the other two, but the lack of any locking points for the robot limbs makes beetle mode slightly fussy. Otherwise, though, it's pretty nice, with a very attractive metalflake-blue color for most of the shell. The insect legs are only poseable or adjustible in that the robot arms they're attached to are. But, the mandibles are movable, and are geared to move together. It's a nice feature.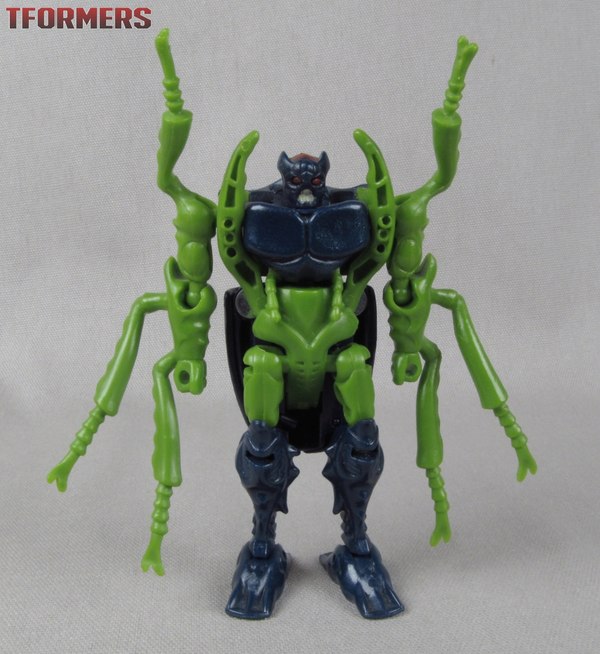 Tugging down on those mandibles will flip the beetle into robot mode. (Word of warning: for bug mode you have to make sure the beetle's head locks into position firmly, or it'll flip back to robot mode.) Unlike the others, Insecticon's transformation doesn't add a new color - but blue and green looks pretty nice anyway. He has more detail on his robot parts than the others as well, it seems - it's really not too far out of step with how things look today, though the face is a more organic kind of ugly than what we get anymore. Where the other figures generally restrict the intrusion of leftover beast parts to their backs, he is just all over with bug bits. He's got the insect legs on his shoulders and forearms along with the mandibles and antennae on the torso. Combined with the mean, weird little face on him, he leans more towards the "mutant" side of Beast Wars styling.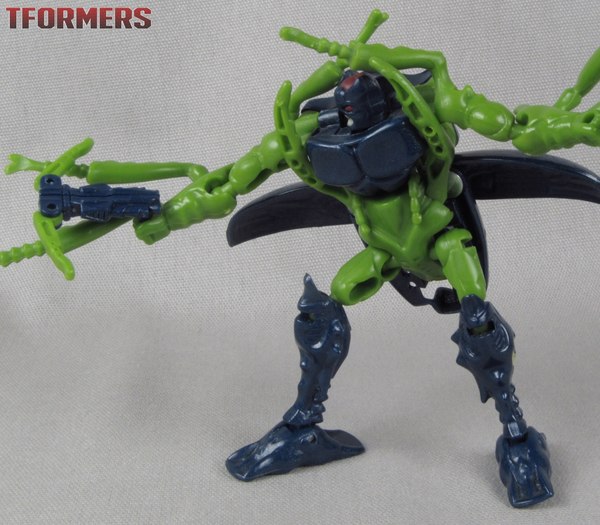 On the upside, he's got the least restricted arm articulation of the three! Otherwise he's equal to Terrorsaur, if a bit better at balancing for his smaller and more compact back kibble. And the back does serve a purpose: open the elytra - the hardshell "wings" that cover a beetle's actual wings - and you'll find two halves for a small crossbow weapon. It looks good, and the peg is angled so it clears the bug legs on the arms. Nice!
Buying Them Loose
With any of these, the big thing to look out for is whether the weapon is present. Otherwise if they're missing anything, it'll be an arm or leg, and you'll notice. Terrorsaur is the most expensive of the three, which makes sense as a show character: he'll run you northward of $20 on eBay. Snapper and Insecticon both run at the $8-15 range most of the time.
In terms of variations and mold reuses, Terrorsaur is the only one with significant amounts of both. (Or either, actually!) Like Cheetor he got a Japanese re-release in more show-accurate colors, and that is
expensive.
His mold was reused in 1997 as non-show character Lazorbeak - and Lazorbeak's deco became the basis for
Beast Wars Neo
character Hydra. That same year, the Terrorsaur mold saw use as BotCon 1997 exclusive Fractyl. The Terrorsaur mold was then used twice in the 21st Century, both times as Walmart exclusives: in 2003, Swoop (later cases renamed him as Terranotron) was paired with a Grimlock recolor of Beast Wars Dinobot. And then in
2014,
we got him reused as
Transformers: Age of Extinction
Strafe, in a Walmart 2-pack with a Legion-class Bumblebee. Weird!
On the other hand, there are no real deco or mold variations of the others. They were both sold in two-packs in Japan: Insecticon with Airazor, and Snapper in a bizarre
"Volcano Showdown" boxset
with Armordillo, alongside a weird plastic volcano that could spew red plastic "lava" marbles.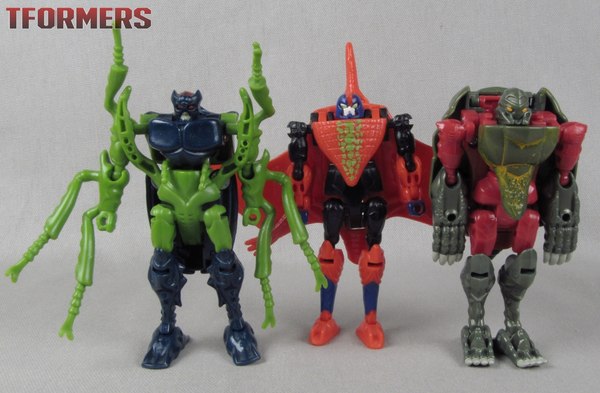 These have aged pretty well indeed. They're poseable, and their fun auto-transformation feature is pretty enjoyable and has minimal impact on the rest of the toy; these would all function just about identically without the springs, I think. Terrorsaur is the best of the lot in terms of things locking down in Beast Mode, but also probably the least good-looking Beast Mode. Snapper's probably my favorite in terms of balancing aesthetics and engineering. Insecticon is floppier in Insect Mode, and Terrorsaur is goofier looking. Plus, I just like turtles! But, if you can find a `96 vintage Basic Beast or two, they're probably worth getting.
By this time next year, the Basic Beasts will look drastically different.
| | |
| --- | --- |
| Reviewer | RAC |
| Date | October 29th 2016 |
| Score | (9 out of 10) |
| Reads | 5027 |
Back to Reviews Index