At the behest of Metrotitan, the Titan comprising Earth's Autobot City, Windblade embarks on a fantastic voyage to Microspace to receive an urgent message from its creator, Micronus Prime. However, the denizens of the universe may well be out to kill the messenger. "Informed", written by Mairghread Scott, art by Naoto Tsushima, with colors by DAI-XT.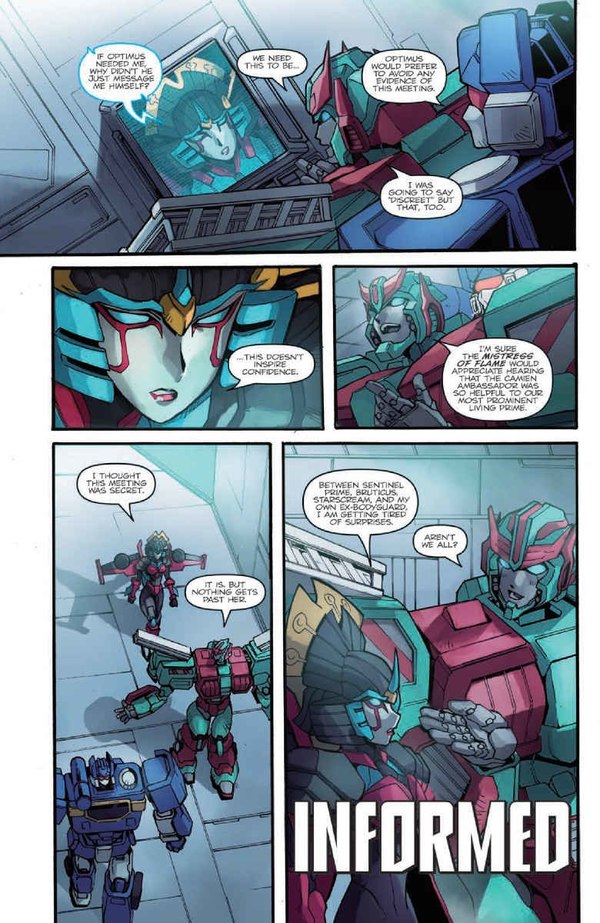 But Pyra Magna shouldn't look happy, like... ever. It's wrong.
Though the circumstance of Ore-13 being vital to protect Microspace has been revealed narratively already, this issue stands to bring that matter to the attention of the Transformer camp on Earth. Though with Revolution nearing its conclusion, of course such an important plot element can't come easily, nor can it just simply be accepted and acted upon. But there's not much tension in how this aspect plays out, given that Ore-13's role in the story as the big threat to Earth that's motivated this entire event can be solved very tidily. You know that by the time the last tie in issue hits this will all be settled and everything will head along on the new status quo. I feel like a lot of this issue means very little in the longer term. It portrays an exchange of information about the state of things in the Microverse and the larger universe, and plays it as if there's an expected threat to come from one or both of the Micro-factions. But in real practice I seriously doubt anything like that is going to be on the horizon. Supposedly Windblade has to endure what she does in order to properly convey the message Micronus Prime needs to relate, except that nothing about this feels that way. The message is that Ore-13 is required to save that universe, and without it everyone is going to end up wiped out. It's probably not all that necessary to give a vivid, personal experience with one of the factions to make that clear. I can imagine that one particular aspect of the experience might have made Windblade start to be a little more personally sympathetic to prevent her from only treating it as an abstract concept and mission to be carried out without a sense of real people being affected. That is probably the point, but I don't think it's necessary. Receiving a directive from a Prime, I tend to think she'd try with all her capability to follow through with it anyway.
I'd express concern about having enough page time left to get the conflict laid down at the end of the book worked out before the event is over, but... how many tie in books are still left to publish at this point? It can probably be handled just fine, so long as you remember to make sure and go pick up all those extra books to see how it plays out. I think a greater purpose that may actually have some impact and reflection in subsequent Transformers books is the wedge that starts being driven between Windblade and Optimus. This issue winds up showing her clearly troubled by the duty she feels she has to serve The Prime while being very put off by his decisions. I would like that conflict to develop further, as part of my ongoing pursuit of seeing Optimus Prime fall to complete ineffectualism. (Is that a word?) He has a crew of loyal and sometimes devout followers right now supporting his highly questionable actions, and if he can continue to proceed along the path he's been doing he'll manage to disaffect even them eventually. Maybe that really is the takeaway I should leave this issue with after all.
On art this issue is one Naoto Tsushima, who for those not in the know, is a Japanese artist of some note whose work can be seen in package art, pack in manga with various Transformers items and other comic work. If you ever read the Star Gate Battles manga, that was one of Tsushima's works. He's also done a few variant covers for relatively recent IDW comics. His style is quite distinctive, as can be seen here. It largely presents in the faces, and Soundwave's look here is a great representation of that. But there are also certain ways the bodies are rendered that point to him. It's a pretty nice style all told, although it's not entirely spot on for the book. For one, he drew Pyra Magna looking happy. That is simply not right. But overall I enjoyed the art in this issue, and it's always fun to get to see different artists come on and show what they can do in IDW's books. On colors is DAI-XT, who I have no prior knowledge of, I'm afraid. But his work here is nice. The colors are smooth, and just to the flat side as far as style goes. There's no glossy sheen on anything, even highlights are a bit matte. I like the look it manages to give everything, especially when a lot of the issue is set in spaces that seem to have poor lighting. Plus it's one of those things where the colors just feel like they fit very well in to the lines. Tsushima and DAI-XT are a really solid pair and they made a pretty book together!
I don't talk covers a lot lately, but it's worth bringing up this time around, because this issue has nothing but fantastic covers. Regular series artist Sara Pitre-Durocher and colorist Thomas Deer work together to give a very nice main cover featuring Windblade, Micronauts, and the Titan in a lovely piece of composition that makes a fantastic eye-catching comic cover. The incentive cover is a Ken Christiansen piece that sort of alludes to the contents of the book, but really stands out for the coloring style, having a really excellent, subtle painted quality to it that I like a lot. My favorite though is the subscription cover by Naoto Tsushima and DAI-XT. This one is fantastic since it at first seems to only feature Micronaut characters falling toward a surface. It takes just a moment to realize the "ground" filling the entire cover is actually Windblade's face, rendered a little out of focused and a bit "over-exposed" which help emphasize comparative hugeness. And check out the subtle detail in that left optic! Strong stuff right here!
So, remember Titans Return? Looks like starting next month with issue 5, Till All Are One finally gets to play with what that extremely shortlived tie in started. It sure gets harder and harder to feel like Revolution didn't just come in and mess up everything, doesn't it?
| | |
| --- | --- |
| Reviewer | ExVee |
| Date | October 31st 2016 |
| Score | (6 out of 10) |
| Reads | 3626 |
Back to Reviews Index