Ninjas! Tiny people from another dimension! Betrayals and bad decisions!
Revolution Chapter Four: The New Colossus
is written by John Barber and Cullen Bunn, with art by Fico Ossio and colors by Sebastian Cheng.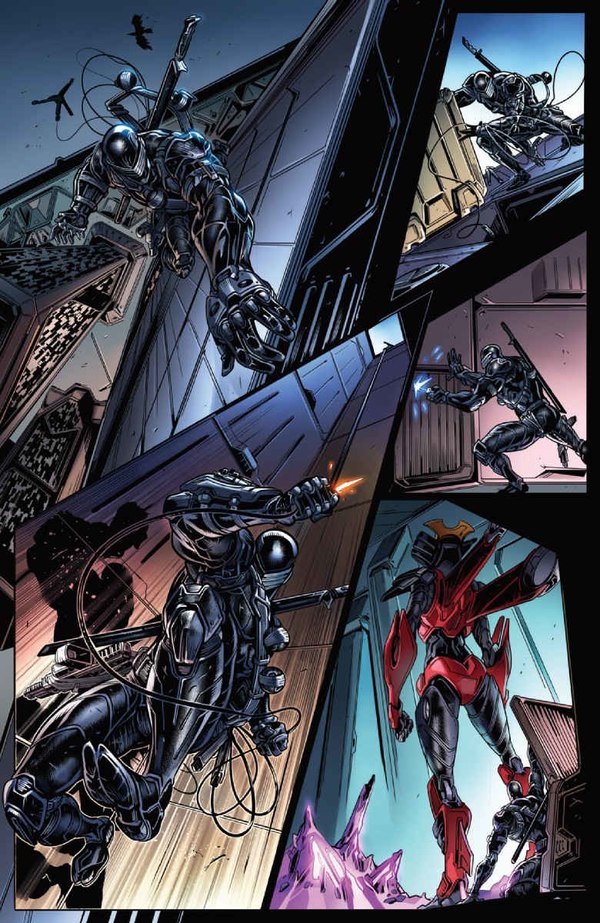 As dialogue-heavy as the later part of the issue is, this Silent Interlude stands out even more.
Snake Eyes silently infiltrates Autobot City and very nearly destroys the Micronauts' ship. Soundwave breaks up the ensuing fight between Acroyear, Arcee, and Snake Eyes, and finally humans, Autobots, and Micronauts are
talking
to one another. ...well, except Snake Eyes of course. Meanwhile, Miles Mayhem communicates with his partners about the upcoming action...
...and there is a decent spot of action later in the book. The largest payoff that
Revolution
has been working towards - a sprawling splash-page action sequence starring the contents of `70s and `80s kids' toyboxes - starts in this issue. In getting there we start squaring away some of the misconceptions and misunderstandings earlier in the story, but just barely. How many of those will be settled next issue and how many will be ongoing plot threads remains to be seen. It continues on the convergence of universes (and comic series) from last issue, which means occasionally you get hit with characters you'd recognize if you were reading, say, ROM. But enough of the cast is now known that it doesn't feel as much like you've been thrown into the middle of this bigger story you don't quite understand. That said, it does have that "you should've done your homework" feel, which I don't think does as good a job of selling people on other comics as publishers might hope it does.
The art team is unchanged from previous issues and they're still operating at the same level, all in all. Fico Ossio's style is still not to my taste in terms of how he draws the Transformers, but that's a subjective, stylistic thing. On a technical level, I think Ossio's doing a great job. He and Sebastian Cheng manage to once again juggle a lot of different characters at a variety of scales and make well-composed action scenes out of them. That's hard! In fact, the only panel that wasn't clear in the issue was where I wasn't quite sure whether one of the major villains was powering up his underlings or destroying them. Later panels and dialogue made it a little clearer, but it took me a couple reads to be sure what I was looking at.
Also: good news! We get those Micronauts-related profiles this time. The art for those is by Jack Lawrence, soon to be one of the main artists of
Transformers: Lost Light,
with Ander Zarate. I like his style, especially on Baron Karza. We also have a profile of Soundwave with an illustration by Guido Guidi that is really, really nice.
Speaking of Guido, there are two covers worth noting this month. His is one of them: a three-color image showing Optimus Prime in black, white and red. It sets a great mood while staying largely within the confines of Guido's retro style. The second cover is this month's Imaginary Two-Pack Cover by Adam Riches. The Snake Eyes is a stock figure - it was in one of the 25th Anniversary MASS Device 2-packs among other releases. But Arcee is the Generations figure heavily modified to more closely resemble her IDW form... and it doesn't quite work. Maybe it works a bit better if you're not aware of what Generations Arcee is
supposed
to look like, but mainly serves to highlight how much the G1-with-a-dash-of-pinup-girl Generations Arcee figure is not really compatible with her IDW appearance or characterization at all.
Next issue is the final issue of Revolution, after which we'll have a sense of the new IDW status quo. I'm hoping that it will be less dense than this, at least as far as Transformers ongoings are concerned. I suspect it will be, but we'll find out soon. This is pretty well done, if not entirely to my tastes. But I think a steady diet of it would become disorienting and off-putting very quickly.
| | |
| --- | --- |
| Reviewer | RAC |
| Date | October 31st 2016 |
| Score | (7 out of 10) |
| Reads | 3798 |
Back to Reviews Index