When we last left
Titans Return
in
More Than Meets The Eye
#57, the actual return of the actual Titans had been delayed... until now! How will Windblade, Starscream, and the rest of the Council respond?
Ping
is written by Mairghread Scott with art by Sara Pitre-Durocher, and colors by Joana Lafuente and Priscilla Tramontano.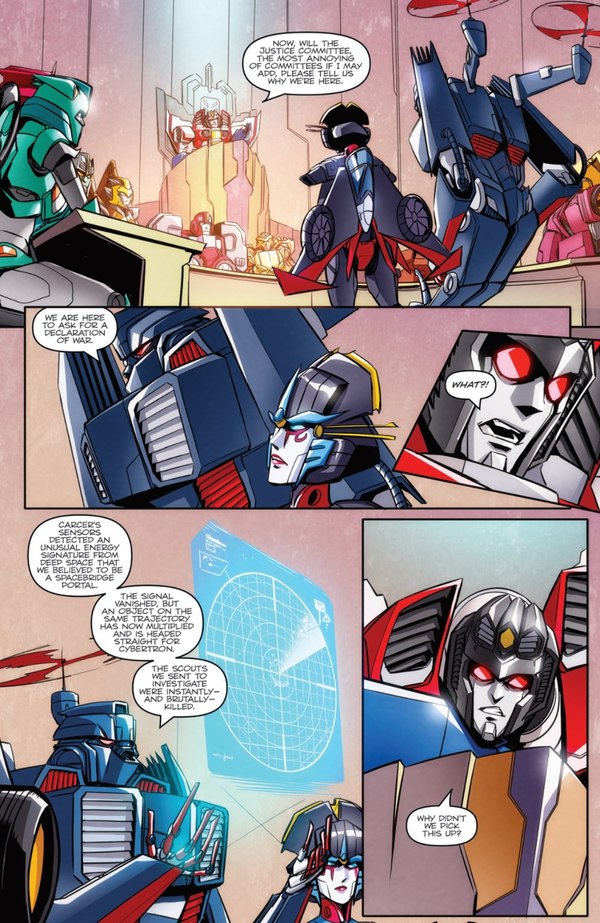 Starscream's reactions are great.
The city-ship Carcer detects something important as Windblade returns to Cybertron, demoralized from her time on Earth. Meanwhile, Ironhide demands the Enigma of Combination from Starscream on behalf of his security forces, declaring his intent to keep it safe from
everyone.
As he and Starscream argue the point, they're called to an emergency meeting of the Council of Worlds. The reason? The Justice committee requires a declaration of war on the swarm of undead Titans headed for Cybertron.
While I'm jumping beyond the scope of the issue preview to mention the undead Titans (by only one page incidentally), it's been mentioned in the solicitations so I don't feel that I'm spoiling very much for anyone. If you disagree, I apologize. But, my compliments to whoever figured all of this out timing-wise, because scheduling a mega-crossover has to be hard. Doubly so when you're using it to kickstart a half-dozen other comics. And so this last
Titans Return
story (the Transformers crossover that began briefly before the
Revolution
Hasbro toys crossover) is technically the first comic to be released under the
Reconstruction
branding for IDW's post-
Revolution
books. This was doubtless part of the plan, though, as the last issue of
More Than Meets The Eye
even mentioned it would likely take months for the undead Titans to reach Cybertron. (And either nobody thought to warn Cybertron, or somebody - by which I mean probably Prowl - thought it would be more fun as a surprise for Starscream...)
But more important than the scheduling and greater implications and placement of this issue is the fact that this issue is really enjoyable. By this point the characters are well established and delineated, and their interactions in a time of crisis are entertaining to watch. And in some cases surprising, as many characters show their true colors when confronted with a real and serious problem. By the end of the issue the plot has developed in a way that looks as though it's going to deliver on some of the unanswered questions from
Windblade Volume 2.
I'm looking forward to that, and also happy to see that things Mairghread Scott likely had planned long in advance are being woven into the stories influenced by the greater Transformers continuity. And very neatly so, at that! I'd been waiting to see how well
Till All Are One
would handle the influence of the other IDW comics, and so far, very well.
Sara Pitre-Durocher's art is as excellent as we've come to expect - but I think it's worth noting how complex a job this issue had to have been with so many different aspects to handle. The characters are all wonderfully expressive. The fight scenes are handled very well and are easy to follow, and some of them are pretty heavily populated at that. Her cityscapes are attractive and consistent. It all works and it all looks great. I can't help but think that comics writers must dream of working with an artist that works this hard and does everything this well. I also like how she's drawing Titans now - Metroplex's anatomy back on the
Issue 2 cover
struck me as just a little bit weird around the midsection, but she's refined their look in this issue in a way that both fixes that and streamlines the bodies in general. They look much better overall.
Both
TAAO
colorists, Priscilla Tramontano and Joana Lafuente, worked on this issue. While I think I can see hints of who colored what going from page to page, it's not obvious at a glance - and I always appreciate efforts toward consistency like that. There's some particularly well-done lighting in the issue as well, most notably a scene on the last page that I can't detail here. This issue just looks great at every level, hands down.
Sara's cover depicts Metroplex standing up and preparing to fight - with some unfortunate citizens falling off of him as he does. As always, I love her self-colored work, and the painted style she works in. And it's a good example of what I was talking about with her growing more comfortable drawing Metroplex and the other Titans!
Priscilla Tramontano's subscription cover
is a poster-worthy design showing much of the cast, with Windblade and Starscream split down the middle as the central figure. Everything about this is gorgeous, from the composition to how she draws the faces to the coloring to the highlights on everything. I just wish I knew what Chromia's sign is saying! Jack Lawrence and Thomas Deer collaborate on the Retailer Incentive cover, showing Knock Out and Breakdown. Deer's coloring style works well with Lawrence's nice, clean lineart, and I like the faces in particular. Good covers all around again this month, and all very different. I like that a lot.
This is a great issue, and a promising start to the new storyline. So far,
Revolution
has had a minimal effect on how
Till All Are One
is playing out, and it's good to see the series get right back into its groove on the heels of that event. This is exactly what I was hoping would happen.
| | |
| --- | --- |
| Reviewer | RAC |
| Date | November 21st 2016 |
| Score | (9 out of 10) |
| Reads | 4072 |
Back to Reviews Index