Baron Karza has merged with the Dire Wraiths! Can the combined efforts of the Autobots, MASK, GI Joe, Action Man, and the Micronauts bring him down? Maybe, if they stop fighting amongst themselves first.
Revolution Chapter Five: Valley Forge
is written by John Barber and Cullen Bunn, with art by Fico Ossio and colors by Sebastian Cheng.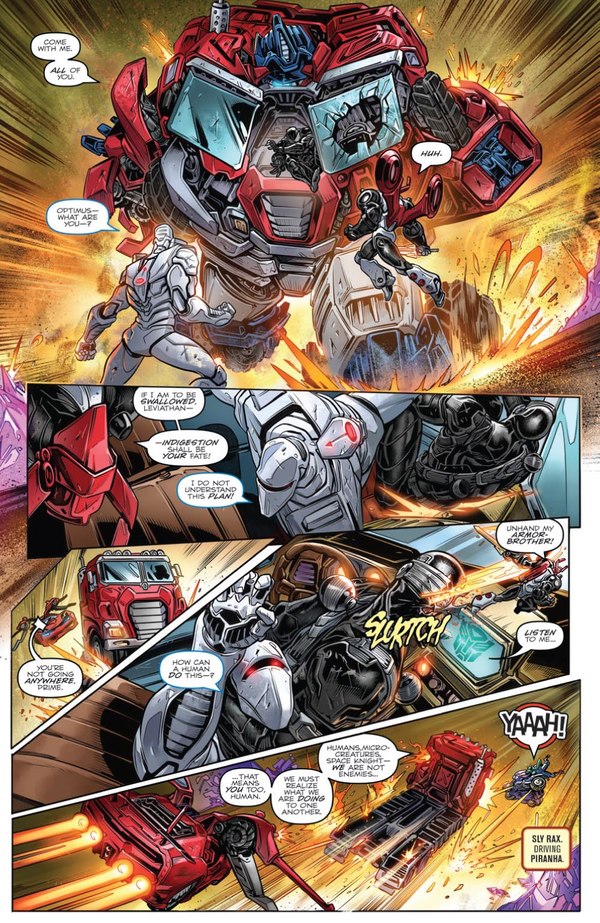 When Optimus Prime puts you in time out, you STAY in time out.
I'm not going to go into many story details on this one, because they're fairly light - this being the RBFATE (
R
eally
B
ig
F
ight
A
t
T
he
E
nd). The shape of the story is pretty self-evident if you keep up with the solicits and have a basic knowledge of event comic narrative structure. And it's a well-done expression of that structure, but in the end the fact this this is a device to facilitate the expansion of IDW's Hasbro-related comics brings some weaknesses. Some of the characters acknowledge the mistakes they've made during the course of the series, or at least come close, but others definitely do not. Scarlett is still a major obstacle to my enjoyment of
Revolution
- this time because her behavior and actions more or less completely contradict her previous postion, and seem simply to occur because that's the best way to advance the story without further confusion. (Unless she figured things out in
GI Joe: Revolution
- but I still consider it extremely bad form to make the ancillary books required reading to comprehend the main book.)
Fico Ossio's artwork is consistent, and he obviously puts a lot of effort and detail into his work, and Sebastian Cheng keeps up with him very well. There's no real drop in quality, and doing a crossover book like this on what I imagine had to be a fairly tight schedule, that's impressive. One thing that I feel dumb for not noticing a few issues ago, however: what's up with Victorion's face? It's more or less correct in the first issue of Revolution, both in terms of design and color. Every time that she's appeared since then however, it's been a totally new design that's not even colored in any way like the original character design. Is this a plot point or just an odd artistic decision? I suppose we'll find out eventually. That aside, there's no real surprises in the art here, and if you've enjoyed the look of Revolution up to now, I doubt that will change.
Two of the bios in the back of the book are pretty noteworthy this time through: Optimus Prime and Windblade. Prime's is significant because John Barber manages a coherent and concise summary of IDW Transformers history in a single page of text. That's impressive all by itself, and I wish it had been in the first issue of
Revolution
since Transformers is more or less the backbone of the thing. Guido's illustration of Prime is excellent, as always. Windblade's profile pairs
Till All Are One
's Mairghread Scott and Sara Pitre-Durocher, and it's both a good summation of Windblade's story to date and a great-looking image of Windblade.
Let's lead off covers with Adam Riches' Imaginary Two-Pack cover. Neither of these figures technically exist. Baron Karza appears to be a significant modification of his
original Micronauts toy,
which incidentally was based off of a magnetic-jointed toy of the Japanese super robot
Steel Jeeg.
Meanwhile, since Miles Mayhem never got a modern GI Joe figure like Matt Trakker did, we get a riff on a
GI Joe: The Rise Of Cobra Destro
with a new helmet and torso, along with some other minor Miles Mayhem mods.
The other standout cover to me is, once again, Guido Guidi. It's got G2 Sideswipe, complete with Derek Yaniger face, teamed with a Snake Eyes that, given the cape and the presence of chains, I take to be homaging a specific
Spawn
cover or image that I'm not aware of. Spawn wasn't really my thing, but it just fits with this Sideswipe so well. Guido is such a great artist, and I hope IDW gives him a miniseries to do interiors on again sometime soon.
Now that it's over, I'll be honest: I don't like
Revolution
very much. Setting aside for a moment that I don't care about and don't want what it's here to make possible - the shared IDW Hasbroverse - the conflict in the first issue that sets everything else up is only made possible by one group of characters acting very foolishly. Hopefully the GI Joe tie-in does a little bit to help explain and rehabilitate Scarlett as a character. But from the perspective of someone who only reads the main book, she (and to a certain extent the narrative) just decide to pretend that none of that ever happened in the final chapter. Some of the other new characters are interesting and may prove so in the inevitable crossovers to come later, but none of them make as positive an impression as Scarlett's negative one.
All of that said, I can easily see why someone
would
like this comic. It does a solid job of juggling a zillion characters and has nearly all of them matter in the finale. That's a tough job, and one that should be remarked upon and respected even if this isn't the comic
I
want to read. It does a fairly difficult job of doing some heavy-duty worldbuilding, and manages to be a complete crossover event comic at the same time. That is a heck of a trick.
Go back and read the summary sentence at the top of the review. If that combination of names intrigues or excites you, or triggers a memory of childhood toybox fun, it's worth your time to give
Revolution
a shake. But with my focus on Transformers and a concern that this broader universe will intrude on or detract from what IDW has built in its brilliant Transformers line of comics... it's just not for me. Time will tell if this thing I didn't want is going to feel like it has cost me something I do, but I have hope considering that John Barber is still the writer of the book this is most likely to affect,
Optimus Prime.
Barber is more or less a wizard when it comes to continuity and collaboration, and if anyone can show me the benefits of
Revolution
for the Transformers' story, he can. Let's see what happens next.
| | |
| --- | --- |
| Reviewer | RAC |
| Date | November 28th 2016 |
| Score | (7 out of 10) |
| Reads | 5138 |
Back to Reviews Index