Optimus Prime allows several colonists to join his efforts on Earth. But a mission involving Cybertronian derived technology goes poorly, requiring Optimus to intervene personally and again witness for himself that the world is anything but accepting of the future he envisions. Recalling his days as Orion Pax, super-cop, he reflects on a Cybertron unaccepting of the future its then-Prime held in mind for it. "New Cybertron Part 1: To Walk Among The Chosen" written by John Barber, art by Kei Zama, colors by Josh Burcham.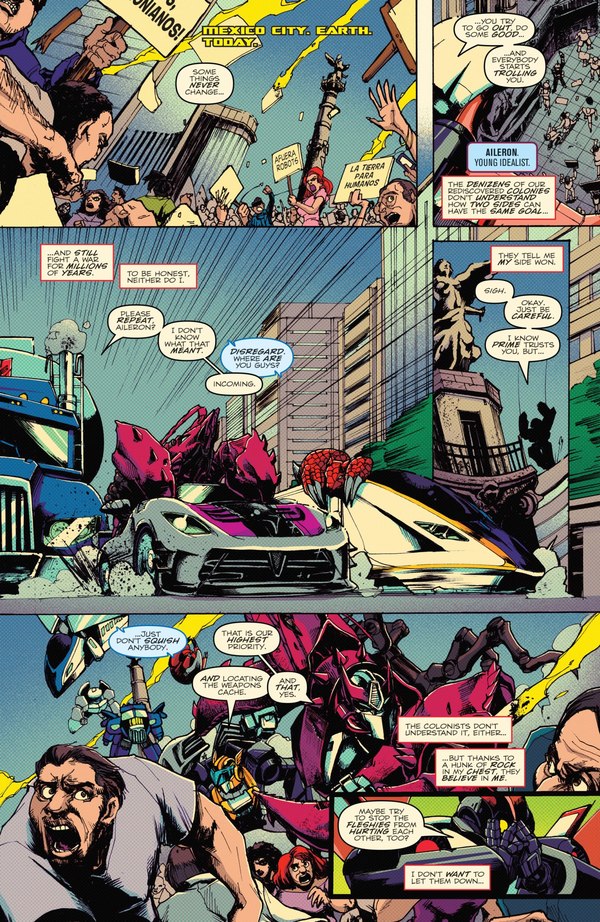 Road Lobster, for the seafood lover in you.
Ah, that issue 1, fresh comic book smell. And yet though we are kicking off a new title, we of course slide almost seamlessly in to The Transformers. Even Revolution itself only has a very minor effect on where this issue is versus where The Transformers left off just prior. We're supposed to be examining Optimus Prime, and pretty much directly as the issue is narrated by his thoughts. Through that lens we are shown how Optimus is, probably unwittingly, going down a path toward the same mistakes the others who called themselves Prime before him did. Except he's doing it on Earth. The narration makes some clear parallels, which causes me to wonder if this might be the start of a development process where Optimus ...well, gets a clue. If there is going to be an event in the next few months that opens his eyes and shows him that he has done wrong. Which would be just about in style, as it's likely to trigger another bout of feeling without a direction or purpose, and that's IDW Prime's main tick, seemingly no matter what happens to or around him.
The current team of... well, let's call them "enthusiasts" is an interesting mix of colonists giving space for some amusing cameos. Like a giant lobster riding on the back of a race car. Aileron is leading the operation, which doesn't go fantastic. A result that more gets blamed on her team than her, which is probably not inaccurate. There's a scene a little later that really reinforces just how much their reason for being there is just to blindly follow the living Prime. Their colonial background thus means they probably lack any useful experience in any sort of operation. In a way I like the way this helps build in what things are like for the Autobot presence on Earth, but on the other, anyone should have known better than to let this team go out without better supervision. But even that kind of lends to the situation. You know Optimus had to sign off on that. And you know someone (probably Arcee) was giving it an eyeroll off to the side even while not saying anything. As for the part of the story in the past setting... well, we've had plenty of stories set in that period that go near enough along this line, so I'll reserve any judgment on that until there's actually more of it next month.
But hey, dig this art. These lines are the work of Kei Zama, who is if I'm not mistaken doing her first full interiors for Transformers comics. And Josh Burcham is coloring, and together they are AMAZING. The lines are on the heavy side, which doesn't always work for me. But the style itself which is a little more exaggerated I think in the sharpness of angles and proportions really carries that approach. And Josh's coloring style for the book perfectly matches it. The end result is a book that has the visual sensibilities of the best offerings from the early 90's, but without the foil covers. There's a darkness and roughness that just a little bit manages to pervade everything and infuse some extra attitude. It's wonderful too since the kind of story we're getting is already perfectly suited to this art, and I'm not sure if that wasn't an incredibly happy accident. You know how I am about this if you've read my reviews for a while. I always find it interesting to get new artists, and new combinations of line and color artists, and hot damn did we end up with a lucky draw on this pairing. I've been saying through various channels already that I hope this team is kept together for a good long time, because when you get a result as strong as this, you need to hold on to it for as long as you possibly can.
There are lots of covers, and I am not going to even begin to talk about all of them. One incentive cover is by one of my other favorites, Sara Pitre-Durocher, part of a series of graffiti style covers that will all interconnect when they've all been released. This is of course themed to this title with Optimus, Soundwave, and a rather scary looking Aileron. Being around Optimus Prime for a couple months has not been a positive influence on that poor woman. Meanwhile, I will highlight the Casey Coller cover which is a very nice piece which would be good for use as the main, general purpose cover. But of course as this is Optimus Prime #1, it's kind of necessary to have that main cover just be the big solo portrait of Optimus. So, what're you gonna do?
A recent interview with John Barber promised that part of what this title was going to do was give examinations of Optimus Prime from those close to him, and that's something I'm looking forward to as things keep developing on Earth. That and the awesome art, I'm really looking forward to more next month!
| | |
| --- | --- |
| Reviewer | ExVee |
| Date | December 12th 2016 |
| Score | (8 out of 10) |
| Reads | 4070 |
Back to Reviews Index