It's Metroplex versus an army of undead Titans, and everyone on Cybertron and within the Council of Worlds is giving everything they can to help him! ...except for one person, and Starscream is very much not happy with them.
Desperate Times
is written by Mairghread Scott with art by Sara Pitre-Durocher, and colors by Joana Lafuente.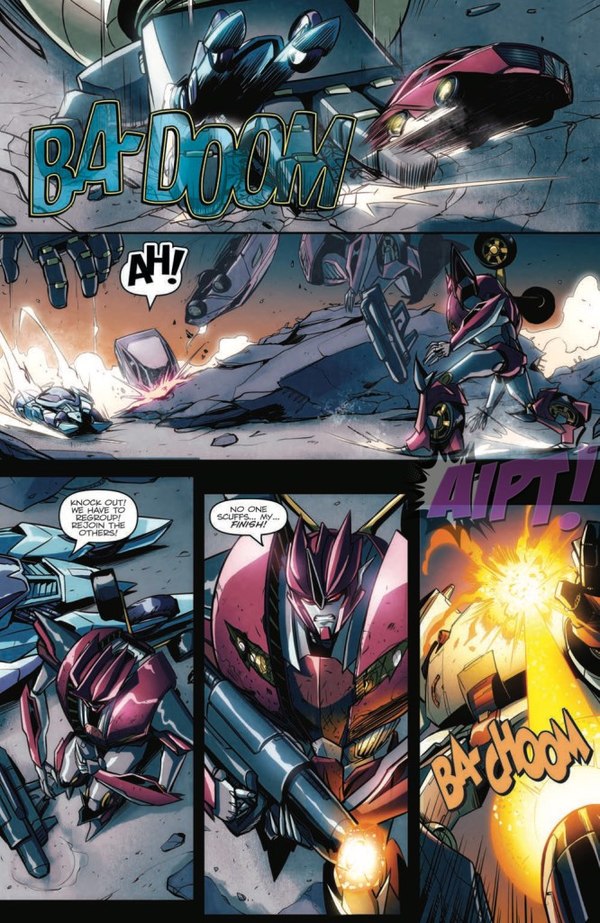 "Knock Out SMASH Undead City! Knock Out prettiest there is!"
It's nice to see Windblade and Starscream - heck, almost
everyone
and Starscream - on the same page after being at odds during the first story arc. Cybertron may only have a functioning society in times of great disaster, but at least it
has
one. And I like that everyone winds up on different sides of different issues as the story goes on; it seems appropriate for a post-war, post-factional Cybertron. There's a moment later in the issue, a simple statment of intent, that I think may come to be seen as a turning point for Windblade as a person. If she continues to follow through with it, it may take her to some very interesting and possibly dark places.
And Sara Pitre-Durocher's art really sells that scene, too. Like I've said before, Sara is great at both small, subtle emotion and big action, and Transformers books work best when you have that entire range. There's some excellent use of solid black for shadows in this issue, particularly on Elita One. It's hard to single out more of the highlights from this issue since so many are things I've called out before: the ability to convey emotion with visor-and-faceplate characters, Starscream, and even just things like conveying depth simply but effectively in a crowd scene. And Joana Lafuente does a great job with this issue, as always. She enhances the mood of Sara's art nicely and does so with consistent light sources and very well done highlights. The characters all look metallic without it being an overbearing effect. I do wish it had been applied a little differently to some of the more damaged of the robots, but that's a small thing.
Sara's got the main cover with a group of Cybertronians looking at the head of a fallen Undead Titan. I'm glad she gets the covers to show off her skills as a painter, because I really like the use of light and shadow here. It looks like high-end concept art for a movie or a game, and I would
absolutely
sign on to produce that movie or game if I saw this. Sara has mentioned before that she's going to be publishing a cover painting process video and tutorial in the future, and I'm really looking forward to that. Priscilla Tramontano gives us Metroplex on his back, with a hand at his throat, on a blood-red background. Very, very effective and I like the mottled, patchy paint on the arms conveying the state of the Undead Titan so well. Lastly, artist Zoner makes their professional debut with a Windblade whose face is seemingly influenced by Hayato Sakamoto's version of the character. I really like the shading on this one, as well as the energy sword that looks more, uh, energetic. Less solid, I mean, than many interpretations.
This is another strong issue on all fronts. I'm really enjoying this story and it's keeping a good pace - we know now from future solicits that this is the halfway point of the arc, but it's done well enough that you can't really deduce that just from reading it; there's no evidence of "writing for the trades" and things move along nicely. Looking forward to next month's issue!
| | |
| --- | --- |
| Reviewer | RAC |
| Date | December 26th 2016 |
| Score | (9 out of 10) |
| Reads | 4271 |
Back to Reviews Index