First contact! Optimus Prime greets Earth's latest offworld visitors, the highly eccentric and extremely modular Junkions! But the GI Joe unit under the command of Zilong Qian wants a shot at the new visitors as well. Offering friendship and exchange of knowledge and technology for access to Ore-13, the Junkions come in peace... (shoot to kill, shoot to kill) New Cybertron Part 2: A Lonely Pillar On The Plain, written by John Barber, art by Kei Zama, colors by Josh Burcham.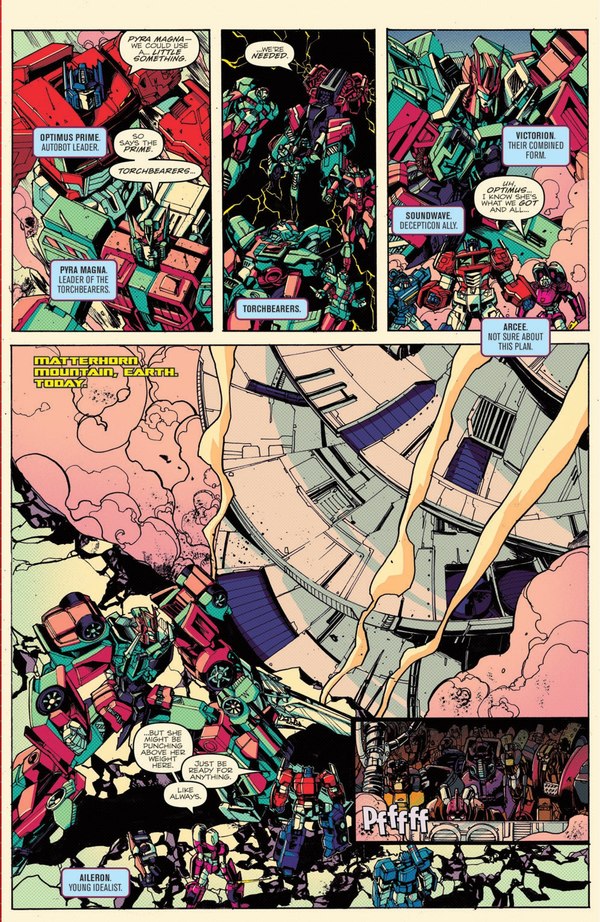 The Junkions couldn't be more ominous if they were walking around with copies of "To Serve Cybertronians". Soundwave eventually explains their backstory as having been victims of the Autobot/Decepticon war, which resulted in their planet being reduced to scrap, and eventually as we see gave rise to their unique nature that ought to be even more conveniently unkillable than a regular Transformer. Meanwhile this history is something that representatives Wreck-Gar and Rum-Maj (fantastic naming on that one) seem all too specifically aware of, which makes the offers of friendship and good relations seem that much less believable. I may be expecting too much out of this in looking for ambiguity in what the Junkions are and their intentions, and maybe they are just supposed to be a clearly thinly veiled threat, but it makes it rather less interesting, you know? It also reflects badly on Optimus - as most things seem to - that while cautious, he seems a little too readily accepting of the idea of an alliance when the Junkions produce a magic shiny plot device and thus prove they have something of value to offer. Though Optimus is not the greatest diplomat around anyway, if even just his current score on Earth is any sign. It kinda reads weird. You have the newcomer characters behaving very suspiciously and effectively fooling more or less everyone. Some of the Autobot City crew do appear at least somewhat distrustful, but overall seem more interested in focusing on how much they find the Optimus Prime-worshipping colonist recruits annoying. Maybe the Junkions brought a low power idiot ball off their ship with them when nobody was looking?
The other thing in the issue is a narration string by Qian which... feels like it connects to nothing at all. There's a heavy political bent to it, making explicit a resentment of the American-centrism of all the special forces units tasked with dealing with offworld threats like the Cybertronians. It cuts through with his own personal recollections that must be there to put some sort of personal stake for him on fighting the Transformers, but it all just falls flat for me. The entire chunk of the issue that follows the GI Joe team's attempt to respond to the Junkion arrival just fails to click for me. None of the characters have any presence to me. Qian, Spike Witwicky and Sanjay Bharwaney are the only three that have had a distinct presence in the Transformers books previously, and of them only Spike is a particularly developed character. And his role is minimal. There's a lot of action to try to build Qian through his introspective dialogue, and developing more characters in to real cast members is great. But the presentation right now strikes me like I'm supposed to already care about this person, where his inner thoughts would resonate with me, but for me he's just not there enough yet. It can happen, but it's going to take time. I really enjoyed Marissa after a while, once she'd had a chance to grow and develop to be an interesting character. Qian isn't there yet. And this version of Flint, as well as Chameleon are non-entities to me, making giving them amusing asides or what have you be largely meaningless to me. By the end of the issue, the GI Joe group seems like they're being given a meaningful role in this storyline, but they feel like they're plot devices, rather than characters who will take part in and help to actually shape the story. In time the use of GI Joe will probably be fine, especially if we end up with a more or less stable group in this book, but ultimately the way they're used right now I feel like is too much too fast.
This month we see one possible drawback with Kei Zama's heavy lines. High detail character designs like the Junkions can quickly become muddied and lose definition, especially when drawn at a bit of distance. It is perhaps itself a credit to the intricacy of the designs which make them really interesting to look at. There's a lot of complexity to their appearance which seems ideal for something with the underlying principle of a Junkion. Kei Zama posted design art for Wreck-Gar and Rum-Maj recently too that showed how there is at the minimum and underlying idea of how their transformations work. Obviously a lot of attention was paid to how these two characters would look, and that's fantastic. But the inking seems like it might be eating in to that really coming across on the page properly. Gotta say, she draws one fantastic Sky Lynx, though! I still like what she and Josh Burcham are doing together. Theirs is so natural an artistic pairing that makes a convincing retro appearance and gives everything a visual "weight" that we don't commonly get in today's Transformers comics. The Junkion thing is the only place where I hold a particular criticism right now. The rest has seamlessly maintained its excellence from last issue.
There's a couple cool alternate covers this issue. The first subscription cover is a Casey Coller piece, colored by Joana Lafuente in a style that reminds me of Josh Burcham's work on More Than Meets The Eye. It focuses on the colonist soldiers, and looks like a recruitment poster with the Optimus Prime head in the sky behind them, all looking "toward the future". It's a nice piece of commentary on how the recruits from the colonies must see what they're doing right now. Andrew Griffith and Josh Perez bring the second subscription cover, which I like for giving an alternative look at these Junkions. Mostly Rum-Maj, who is riding Wreck-Gar. The more delicate lines and vibrant colors on this take allows different kinds of details to emerge, like the fabric wrapping on Rum-Maj's legs - even if both Junkions' body work looks just a bit too pristine. Good news is that with both being subscription covers, either one should be easier to obtain, were one to strike your fancy. Always nice when the month's best cover isn't a retailer incentive, I think.
| | |
| --- | --- |
| Reviewer | ExVee |
| Date | January 2nd 2017 |
| Score | (7 out of 10) |
| Reads | 3764 |
Back to Reviews Index