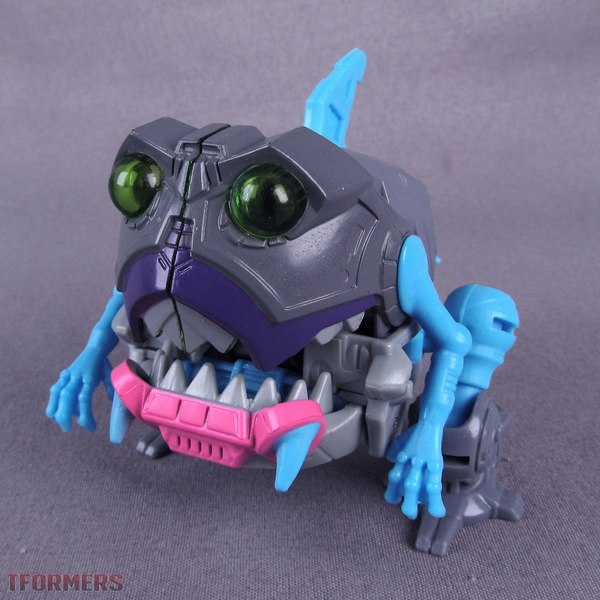 Click on any picture to go to the gallery!
Old Toy Collector Proverb: If you meet the Sharkticon on the shelf, BUY HIM. The official Legends Troop Builder of Titans Return is here!
Gnaw's not the first Sharkticon since 1986, but he's the first figure made of the design that most of us `80s kids will think of when we hear the term. A pretty good take on the Floro Dery Sharkticon design in general, the proportions to make the little guy work as a Legends-class figure are a bit weird. Not bad, but the choice to make the arms and legs permanently bent is taking some adapting for me.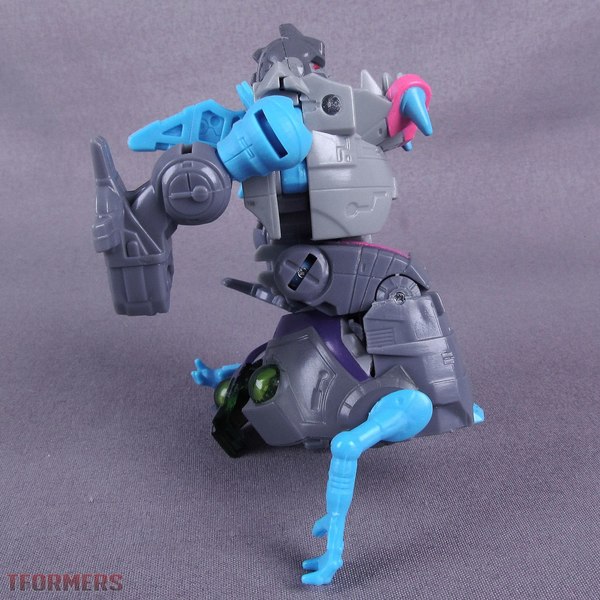 The shoulders are a bit slouchy at the default position, which makes the arms look a bit apey. The posture if not the arm length is true to the original design, but you can also pull the transformation joints out slightly to raise the shoulders and give a more dramatic look.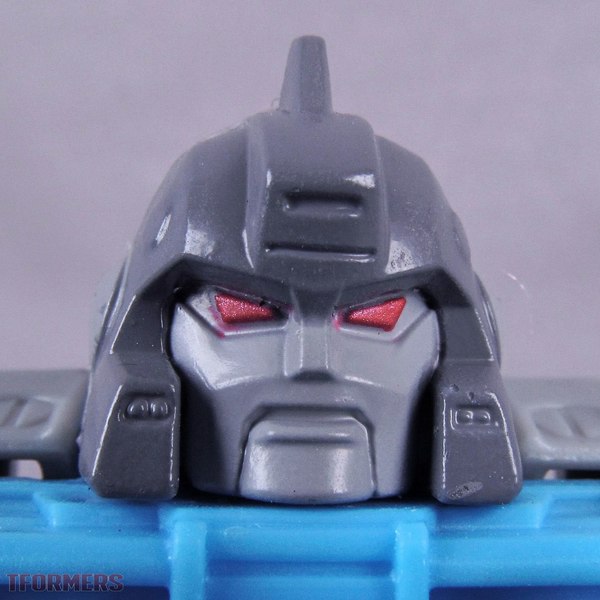 The head - a great take on Dery's original lineart - swivels. Ball-jointed shoulders swivel, and have plenty lateral range. The forearms look weird, but the elbows flex very tightly, and rotate very well. The hips have almost a full 180 degrees range front-to-back, and can do a full split. As I said, the knees are permanently bent, but they still have as much range as the sharkface kibble will allow. The proportions and ranges are just right to put the little guy in a perfect Dreamwave Squat.
To transform Gnaw: Turn his head around. Lower his back fin. Tilt his head and jaw back. Turn his elbows around, and pull the shoulders down to his hips. Stand him on his shark feet. Unfold his sharkface. Fold the legs forward, tab the face together, plug the legs into the robot back. And install his mace as a tail.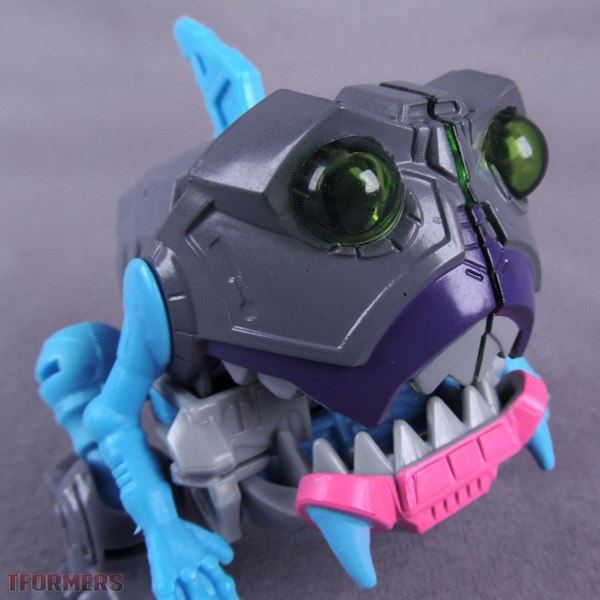 The squatty proportions carry over to this mode relative to the original but oh who the heck cares it is a Sharkticon and he is adorable and I have
ALWAYS WANTED ONE.
Ahem.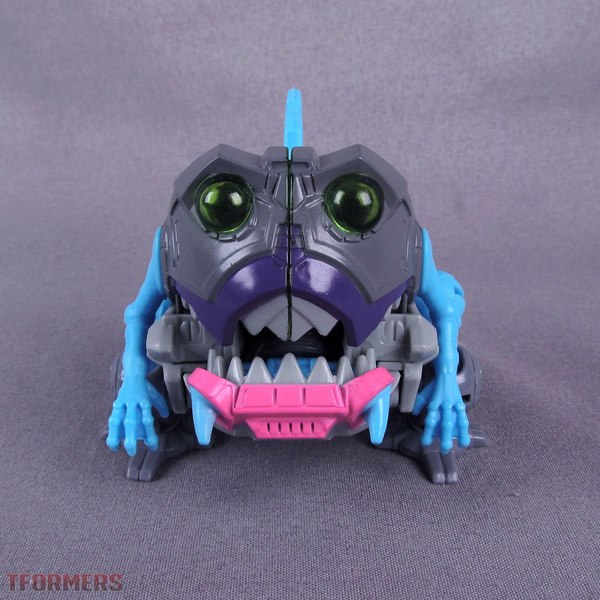 Sharkticons don't look like any shark I've ever seen, with a face more like an angler fish and some most unshark-ly hands and feet. Unsharkly is a word now. But in terms of all the major notes of a G1 Sharkticon - rotund, bug-eyed, and toothy - it's exactly what I wanted. In terms of robot residue, the fists are inescapable, but it's pretty clean otherwise.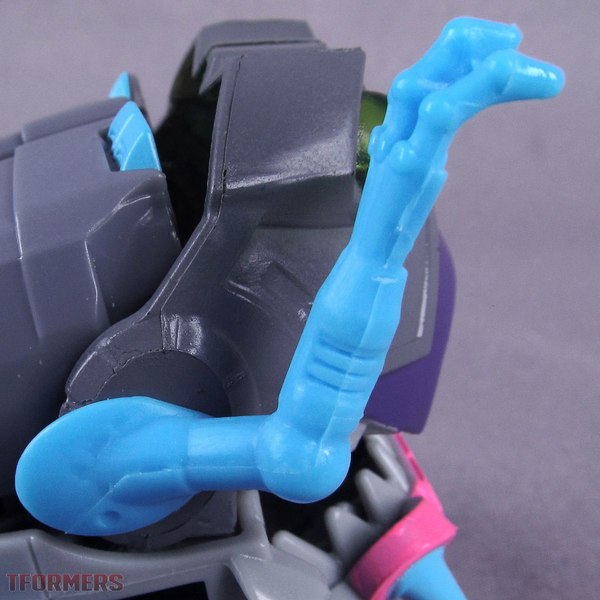 Articulation in this mode is minimal. The creepy Gollum arms swivel at the shoulder, though the oval mounts only look exactly right in this resting position. The legs are poseable at hip and knee, though balance is sometimes a thing. You can also put 5mm accessories in his feet. But most importantly, the upper and lower jaw are articulated. He can open his mouth super-wide or close it completely. Though closing it does kinda leave a gap in his skull.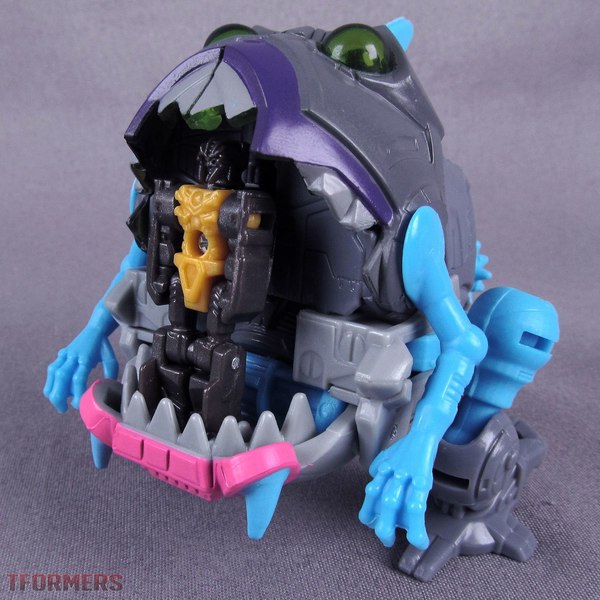 Gnaw's Titan Master compatibility is great. You pull his jaw open, and a Titan Master, er, "rides" inside, looking appropriately uncomfortable. ONE: this is perfect, and TWO: I want a Titans Return Hamster with this gimmick.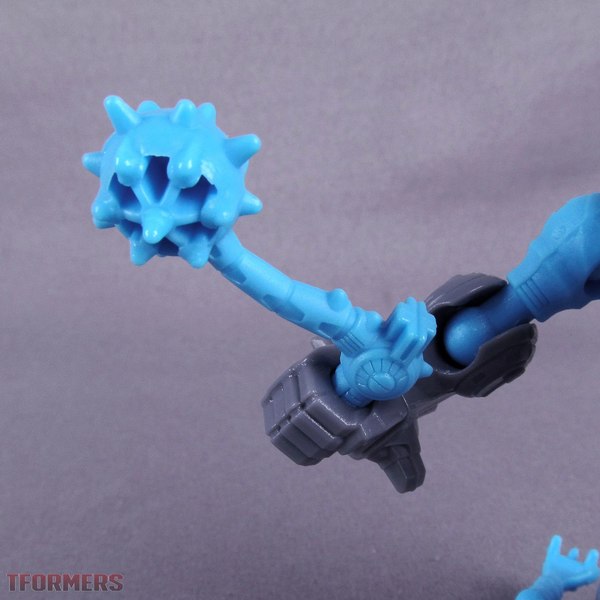 Gnaw gets an accessory in his tail mace. It's a standard 5mm peg so most anyone can use it. Like most of Gnaw, it could benefit from being a little less squat, but it's fine as is, really.
The slight sacrifices made to Gnaw's proportions were all made in the service of one thing: Troop Building. It's much easier to troop-build ten-dollar figures rather than $15-17 ones. And he's a very well executed Legends figure - and more importantly, he's the new Sharkticon you've probably wanted for forever like I have. So get "Hunger" by Spectre General out of your head and remember: if you see the Sharkticon on the shelf, BUY HIM. Because somebody wants like a hundred of these and you might not get another shot.
| | |
| --- | --- |
| Reviewer | RAC |
| Date | January 9th 2017 |
| Score | (9 out of 10) |
| Reads | 6055 |
Back to Reviews Index