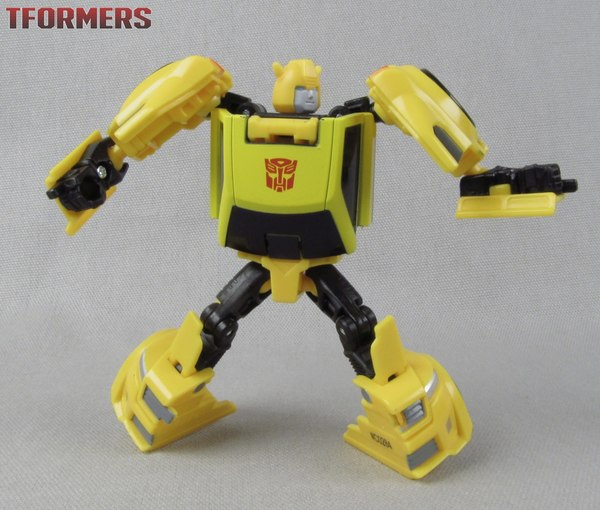 Click on any photo to go directly to the gallery!
One of the figures in this wave of Legends is an update we've been wanting for roughly 30 years.
One is the completion of a similarly long-awaited set, with the full set being three years in the making.
And one... is Bumblebee.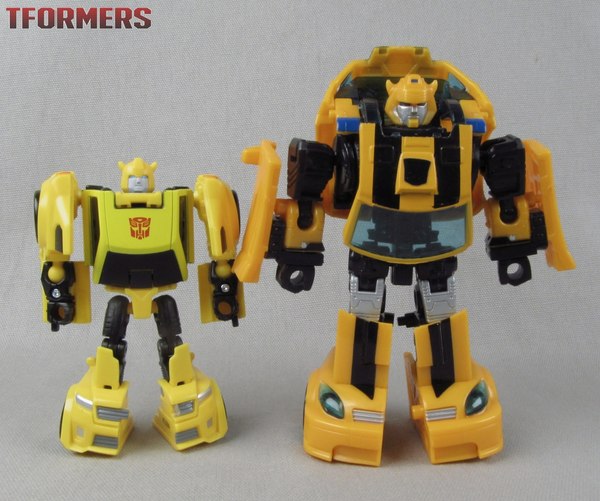 We've had no shortage of Bumbles Bee buzzing around the Classics family tree of toy lines, but this one is notable for being the first one in the modern Legends format, and thus intended to interact with larger figures. So he's in scale with all your modern Mini-Cars.
head
is just not one of them. We've also got the typical yellow paint/plastic mismatch, with the torso being painted and distinctly brighter than the rest.
The head swivels, and has a subtle natural centering point. I always like that. The arms swivel freely and extend outwards well, if awkwardly, limited only by the head.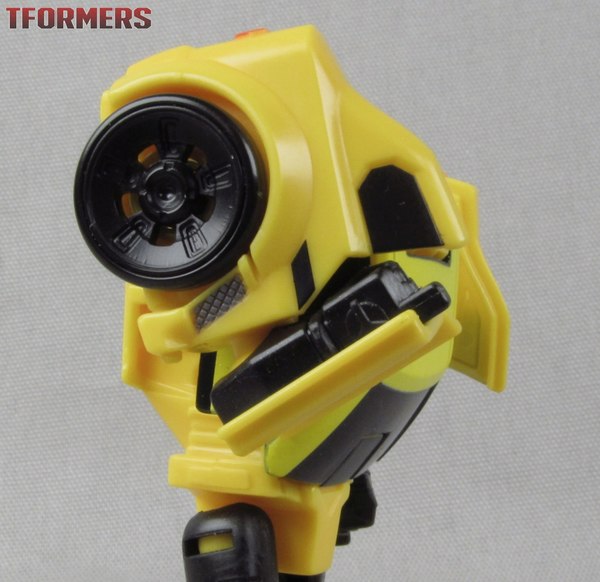 There is a LOT of car on his shoulder, though. It pretty much obviates the elbows' flex, because even if you give him a weapon, he can't bend his arm with it fully. Swivel's unrestricted, though. No waist. Hip range is flawless on both axes.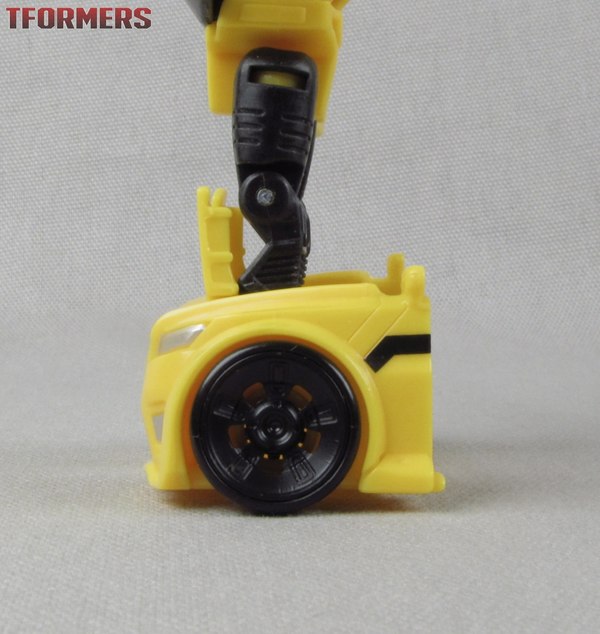 The flaw comes below the knee, which also has decent range. There's a locking mechanism for the transformation joint, and I've got one that tries to be stronger than the knee and one that doesn't bother. Neither manages it. Since the joints are all pinned you pretty much take what you get. Not a fatal flaw, just an annoying one.
Transformation is simple, but not quite as simple as it first looks. Turn the forearms sideways. Pull his chest open. There's a double-hinge on the plate that holds the head and arms; pull the shoulder-plate up but keep it level. Unfold the back of the car, and cover Bumblebee's face. Push the shoulders upwards into the body of the car. Finally, collapse the legs and massage the various tabs and slots until you have a coherent car. It's not as tenuous as Wheelie, but not as simple and satisfying as the Classics.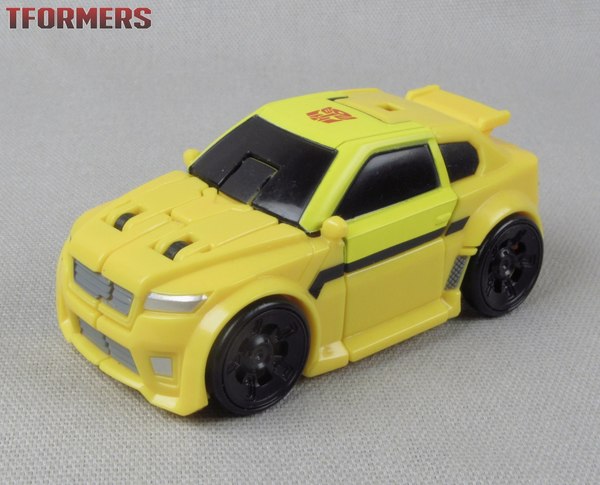 And that's a pretty good description of vehicle mode as well. It's a similar make of car, and despite being seam-heavy it's not bad-looking. But yeah... the Classics is one of my favorite Transformers ever, such a wonderful mold, and it's hard to review this without inviting comparisons to that. What it does, though, I think it does okay. Other than the seams and continuing paint mismatch, the biggest aesthetic faux pas is the exposed black edge on the yellow roof part.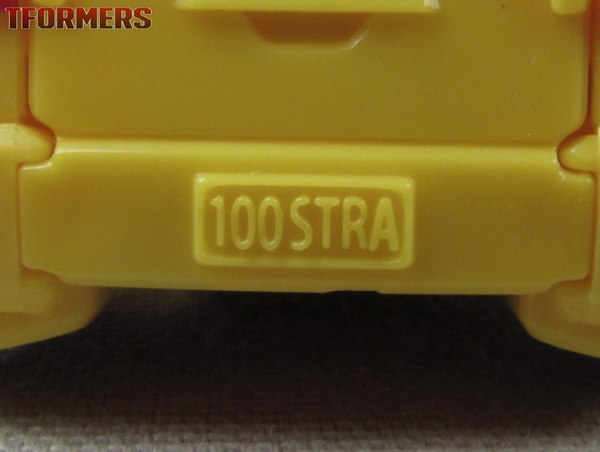 The license plate number is a reference to Movie Bumblebee's tags, swapping the 9 at the beginning for a 1.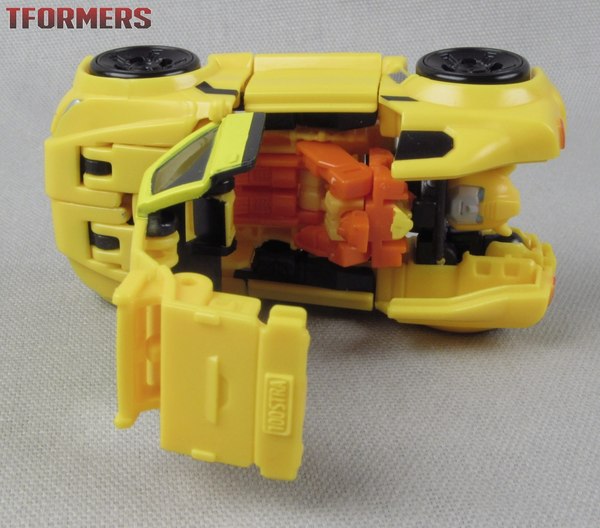 His Titan Master interaction works, even if it doesn't look so great. You have to pull out the shoulders and pull up the entire center of the car, which means getting everything to fit back together afterwards.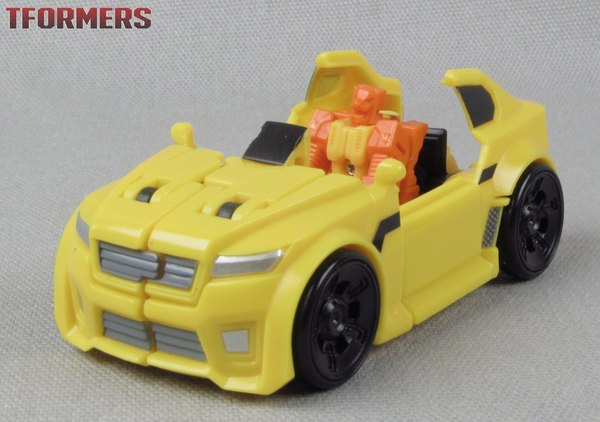 Also, the roof likes to pop off its hinge, so expect to find Eric The Half-A-Bee at thrift stores everywhere starting later this year!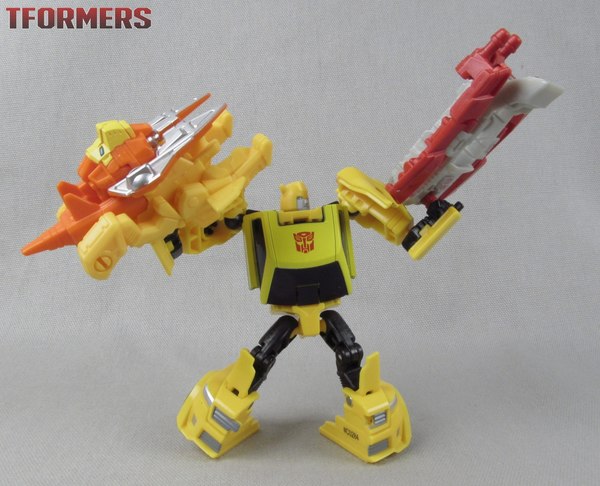 Bumblebee has more than a few of the frustrations I felt with Wheelie, but it's less of a hassle to get him in and out of vehicle mode. The robot mode, though, doesn't look nearly as good. So there's fewer problems to justify in vehicle mode but also less justification for the problems it has. It's an okay toy, not great, and if I didn't have the Classics to compare him against I'd probably be more satisfied than I am. It's not so bad that I'll regret having it as Throttlebot Chase AKA Roadburn, nor is it an awful toy to have repeat as-is in Wave 4. But I don't blame you if the idea gives you hives.
| | |
| --- | --- |
| Reviewer | RAC |
| Date | January 17th 2017 |
| Score | (7 out of 10) |
| Reads | 6605 |
Back to Reviews Index