In the past, Orion Pax and Prowl go with Jetfire to meet with a representative of the Decepticons to try to learn the truth about Hefter and why he may have been killed. In the present day, while Optimus Prime is on Cybertron addressing the Council of Worlds, the Autobot City team contemplate the proposed alliance with the Junkions - while Soundwave initiates a plan to uncover their secrets. "New Cybertron Part 3: Behind My Bleeding Back" written by John Barber, art by Kei Zama, colors by Josh Burcham.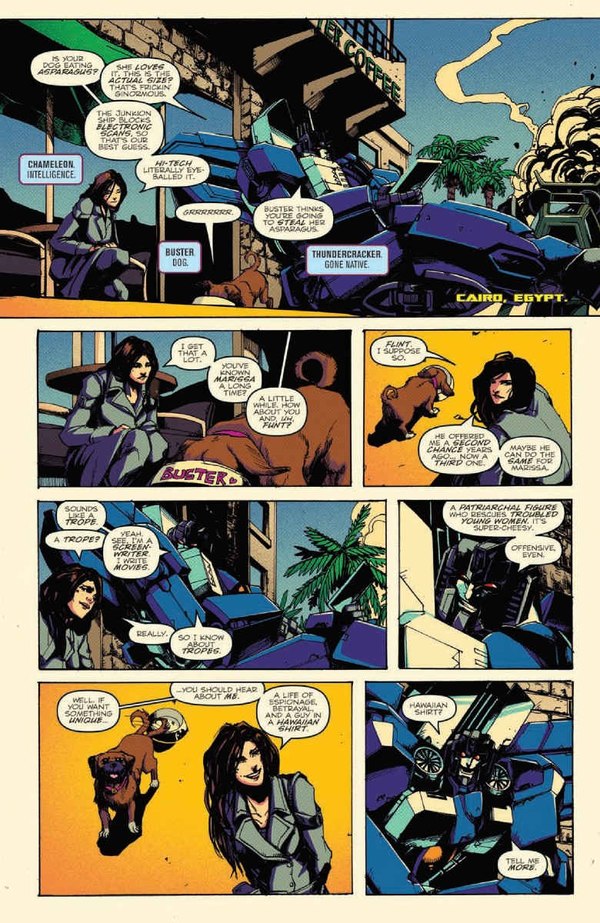 Alas, the tale of the Hawaiian Shirt must wait for another day...
This issue we get ongoing monologue from Soundwave, which actually becomes very interesting. Because as it digs deeper through the issue, it goes more towards Soundwave's unique sensory perceptions and how that's, of course, the normal standard to him. As something that hasn't been utilized in quite a while, bringing that aspect in to aid a character exploration is a really nice choice, and where it goes is completely understandable when you really sit back and think about what's being said. This is the contrast to Talon's narration from last time, where there's not enough connection to the character yet for it to resound. Soundwave's point of view clicks far more readily because we have the context with him already. Another thing I like in this issue is Starscream expressing a very reasonable point of view on the current importance of things like the Tyrest Accord, things which Optimus Prime is basically taking upon himself to ignore at this point. You come away feeling like Starscream is in the right, and I appreciate the opportunity to see that, given that a good half or more of his appearances since becoming leader of Cybertron way back have still put a nefarious if not sometimes villainous slant to him still. The flashback period is still plodding along, but aside from one neat visual, there's not a whole lot building quickly here. The push of the flashbacks seems to be in convincing Orion Pax that the system is wrong, but that message is kind of on loop without making any real movement. I'm hoping by the end it picks up in to something, because while it's a little interesting to observe the first encounters of some of the classic stable of characters, it doesn't feel like it's contributing much right now. However, there is a page featuring Jazz, which stands in isolation within the issue, which is actually pretty interesting in its own right, and hopefully something that gets to develop as more time goes on.
I've continually compared the book's art style to the best of Generation 2. It's a feel that does the book a lot of justice, especially for this story arc that feels like it's going in a darker direction than some of what preceded it. In particular the flashback era segments. And boy do we get a nice solid helping of some G2 concept in a couple of the panels there. It was something that put a big smile on my face, especially when I noticed the excellent little detail added that felt like it more sealed the deal. Kei Zama knows where she's going with the presentation and seems to hold back nothing from the pursuit of that. There was less instance in this issue where I felt like the line density was working against the clarity of the art, which was good to find after that feeling like a kind of strong problem last issue. We see a lot of human faces in this issue, and I liked getting a chance to see how consistent everyone's appearance stayed from instance to instance. And most everyone has a pretty distinct look. The simplicity of the female faces, in particular Marissa and Chameleon make them not stand out quite so much from each other, but they don't look like they ought to be twins, either. But cases like Talon's team work out well since there's stronger variation of features happening. Not all artists who perform strongly in robots are equal in working on humans, but I'm satisfied with what I see here.
There's some spots where Josh Burcham's colors play super, super nice. A wide shot of the Council of Worlds looks absolutely fantastic. Indeed, all of the setting on present day Cybertron looks quite nice. Some of the environmental lighting is maybe not as detailed as I'd like to see it. One case has a yellow hologram casting the entire space and involved characters in basically uniform shades of orange, which doesn't seem quite right when the room is otherwise colored and shaded like the lighting is decently strong. Thundercracker for his presence in the issue also seems to maybe be lacking in some contrast which in spots makes his pose kind of hard to read. But one thing I really started digging was all the detail in the coloring of the GI Joe uniforms, which came out looking fantastic. So yeah, month three, and while I may pick at this or that, I still love this art style as much as I did on day one!
There's really not a bad cover for this issue. The retailer incentive by Joana Lafuente is the simplest, but it is a nice piece of art, which is going to be part of a themed series across the other Transformers titles of a character looking at a spherical object. I will say I think it's the weakest, but that is in no way saying it isn't a really nice piece of art. So, the main cover is by Kei Zama and Josh Burcham and is a wonderful stylistic representation of the flashback period in this issue. Although - spoilers - Bumblebee does not appear in the issue. Casey Coller's subscription cover is a black and white cover layout-style piece depicting Optimus Prime encountering the Junkions. It's cool seeing the Junkions represented in yet another artist's style, and I love the old style comic book touches of the header style and the call out banner. And the second subscription cover by Andrew Griffith and Josh Perez comes from another direction and focuses on Thundercracker's role in the issue, along with his human co-stars. It's a great spread of covers, each bringing a different art style to the table. There's no going wrong with a cover this month, and I love that.
| | |
| --- | --- |
| Reviewer | ExVee |
| Date | January 23rd 2017 |
| Score | (8 out of 10) |
| Reads | 4090 |
Back to Reviews Index