It's no five-year wait to complete your 1984 Seekers in Classics/Generations, but it's still been a bit of a journey to get all three of our G1 Insecticons. Kickback is here!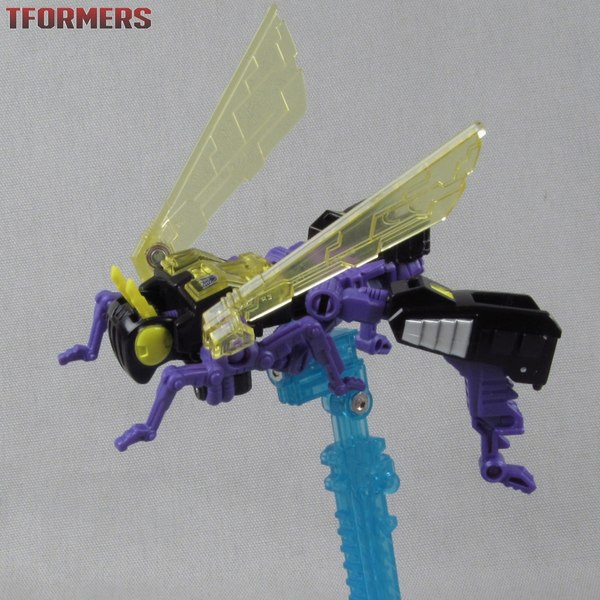 Click on any photo in this review to go to the gallery!
One of the big concerns with Kickback has been how he'll fit in with the other two Insecticons. 2014's Skrapnel and last year's Bombshell each make some pretty different choices in terms of shades of purple and yellow. The best we were hoping for was that Kickback would make the Insecticons a set by not matching either previous figure.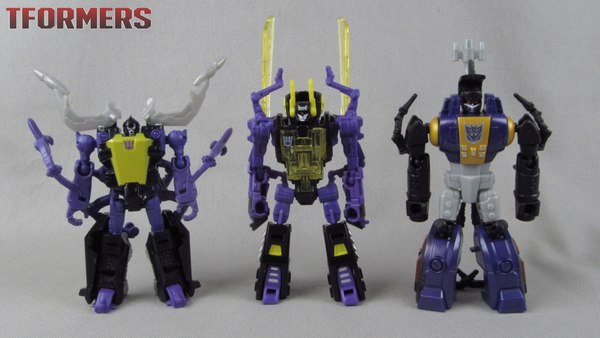 And he does - sort of.
In the end, black is the only unifying color that's an exact match between the three. That said, he's both neither separate enough nor close enough in terms of deco to quite make him feel like he makes a set with the other two. It could be in part that his purple plastic is very, very close to Skrapnel's, but the real culprits, I feel, are the yellow and silver. One of the things that Bombshell and Skrapnel have in common is that their respective yellows are metallic shades. This is not a quality Kickback shares. Nor does he share the silver plastic parts - which on Bombshell and Skrapnel take the place of the G1 toys' chrome parts.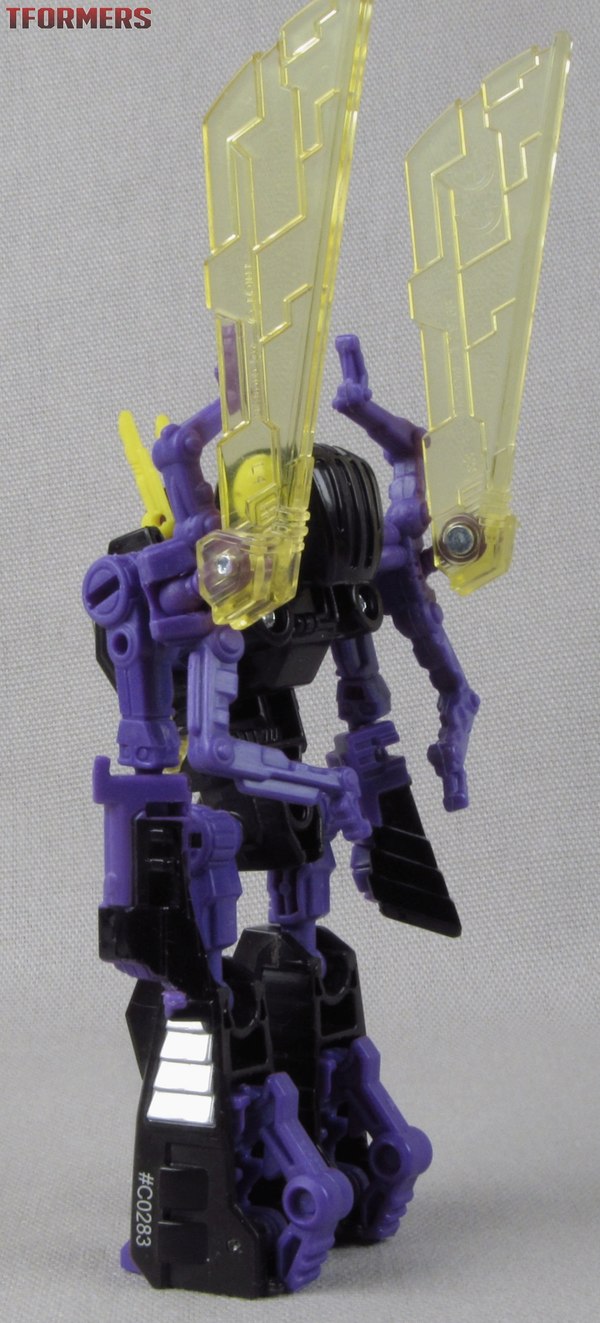 On Kickback, that'd be the wings... which are clear yellow. Maybe Transformers Adventure will solve that in the long run, but Kickback does feel a bit set apart from his compatriots.
Taken on his own, though, Kickback is a really nice update of the original. He's a touch more kibbly because his insect legs no longer become his robot arms, but otherwise, it's a pretty sharp Kickback all around. The angle of the wings is right, and that's one of the most defining aspects of the character to me.
The head swivels, but the joint's incredibly stiff, worryingly so. It also tilts back for transformation. His arm swivel is limited to a front arc by the back kibble. They can extend out to the sides quite well, though. The elbows flex to a pretty tight V due to the thin upper arms, and swivel fine - again, if you negotiate around the kibble. The hips are great. Super range on both axes. And the knees bend tightly as well. Squatting is no problem, if you're so inclined. When straightened the knees both lock in an upright position for the sake of the transformation.
To transform, turn Kickback's head around and tilt it back. Fold the grasshopper head up over it; it's pretty stiff. The next part is a little tricky: while keeping Kickback's fist-pegs facing outwards, slide down the shoulders, and tab the forearms to each other AND Kickback's crotch to form the grasshopper's abdomen.Now fold the insect legs up into place, and rotate the wings into position. Finally, lock Kickback's knees, push in his feet, and unfold the hindlegs. As with the other Insecticons, it's very similar to the G1 transformation, but a touch more complex in places.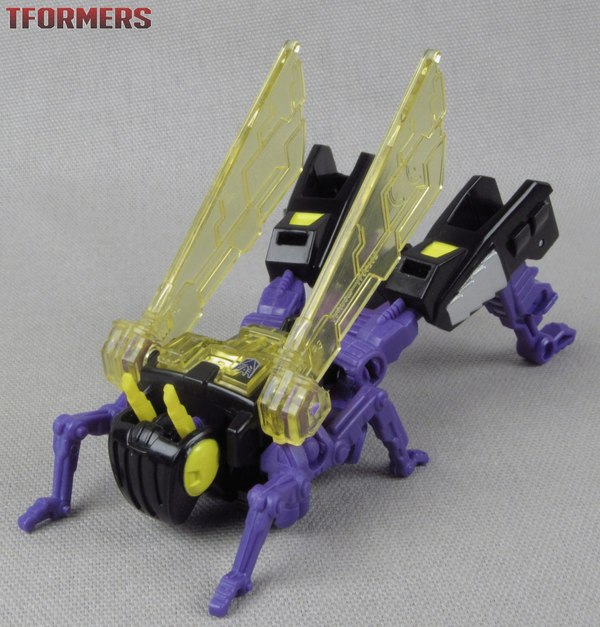 Kickback is probably exactly what you wanted out of this mode: a very blocky, very `80s robot grasshopper. Like robot mode, it's a pretty solid rendition of Kickback. Solid being a key word here: outside of the hindlegs and a little bit of range in the wings and antennae, Kickback is not really articulated in this mode. But neither were Bombshell and Skrapnel, really, so hooray for consistency.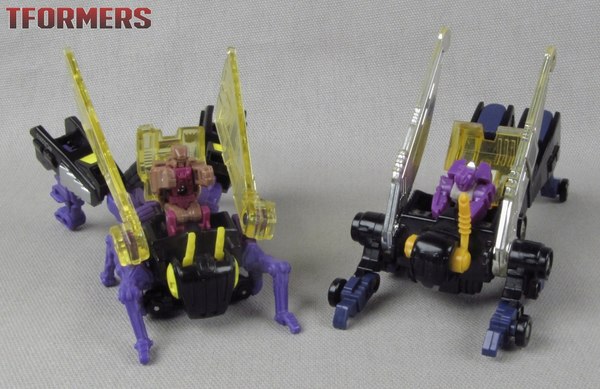 Kickback's Titan Master interaction is about as questionable as Bombshell's Combiner Wars interaction. Essentially, he has a Titan Master rumble seat, or possibly a grasshopper-shaped footbath for Titan Masters. Besides the fact that the foot pegs on mine keep pushing Titan Masters off, there's not enough space to close the hatch when the Titan Master is installed. Little surprise since the G1 Insections were larger and JUST accomodated a similarly sized but face-backpackless Diaclone pilot. It's both nice that we finally get a Diaclone figure that had a pilot seat in the Titans Return Legends format, AND a little sad that the functionality is less than ideal.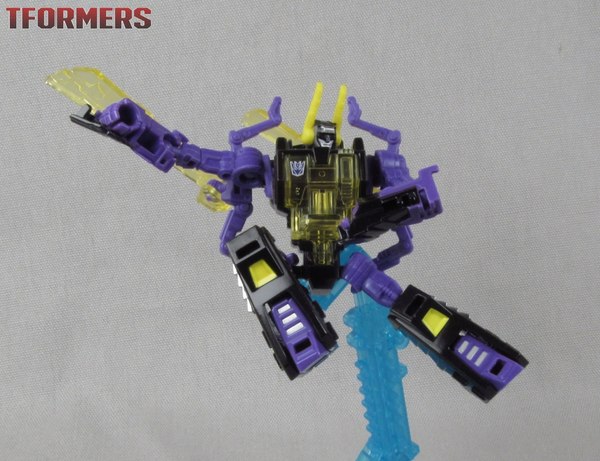 Kickback is similar enough to the existing Insecticons that they feel like a set, but I feel as though it misses out on some aesthetic cues that could've made him feel more like he belonged with the other two without matching either exactly. Like I said before, it's going to be interesting to see how Takara handles this. As a toy, I think he's the best figure of this wave. Gnaw gets by on being Gnaw a bit much to take the title, and Bumblebee is stung by a variety of flaws. Kickback isn't perfect - not sold on that grasshopper abdomen transformation - but he's good. And you can ignore his place in the toy ecosystem of the moment just as well as you can Bombshell's, also a plus.
| | |
| --- | --- |
| Reviewer | RAC |
| Date | January 25th 2017 |
| Score | (9 out of 10) |
| Reads | 6581 |
Back to Reviews Index