Cosmos, Rumble and Frenzy run in to the Junkions' Sharkticon collection during their infiltration mission, bringing their intelligence gathering to a quick end. Outside, where no one can see what's happening, Pyra Magna reflects on her doubts towards Optimus Prime, mirrored by Aileron's growing discomfort with the colonial soldiers shows of blind devotion. Meanwhile in the past, Orion Pax grows disillusioned as he sees more and more clearly the corruption of Zeta Prime. "New Cybertron, Part 4: Dance Among The Shadows" written by John Barber, art by Alex Milne, colors by Josh Burcham.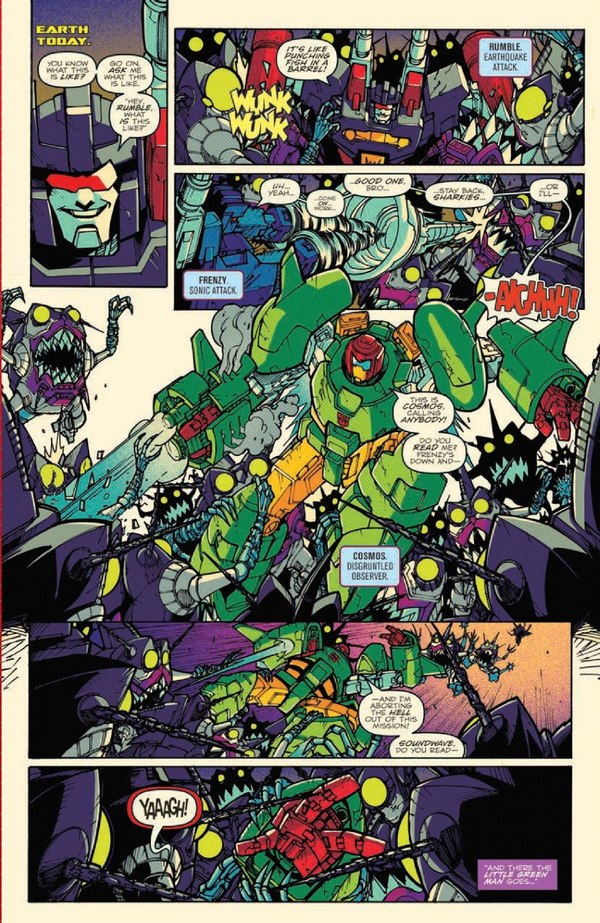 I'm not sure who has more Sharkticons now; The Junkions, or Melllvarr from RFC.
Our narrator for this issue is Pyra Magna, whose monologue about doubt, disbelief, and disappointment with Optimus Prime is presented probably as a reflection of Orion Pax's feelings as he more and more saw what Zeta had become with his rise to power, with the title of Prime. While Zeta clung to the Matrix he knew was fake as a symbol of his divine, righteous authority, Optimus in the present rejects any thought of divinity either being inherent to the artifact itself, or conveyed by possessing it. Aileron, not long ago having been very reverential towards Optimus herself, is now showing a lot of annoyance in the volunteers from the colonies when they behave the same way. Her perception has changed enough to treat him like a real person and not an icon, though later in the issue  it is demonstrated that she hasn't given up a belief that he is still more, but she's learned to relate to him more than the newcomers - probably by example from his inner circle who she's spent a lot of time with by now. But the breaking point seems like it's probably about here. Many issues back, when this was still The Transformers, Optimus had a vision of the future. There's no real reason to think that became invalidated as a story intent with the title shift and mild focus adjustment, and if you go back to that, you can kind of see where the key in the next door is starting to turn that would lead us further along that path. Now, Optimus is still behaving ridiculously, and with what the past timeline story is showing, this is probably leading toward where he's going to have to make a really bad mistake in his judgement before he sees how much error he is become. Some of his personal motive does get revealed, and it's really not helping his case, though at least a little bit seems to make more sense to me as it gets presented. But it's not a revelation that moves to a path of redemption, it just damns him a bit more. I'm starting to get the hook of the past story, it's probably telling us the story of the last straw that led Orion Pax to turn away from Zeta and try to break down the system. Those tracks seem like they're laying out more clearly now. I expect there's meant to be a parallel in this, as Optimus in the present is - and has been - going down the wrong path thinking he's acting in the true best interests of others. And Zeta probably believed the same thing. We'll see soon enough if all of that can get reconciled in any meaningful or constructive way with the New Cybertron arc wrapping up. But let's put all that aside for now and talk about the special treat this issue brought us!
My my, I feel like it's 2013 again, having Milne and Burcham teamed up for the art on a Transformers issue. It's a pleasant flashback to earlier More Than Meets The Eye with the specific and distinctive visual style these two present together. It's interesting to see this at work here, because Josh brings a little bit different approach to coloring here than he did on MTMTE. The colors are more varied in their intensity depending on the environmental situation, rather than a more general washed-out, hospital-light-like effect that's adjusted to whatever situation. So you get some nice spots of greater color saturation as well as the harsh fluorescent lighting look in, for instance, the command room of Autobot City. It's subtle things that I don't think I really processed in this book with Kei Zama's lines, but which I'll probably never not notice again now that I know to watch for it.
Alex Milne is in top form with the lines. Complex, high-detail pages like the Sharkticon attack and the Junkion monitor room look fantastic. Two pages later, the top half of the page is a look out a giant window to a Cybertronian city scene, and it's a beautiful piece of scenery. There's several more instances of just these incredible background elements spread through the issue that, once you stop and pay attention, often steal the show from the actual focal points of the panels they're in. Facial expressions are also on show big time. Zeta Prime even manages to have entertaining looks on his face despite having no movable features in his current appearance. Aileron gets great expressions all through the issue. Many robots can find themselves experiencing "Milne face" - one instance has Pyra Magna in closeup on one page and Jetfire in about the same size closeup on the next page, and that was probably the most glaring instance since they look very very similar to each other as drawn here. On the other hand, Alex is really good at drawing humans. I can't remember if I've had opportunity to see that from him before, but I love almost all of his takes on the human cast in this issue. Spike and Talon look like they walked out of an anime, which doesn't feel right at all, but they're the exceptions. Marissa comes out great in particular, and every human that appears looks very unique and distinctive, and natural. And consistent. Everyone who has multiple appearances across panels or pages stays "on model" the entire time. Other artists do strong work with the humans when they get the opportunity, and Alex is right up there with the best in that regard.
It's an embarrassment of riches with IDW's artist pool these days. And it's genuinely a shame that it's not possible to have everyone working on a project all the time. Having Alex's interiors again was really fun for this issue, and I hope we can have him back doing Transformers regularly again sooner rather than later. There's just too many artists I enjoy - it's so unfair!
| | |
| --- | --- |
| Reviewer | ExVee |
| Date | February 20th 2017 |
| Score | (9 out of 10) |
| Reads | 4304 |
Back to Reviews Index