You know the story from the pages of the hit comic, now see it on the big screen! ...if the big screen was
also
a series of comic pages.
Transformers Vs. GI Joe: The Movie
is written, drawn, colored, and lettered by Tom Scioli.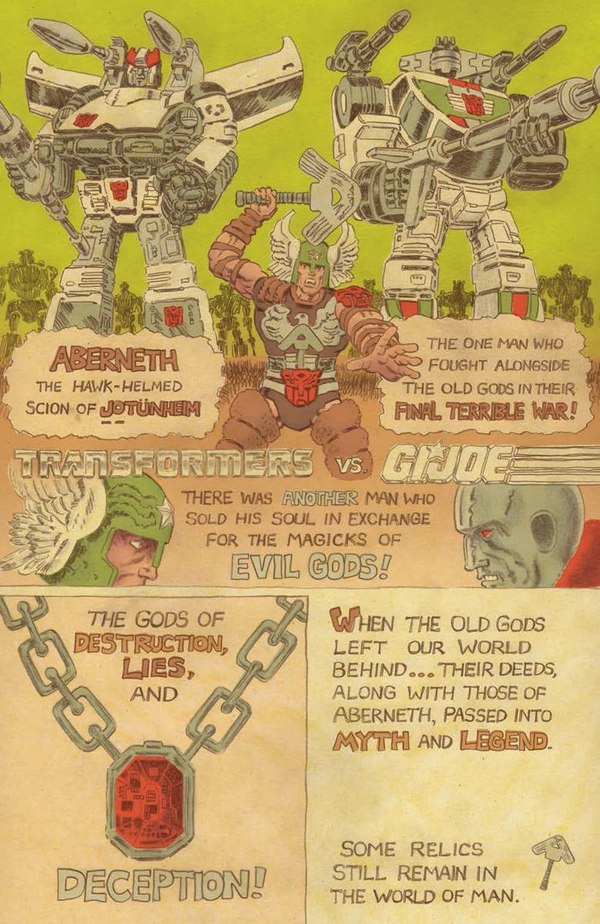 "There came a time when the Old Gods died! The brave died with the cunning! The noble perished, locked in battle with unleashed evil! It was the last day for them! An ancient era was passing in fiery holocaust!"
See!
The ancient origins of the Jotobot and Decepticobra Alliances.
See!
The brilliant recruit Scarlett earn her place in GI Joe.
See!
The Joes taking the fight to Cybertron. All of this and more in
Transformers vs. GI Joe: The Movie!
Unlike the series itself, which was co-plotted with then-TF editor John Barber,
The Movie
is a solo work completed entirely by Scioli. Interestingly, he began work on this special in the summer of 2014 - roughly when TF vs. Joe was just starting. The "Movie" version of the story has some interesting deviations from the final comic that it seems were part of the original plan for the full version, only to have been reworked or cut for time. So it's a neat look at what seems to be a slightly earlier stage of development of the series.
That said, as with many a movie adaptation of a long-form comic it feels a bit less satisfying than the full version. Scioli's trademark weirdness and inventive composition is here, but it feels restrained - just as it would be in a cinematic retelling of his comic. Was that intentional, or just a result of this being developed before he got very deeply into the full series? Either way, the conceit of this being "The Movie" is a great way to deal with the differences in approach.
Scioli's art style has also changed since he began the series. He now seemingly goes directly from pencils to coloring with no inking stage in-between. A lot of artists seem to feel as though the inking phase loses something from the pencils, so I can understand why he'd want to do that. Modern comic printing means it's more than possible to publish penciled art with perfect fidelity as well, obviating a strict need for inking. It's an interesting look, because it means that in many cases the color gets to define shapes more strongly where the inked line would have taken that role. It also blunts the eternal comparisons to Jack Kirby - not because they're not there, but because the perception of Kirby's artwork lies so strongly with the way it was frequently inked. Kirby was never Scioli's only influence, but he's still here, his spiritual fingerprint all over the machinery that lies at the heart of the comic.
The traditional page-by-page post-story commentary - something I'd still love to see other comics do - is supplemented by a pair of "interviews" of the actors playing Scarlett and Optimus Prime for the film, as well as a short feature on the special effects put into the making of the movie. It's a fun set of additions, the kind of things you might see in a glossy movie souvenir magazine. They provide a nice atmosphere. Rounding out the package are the original roughs for the story and some previously-unpublished sketches and cover concept art.
There are four covers. Scioli's covers go with the movie poster theme, of course, with the main cover going all-out in that treatment of the cast right down to the sword gleam and the helicopters with the sun behind them. His other cover focuses on Optimus Prime and Snake Eyes in what feels more like an early teaser poster. Artist
Robb Waters'
cover runs with the poster theme as well, running a bit more Star Wars-y to my eye. Waters apparently worked in video games such as
Bioshock
and
Freedom Force,
another Kirby-tinged project. I like his style! I also like
Hal Laren's
cover of a transforming Jazz. It's not particularly thematic, but it's just a nice piece of art. Transformers vs. GI Joe always had interesting guest cover artists well outside IDW's usual pool of talented folks, and it's nice to see this last comic continue that tradition.
This is kind of a weird note to see TF v. Joe go out on. Not bad by any stretch, but I was hoping it would be "The Movie" in the sense of "one-off story set after the series" rather than a retelling of what I'd already seen. That said, it's an interesting companion to the series, and one that's well worth reading. Taken in the context of when it was first planned, it makes it that much more intriguing.
| | |
| --- | --- |
| Reviewer | RAC |
| Date | March 20th 2017 |
| Score | (8 out of 10) |
| Reads | 4128 |
Back to Reviews Index