War with the Junkions! As the new visitors finally move against the Autobots, Optimus Prime rallies all the forces at his command to stop an invasion before it starts. But it may be Soundwave alone who has the power to bring this to an end, as he puts old teachings in to use once again. "New Cybertron, part 5: Future Glories Lost," written by John Barber (with quotations by James Roberts), drawn by Kei Zama, colors by Josh Burcham. (beware, review may contain higher spoiler content than usual)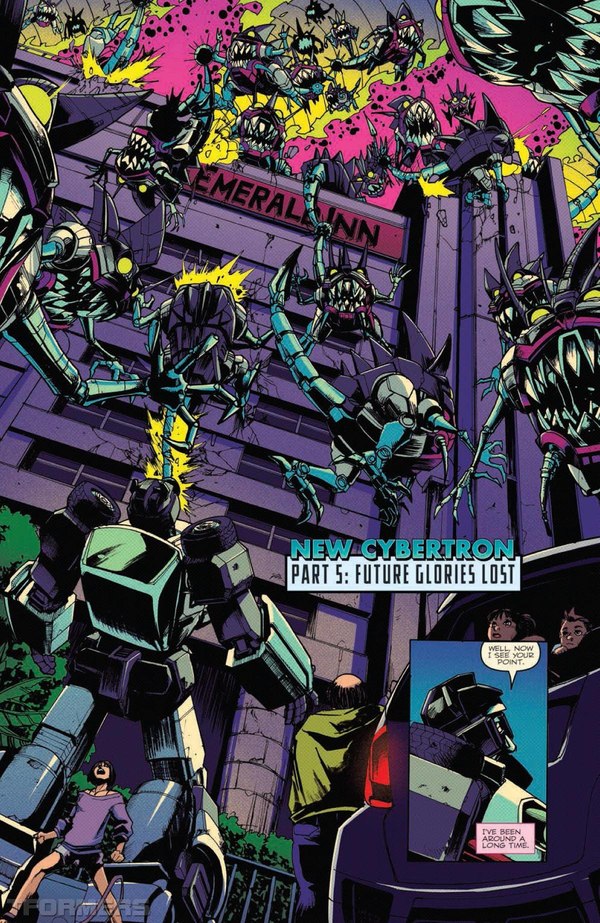 "We will have illustrated approximately a gazillion Sharkticons by this arcs end" --Josh Burcham, 16 Mar 2017
All at once, the thing I like best but that also pulls things down some for me is Soundwave's role in the issue. The Sharkticons are the bulk of the Junkion forces and are set loose against Autobot City ...and Mexico City, evidently. It's unclear if any other locations were attacked by them. Anyway, Soundwave rather than directly fighting an army takes a different course and opts to try to enlighten the Sharkticons and show them they don't have to be the servants of the Junkions. And this is strongly in keeping with how Soundwave has been characterized for quite a while now. Explaining to them that they've been deceived, essentially, is a great way to utilize Soundwave's presence in this situation. That's what I love. I hate that it works basically immediately. That's partly a problem of that we're just almost out of time for this storyline, I guess. But it feels a little empty or flat to me when Soundwave recites a page or so of Megatron's book and is able to completely halt an oncoming enemy force. One which we might not have had a direct reason to even think had reasoning capability prior to this moment. This is probably an event that needed more time given so that the process of breaking through could be fleshed out better. As is, as much as I enjoy it conceptually, I just can't really get behind how it was executed here.
Arcee gets a narrative focus, which is good for readers that have jumped on in the last, uh, three or four years. The problem I have is that a fair bit of what she says in the narrative monologue doesn't seem much different from the reflections she had when the book was still called Robots in Disguise. A little more detail is added, hinting at her early life - and also drawing something of a common point of origin with Galvatron - but I don't feel like this offered any insight or learning for the longer running readers who've been through an Arcee introspection or two already. Again, I think this is good for newer readers who might need a moment to dig in to who Arcee is, especially if she's going to get a bigger role in the near-future issue. It's just hard to feel very interested in this without some extra meat on the bone for the rest of us. The best part of the Arcee element of this issue, from my point of view, was held in part of her interaction with Wreck-Gar, which did more to explain in a panel or two who she is than what I felt like I got out of twenty pages of narration boxes.
I'm also a little sad that after feeling like I'd struck some insight to the point of the flashback story with last month's issue, I'm back to being a bit lost as to what it's trying to tell me about what's going on now. Playing seeming second fiddle to the present timeline I think is hurting its effect. I'd love to see this story get to run its course, getting all the deserved attention and space to fill out its plot and details. But I'm falling off its track when we spend much time switched away from it. Last issue seemed like the point that the two sides were most aligned with each other to offer a more complete picture, and here they've drifted apart again. Shadowplay in More Than Meets The Eye wisely chose to focus solidly on its past timeline story for a more coherent presentation. I think the case of Hefter would probably be fantastic as its own story, given three or four issues to be the real focus of what's being told. But here it fades to the background too much. I hope when the conclusion happens next issue that ties everything together satisfyingly, but right now I think this side of the story arc is going to end up unfortunately mostly forgotten.
Kei Zama's art is always fun, and works very well for many of the less action-intense parts of the issue. There's a page where over a few panels, Orion Pax closes his faceplate in stages which for some reason really stands out as neat looking in this style. The armies of Sharkticons as well look especially vicious and pointy. They just really WORK the way she draws them. But I am having some trouble with the high action pages. Following the happenings can become difficult as situations get more dense. There's a kind of visual clutter that I'm finding interrupts the flow of things. I believe I've remarked on this in the past. In an issue like this that is for the most part an extended fight scene, this becomes unfortunately exaggerated. But Kei Zama and Josh Burcham are still one of my favorite art teams we've had for how amazingly their work meshes together. I'm fine dealing with having to take extra time to study panels now and then in exchange for all the other times when it's so perfect for the book.
Next time: The extra-long story arc comes to a close and we apparently get a break from discrete story arcs for a few months afterward. Having some more self-complete stories for a little bit ought to be kind of a nice change, I think. But before that, I just hope I can understand what the flashback story for half a year was trying to tell me when it wraps up.
| | |
| --- | --- |
| Reviewer | ExVee |
| Date | March 20th 2017 |
| Score | (8 out of 10) |
| Reads | 3913 |
Back to Reviews Index