The Titan-ship Carcer is not what it appears to be. With Windblade interfaced directly with its brain, its true nature is revealed. But neither she nor the infiltration team accompanying her could know just how bad that truth is, or why the other Titans went to such lengths to bury it forever. "Rubicon" written by Mairghread Scott, drawn by Sara Pitre-Durocher, colors by Joana Lafuente.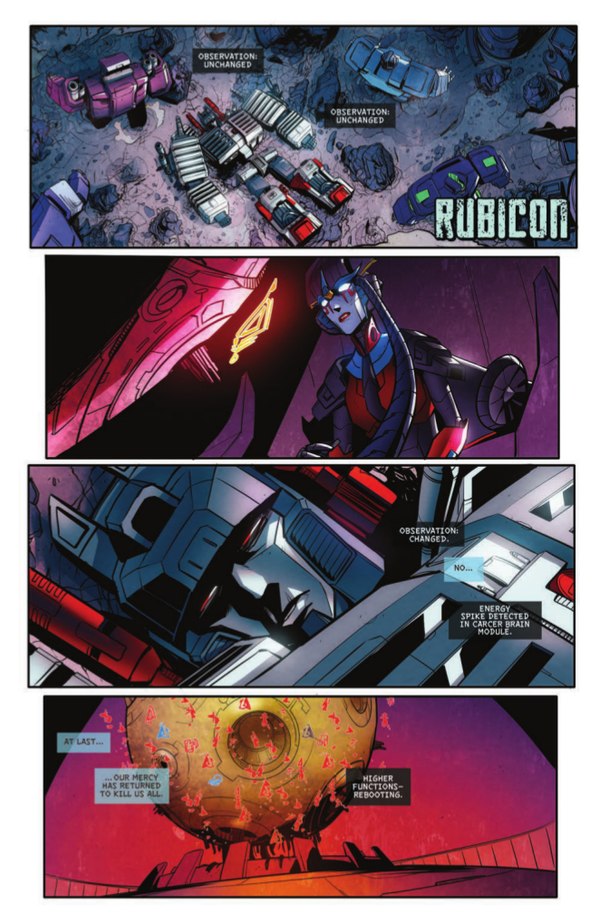 Sadly one of my favorite pages is a little bit beyond where the preview ends.
As the zombie Titan story comes to its close, we get the ultimate payoff we've been waiting for since issue 5 (at least): Carcer joins the fight, though Elita is still not very happy about it. As it turns out there's a very good reason for why she's resisted so hard getting her Titan involved in the battle, and it's not just the desire to preserve what little her people have. Though the reveal that explains their motivation kind of feels like it comes out of nowhere - and goes back to it about as quickly - that's really not even the part of the issue that matters to me. As it was during the formation of Bruticus not all that long ago, Mairghread Scott gives a really cool look in to how far a cityspeaker can go when all the limits are thrown aside. The direct connection to Carcer's brain at the end of last issue leads to the start of this issue's climax, which borrows just a bit from Fortress Maximus in his own bout with some of the reanimated Titans. Except in an execution I think is rather more interesting. Scott has a good handle on getting literally inside characters' heads and expressing battles between personalities in a way that comes across naturally, for want of a better word. It all lays out the way you might simply expect it to as two or more sides vie for overall control. And I really love the way the entire process is described through narration boxes all along the way. While not especially lengthy, they give enough feeling of immersion to really convey the act of what Windblade is doing. The result of having a functional Titan join the fight is itself mostly just a game of giant robot beat-em-up, but there are some neat ideas used along the way, including a novel utilization of Devastator! Though things don't go as planned for most of the excursion, the mission to stop the zombie Titans does appear to ultimately be successful, though not without a steep price - one which is sure to not be too long in coming back around somewhere.
On the art side, there's some panels that I just love. The final page has a great cityscape in the top third that's composed wonderfully. By the same token, the bottom panel of the same page is fantastic too. The panels of Windblade fighting mind to mind with the Titan are lovely minimalist pieces keeping the focus squarely where it needs to go. And the page where planetfall happens has an outstanding piece of art of the surface from high altitude. And as usual there's one of the things I so love in Sara Pitre-Durocher's work: the facial expressions. So alive and animated, even through masks and visors and whatever you want to describe Obsidian's face as. There's a great Windblade face later in the issue unlike any of the others that is done so well. Another thing I really liked was the design of Carcer's robot mode. It's more detailed than most of the other Titans. I mean, after all, it's not a background player, so it ought to get a greater amount of design attention. But between the two detailed Titans, this and Metroplex, I really like how distinctly different the two are. It picks back up the thread from volume 2 of Windblade that the Titans can really come in very diverse forms. This Titan hews more toward the Metroplex side than that giant bird, but this doesn't look like it was ever meant to be a city in the conventional sense like Metroplex and some of the others. It retains a lot of the visual identity of the ship mode, and looks like something that could realistically adapted to a toy, were someone so inclined. I know they aren't, but I like seeing that sort of detail.
Joana Lafuente's colors are excellent. It's hard to say things I haven't before, but I love how the planetfall panels I mentioned before are colored. The flashback panels you can see in the preview have some great play with lighting and color and makes the mood. And the involvement of lighting color tinting the sequences of Windblade in the Titan's head really adds depth, as well as the sense that Windblade is never really in complete control of the situation since she's being cast even if slightly in the Titan's colors. And that last page panel of the cityscape has some lovely sunrise shades to it. It is beautiful work of coloring all throughout, exactly as I expect of Joana!
My favorite cover for this issue is without a doubt Sara's own main cover. That's some fantastic painted art that makes a stunning hint as to what happens within the issue. The subscription cover by Priscilla Tramontano is an interesting piece with Windblade trapped within the silhouette of a mysterious figure. Nelson Daniel's retailer incentive cover works to depict Starscream and Windblade kind of generally teaming up. A nice illustration of how they've more and more wound up having to work together to solve common problems. Not a bad assortment overall. But that main cover, that's an easy winner right there!
Next month: The Titan War is over, which means it's time to get back to more cheerful business, like putting a murderer on trial!
| | |
| --- | --- |
| Reviewer | ExVee |
| Date | March 27th 2017 |
| Score | (9 out of 10) |
| Reads | 3622 |
Back to Reviews Index