Rum-Maj's plans are disrupted by the Sharkticons' sudden change of heart. As the battle comes to its conclusion and the lives of Junkions, Cybertronians, and Earthlings hang in the balance, Optimus Prime reflects internally on how he got here, and whether he's changed as much as he might like.
"New Cybertron, End: Feel Safe Without Regret"
is written by John Barber with art by Kei Zama and colors by Josh Burcham.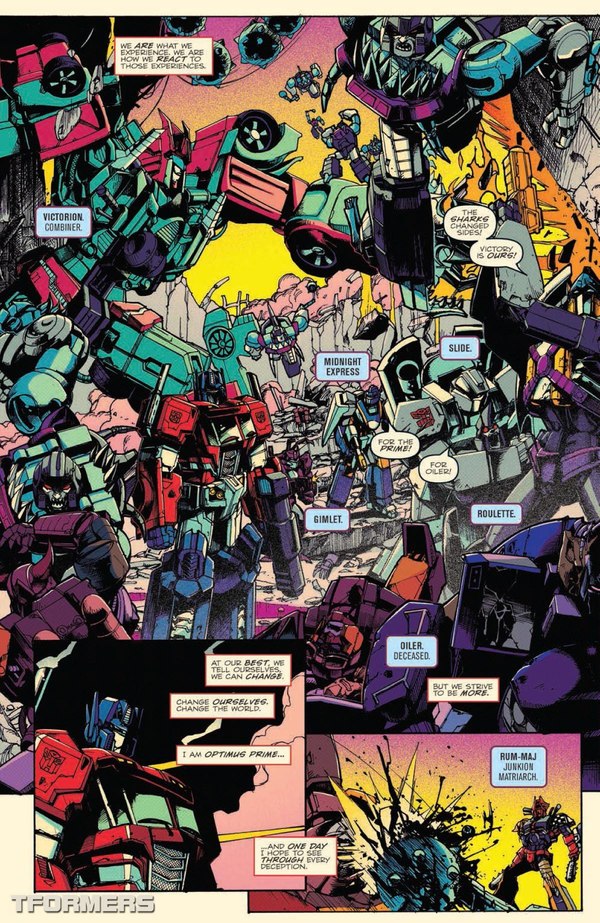 I love the dialogue in the lower left panel.
Strong finish for the New Cybertron storyline here. The flashback sequences, which didn't always tie into the present-day story as strongly as they might, work very well here. They highlight the ways in which Optimus and Soundwave in particular are different now; a solid contrast is shown between current events and the situations and attitudes that started the war. Prime and Soundwave have both changed, and seemingly for the better, but there are a lot of new players that haven't had the benefit of four million years of personal growth. Will they make the same old mistakes in the future, or will Prime and Soundwave make exciting new ones? Who knows, maybe both!
There's been a lot of G2 in the presentation since
Optimus Prime
started, I get a real Generation 2 vibe from this story and how the New Cybertron arc is resolved. It's not an exact set of parallels to be certain, more just a feeling. But I'm really enjoying the way Prime is being presented in this issue in particular. Maybe it's not right to say that there's a way he
should
be written, but this is very much in line with my favorite Optimus Prime stories from the Marvel comics days: an imperfect person who strives to correct and atone for his imperfections. There's even a touch of the cynicism that Simon Furman brought to that series ("At our best, we tell ourselves we can change. Change ourselves. Change the world. I am Optimus Prime... and one day I hope to see through every deception.") But while Furman saved that for his G2 epilogue,
Optimus Prime
shows cynicism itself as one of the deceptions you have to see through to create something better. It never ends, true... but it
changes
.
Kei Zama and Josh Burcham just work so very well together. As I mentioned, Zama's art has a G2 feel, especially towards the Derek Yaniger end of G2. It's hard-edged, not necessarily in a technical sense (though it's that too as needed; I just don't see it as a defining trait on the technical level). More in atmosphere. I am bending over backwards to avoid easy adjectives like "dark" and "gritty," ideas and descriptors which have been used enough times that the words have come to be pejoratives. But in particular "gritty" is something that keeps coming to mind. There's a roughness that is very careful and intentional; the art feels rough without seeming crude or unfinished. There's a tremendous amount of detail in here, carefully placed, and the sense of roughness and disorder is in the world of the comic itself, not in Zama's artistic skills.
It'd be easy for all the detail to get lost under the colors, but Josh Burcham's just too good to let that happen. This is a spectacular work of contrast using flourescent, pastel, and highly-saturated color to make things
pop.
The slightly yellow background tone for pages - inspired by
Transformers vs. GI Joe
, maybe? - even makes dialogue stand out. I love how well done this is and how different it is and how very
striking
it is. If Zama and Burcham don't go down as one of the great artist/colorist duos I will be shocked.
Their cover is every bit as good as the interior. You really start to notice teeth in Kei Zama's art, with really interesting and expressive mouths - and Sky Lynx is no exception here. The raging Metrotitan is colored to become part of the background, something that's there for added depth and visual interest on closer examination without taking away from the fantastic image of Optimus riding Sky Lynx into battle. Again, these two just work great together.
Casey Coller and John-Paul Bove show Rum-Maj and Optimus fighting, and use laser and missile fire to help reinforce the trajectory of each character's pose. I like it! Andrew Griffith and Josh Perez bring the Sharkticons performing an interesting balancing act. I'm trying to figure out if there's a meaning behind their configuration - it kind of reminds me of a question mark? - but having them crawling over one another like this certainly looks neat. Last is Jin Kim's cover, with Jetfire, Arcee, and Aileron fighting in the foreground with what appears to be a pensive Orion Pax in the background. Given Jetfire's role in the issue and the flashbacks, Pax looming large over him would seem appropriate to me. Kim's going to have a few more variant covers in the next few months and they all look very solidly done with strong outlines, a nice level of detail, and a nice battle-worn look to the characters.
I really enjoyed this issue, and as a wrapup for New Cybertron it's very satisfying. Everybody here is at the height of their skills, producing great, enjoyable comics, and I'm excited to see what they do next. What else is there to say?
| | |
| --- | --- |
| Reviewer | RAC |
| Date | April 24th 2017 |
| Score | (10 out of 10) |
| Reads | 4057 |
Back to Reviews Index