A major crisis has just passed, and Cybertron has survived again. But the administrative backlog as well as new political demands and at least one more world-ending disaster on the horizon might just make Starscream regret all those zombie Titans being thwarted. "Heavy" written by Mairghread Scott, art by Sara Pitre-Durocher, colors by Joana Lafuente, pages 9 & 10 colors by Sara Pitre-Durocher.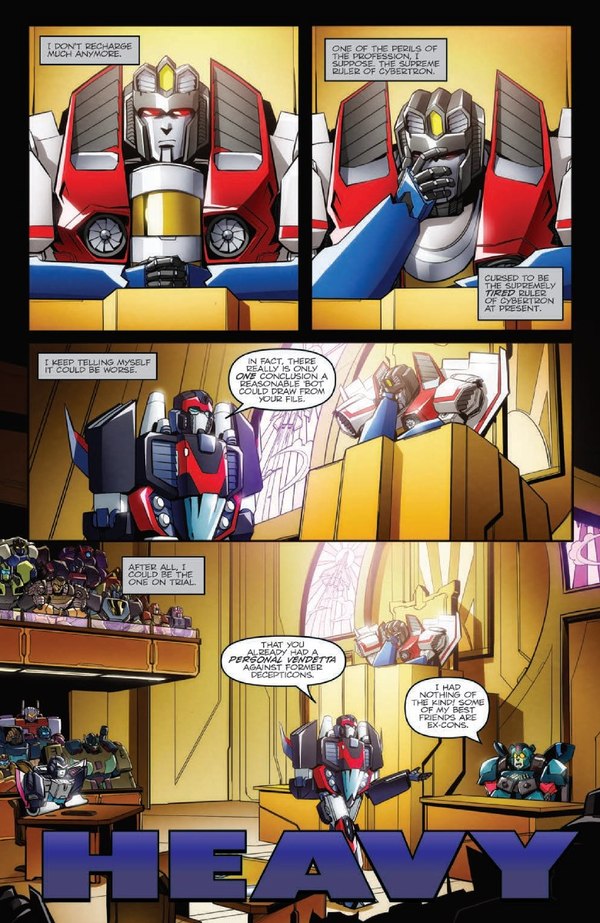 This page is fantastic, and the whole court sequence in its entirety is just as great. Prepare for praise-heavy review!
It's all about Starscream this month, and I am completely fine with this. Mairghread Scott writes my favorite G1-based Starscream, and that is on prominent display this issue. The preview pages showed the excellent fakeout routine making it almost appear at first like Starscream was on trial before showing him presiding instead. But it's a double fakeout, because Starscream absolutely is on trial, just not in the completely literal sense. That opening scene sets the tone for the rest of the story and all builds toward the verdict that must be delivered at issue's end, which is a pronouncement on both the accused and on Starscream all in one pass. In the last arc, Starscream was shown making what I see as some personal strides: bringing himself to formally, openly request help from an ally to safeguard not specifically himself, but the population he's responsible for. That was itself a major point that's been developing I think for a while, where Starscream's attitudes and approaches have been starting to realign. This issue shows how put-upon he still feels with his political duties, but he also has come to the point where he's making a legitimate effort to carry it out and keep Cybertron's civilization running. Now granted, this is still Starscream, and I doubt the impetus is still much more than 'I'm going to prove wrong everyone who said I couldn't do it!' But this issue presents the opportunity where Starscream could really be growing beyond himself, and what's really cool about it is that through Starscream we have to look at the whole situation and decide whether that personal growth might actually be bad for the current political landscape - basically, is Starscream as he is maybe the best suited to handle what's developing around him right now? I love that. I love that the end of the issue which finally gets around to clearing out some very old business also handles that in a very consistently Starscream way, manipulating a situation he's more or less forced in to so as to still hopefully profit from it. As I said, this is my favorite take on Starscream, and it's been such a delight to really dig in to a whole issue that's focused solidly on him. And in the process we get a fantastic showing of the Robot Politics in action that's every bit the equal of that first year of Robots in Disguise. The writing was firing on all cylinders this issue.
Art is on point as well. The attorneys in the court scene are - as far as I can figure - lovely new generic designs by Sara Pitre-Durocher. It's kind of interesting that both of them have aircraft alternate modes, too. In the context it kind of takes the place of wardrobe in making them stand out as officers of the court; in this situation the officials are all planes. I like the theming of this. Another solid design job is the accused. We never see him except from chest up, but there's no lack of effort in him. I love that the likely alternate form shape can be derived just from seeing this little bit of the body - I'm guessing something in the general school of War For Cybertron Bumblebee in being a rounded compact-ish car. Though the Bumblebee association might be the head shape, which is pretty much a mid point between Bumblebee and a bear cub. But still, look how much I'm getting out of so little. That's good design right there! Throughout, Starscream gets a lot of artistic love. Great poses and facial expressions. He reads so easily just on the strength of the art and the depiction of body language at every point. Okay, I mean, most everyone has good presence of posture and all as they're rendered in the issue. Starscream just stands out more as the focal character for the issue. For some more subtle Starscream love in the art, check out the stained glass panels on the wall of the courtroom. Anyway, there's a hiccup or two - The Mistress Of Flame at a couple points looks very ...flat, which ends up being a bit jarring. But it only happens on one page and thereafter the problem doesn't come back up. But you know, I think I don't really have a problem with that when I hit pages 9 and 10, which sport a combined page-and-a-third between them of Sara's beautiful painted style, used to depict ancient mythological events. It's a great delineation of the events, especially since on both pages those elements are mixed with "normal" art panels.
Joana Lafuente of course handles the rest of the colors with her usual skill. I feel like there wasn't a lot of opportunity this issue to really show off since almost all of it happens inside offices, halls, or the court. There is a nice bit of playing with that though, in all those interior scenes everyone gets strong highlights from above. Because of what would be relatively close light fixtures in those environments. You can easily contrast this with the very few panels meant to be or depict an exterior setting where the lighting is less harsh and single-direction. I think the best spot for the coloring to show off a little is the final scene of the issue which makes use of one major light source right in the middle of everything. There's good subtle tint to everything from it and along with the play of the shadows has a really great look to it. The effect is very natural and works great to convey a feeling of isolation to the space.
Covering the covers now, Sara's main cover is another entry in the ongoing theme of paired characters, this time Mistress of Flame and Chromia. In custody. It's a beautiful piece of Sara's digipainting work, and that's always a winner in my book! The subscription cover is by Priscilla Tramontano, focused on Starscream and Elita in a "welcome home the hero" kind of scene. It's really good for how much story it relates just in one image, and makes me wish for the actual book to do something along this line with Elita making personal appearances and Starscream forced to go along with it. Finally Jin Kim's incentive cover is a really cool piece of work. I love the coloring style of this, and the lineart is equally strong. Elita's face doesn't particularly look like Elita though - at a minimum I think it really needs the heavy lines beneath her eyes. The transition between the Starscream portion of the art and the planetside background below is also very abrupt. It's the flaw that starts to pull the cover apart, since that makes it look more like separate elements that were laid together to become one image. I really like the individual pieces of this, it's just their composition that isn't hitting it for me.
Next month: The Revenge of Bruticus! ...okay, probably not. Maybe Starscream's Brigade, though?
| | |
| --- | --- |
| Reviewer | ExVee |
| Date | May 1st 2017 |
| Score | (9 out of 10) |
| Reads | 3958 |
Back to Reviews Index