On pre-war Cybertron and present-day Earth, the battle is over. But for how long? And who will be the first one to take up arms?
"The Next Day/And The Next"
is written by John Barber with art by Priscilla Tramontano.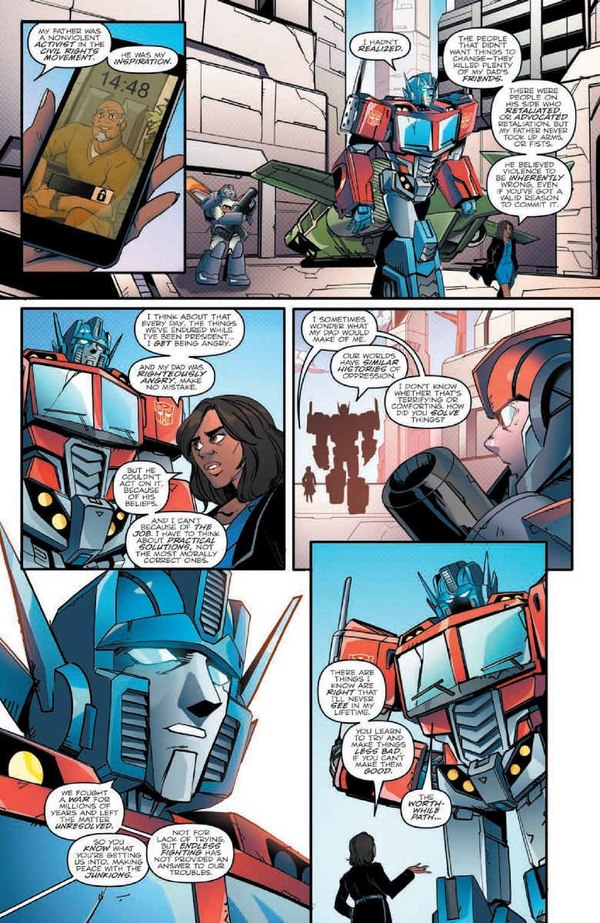 Robot AND Human Politics!
As with previous issues, we've got parallel stories of the past and present running here. As the title suggests, both follow up on what happens after a crisis is "resolved." But nothing is ever
really
resolved, it just all rolls over into what happens next. That's especially true in the present storyline where everyone is readying a next move. Optimus is falling prey to some of the same problems that Bumblebee did in his time as leader of Cybertron: he's so busy trying to figure out the right thing to do that he's not able to see that almost nobody is happy with the solutions he's determined. That didn't end well for Bumblebee's tenure as leader of Cybertron, and it looks very much like it may not end well for Optimus here.
The conversation between Optimus and the President is really well done. Optimus Prime isn't frequently paired with other leaders in peaceful discussion, particularly not human ones, and their discussion of when and how to fight and how that can go wrong is a highlight of the issue for me. After many issues of the President and Optimus in particular not really having a chance to communicate on a meaningful level, this was a great change.
In the past, Jetfire finds himself in a similar situation where he's done what he thought was right in a difficult situation and nobody on any side is particularly happy with him for it. Also? Nosecone is a jerk and he deserves the crappy Brawl mold he was saddled with in
Combiner Wars.
It's always nice to see Priscilla Tramontano on interior artwork, and doubly so when she gets to color her own lineart. The coloring style here is similar to what she used on her issues of
Robots In Disguise(2015)
and
Windblade
, but she uses the moire effect seen in previous issues of
Optimus Prime
liberally here, using it to make the characters stand out from the background. It works particularly well with the most vividly-colored characters, like the Torchbearers. There's also some really nice expressive poses and gestures in here, especially on the human characters. And I always love how she draws Bumblebee, who appears in one of the flashbacks.
Kei Zama and Josh Burcham's main cover shows Optimus Prime holding his half of the Matrix, with portraits in the background of the three women who will likely come to define his stay on Earth: Marissa Faireborn, Pyra Magna, and the President of the United States. It's a simple, well laid-out image in the way that comic covers should be and looks great. The subscription covers have similar themes expressed in very different ways. Casey Coller and John-Paul Bove's cover shows the Junkions building a statue of Optimus Prime in honor of their newfound peace. A beautiful statue made of rusty metal. Appropriate for the Junkions, and for the seeming impermanence of Optimus Prime's Earth incursion. Andrew Griffith and Josh Perez have an equally impermanent statue of Optimus Prime, because Marissa Faireborn and Buster have made one out of sand in a nicely executed beach scene. Marissa's a pretty skilled sculptor! And Priscilla Tramontano gets the retailer incentive cover, and I really like it. The angle on Optimus is dynamic, and he's surrounded with Starscream in the front, and Pyra Magna behind.
Themes!
The lines of the next conflict are already laid out. They could be interrupted by interference from outside forces on Earth, Cybertron, or beyond - or perhaps more accelerated than interrupted. Next issue, Jazz gives an interview that nobody in a position of power is looking forward to. It's probably going to make things worse in some way, which should make for an entertaining read!
| | |
| --- | --- |
| Reviewer | RAC |
| Date | May 22nd 2017 |
| Score | (9 out of 10) |
| Reads | 5843 |
Back to Reviews Index