The Dinobots are on the trail of Bludgeon, who has been doing something terrible to Sweep corpses and sparks. But Bludgeon isn't who they find... they find someone significantly
worse. Transformers: Salvation
is written by John Barber and illustrated by Livio Ramondelli.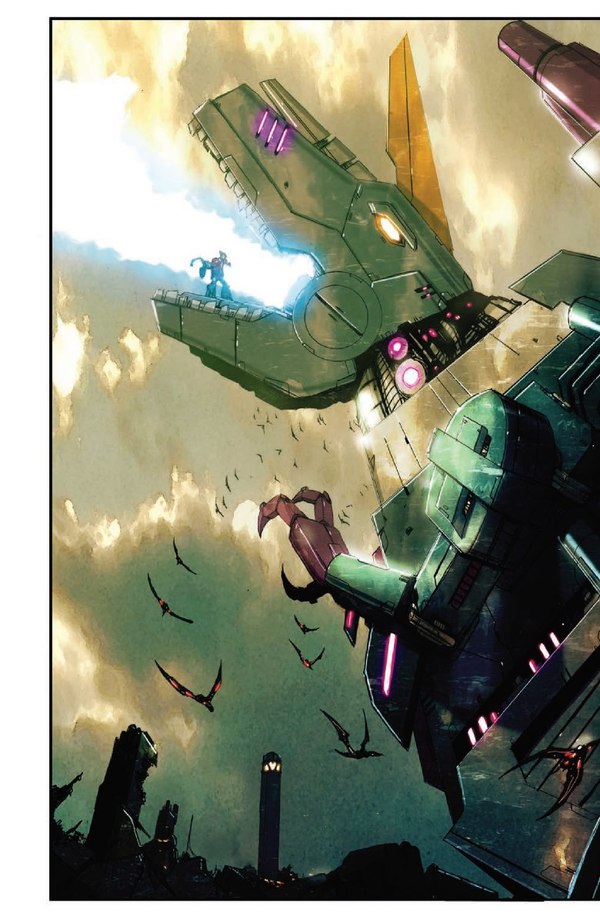 Elsewhere in the universe, the citizens of Tokyo suddenly felt an unexplainable sense of dread.
The Special issue is a format we don't see enough of anymore, and it scratches an itch that Transformers stories don't scratch for me very often: an extended, self-contained story longer than a single issue but shorter than an entire arc. You don't really need to have been following the previous installments,
Punishment
and
Redemption
to keep up with this, though it helps. But it's paced well and makes good use of its additional pages.
"Salvation" is a pretty fitting title for the themes of the story as well, with the Dinobots and others fighting to protect the next generation of Transformers... which in this case means making sure they don't turn out like
them.
It's a theme we've seen before in Transformers, but the fact that it doesn't try to justify or forgive the past actions of the Dinobots, or anyone else, is something that makes me view it a bit more favorably than other stories that committed those Sins.
On top of all that, there's some interesting world-building details and some good lines, just as you'd expect from John Barber. Trypticon manages to be a standout character as we get insight into the Titan's origins, history and motives... and let's be honest with ourselves: when has Trypticon
ever
been an actual, fleshed-out character? That's pretty great.
Livio Ramondelli's style, with its dark, rough, metallic look reminiscent of Simon Bisley, is fairly consistent in the long run. But there's some things that stand out about
Salvation
that I particularly appreciate. In the past, I've said that his tendency to tint entire panels with a color overlay could muddy the lineart and make the art more indistinct and harder to follow. Here they're used much more selectively, and it is very much to the art's benefit. The contrast is richer in scenes where that's needed, and it provides for a much more enjoyable reading experience. The parts I enjoy most are well beyond the preview, but Page 19 in particular looks just great, from really great energy effects to a nice, atmospheric look at Trypticon's brain module.
Only one cover, but it's a nice one. It follows on the themes introduced in the
Redemption
cover, but instead of Bludgeon being the bright form in the background, he's silhouetted by the light of Trypticon as he stands amidst his handiwork on the battlefield. It's a good, striking composition.
You could almost as easily call this
Spotlight: Trypticon
- and that's a character I think John Barber could get some interesting mileage out of given the right circumstances. It's a good story, paced well, and Livio's brought his A-game as well. I'd be more than happy to see one of these a year or even every six months from Barber and Ramondelli - and the ending is a pretty solid stopping point but definitely leaves room for more. It's a solid comic.
| | |
| --- | --- |
| Reviewer | RAC |
| Date | June 12th 2017 |
| Score | (8 out of 10) |
| Reads | 3978 |
Back to Reviews Index