What happened to Windblade? Ever since the battle with the Titan known as Carcer - whose true identity is that of Vigilem, who served Liege Maximo - Windblade has been offline. As Starscream learns she is not brain dead as he believed, he must make a difficult choice, as his political, and perhaps even personal survival may depend on her recovery. "If I Know You" written by Mairghread Scott, art by Sara Pitre-Durocher, colors by Joana Lafuente.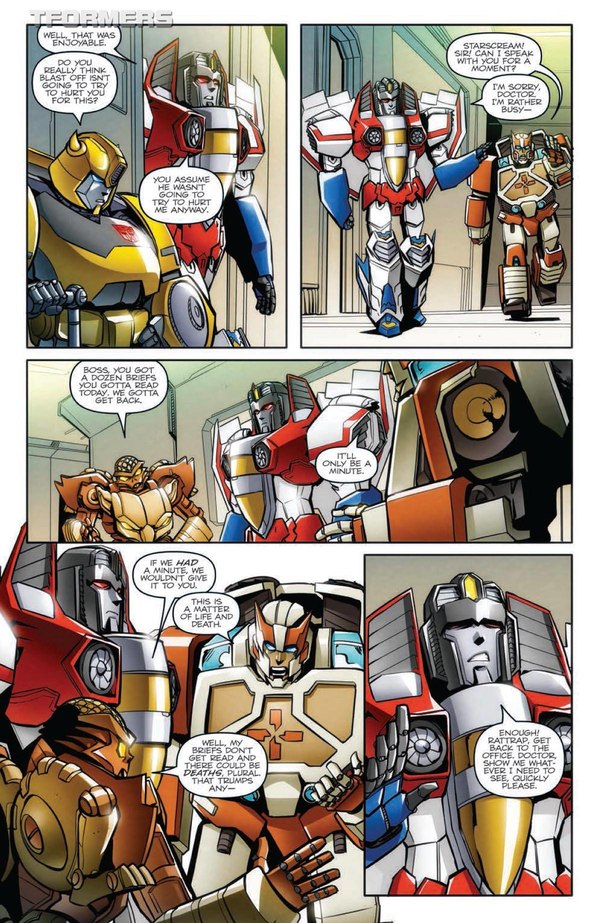 This is not Ratchet. Pending an official name I'm gonna call him... um. Patch-it. Yeah.
Our story this month comes back to Windblade's absence since the end of the Titan invasion. Her interface with Carcer - Vigilem - has had her incapacitated as her mind has become a battleground between herself and the echo of the Titan's personality that took refuge there before his own death. As it turns out, this conflict is effectively overloading her body and making it unable to function, a condition Starscream has been misunderstanding as being brain dead. Though as he's corrected of this notion by an unnamed medic, he's also unwilling to go out of his way to try to do anything for Windblade, and thus the focus of the issue wraps around Starscream as the Bumblebee in his head confronts him over what he's not willing to face on his own: He's fighting against his own personal growth. It gets called out directly that Windblade has managed to have a positive influence on Starscream, especially as he's started using her as an example in his own choices - even if he doesn't necessarily follow along with what he thinks she might have done. The character study revolves around the notion that Starscream is afraid, citing how in the past something - Megatron for instance - has always come around to put him in his place whenever he's tried to go too far on his own. It's easier - safer - to stay in his shell. Except that it's not anymore. The looming threat presented by Elita isn't going away, and it's not something that Starscream can deal with hiding behind his mask, but that's something that Starscream has to struggle with accepting - that this time if he doesn't allow himself to become more than he is, that's what will be beating him back down, if not destroying him outright.
I've said before that Mairghread has written my favorite Starscream. Of course that was the Transformers: Prime character, but the same sensibility exists in this Starscream. She's really contributed a lot to the character growth of the character since his presence primarily shifted to the books she's been writing. As we well know by now, Till All Are One is ending after next month, apart from a wrap-up annual later on. There's plenty of reasons to regret that, but one of my biggest is knowing that this Starscream is going to largely go away just for lack of space to show him. He's been such a wonderful road of development, and I'm really going to miss having regular monthly installments of this. It's the most I've ever cared about a "G1" Starscream. I'm glad it looks like the series is going to end on a strong note for the character, if nothing else.
The issue has a really solid sequence in Windblade's mental landscape, a great work between Sara and Joana. Windblade shifts in appearance, from being very minimal and small-looking, which is reflected in the deco having few accents over the black base color, and slowly as her mental resolve strengthens again, she grows out to become progressively more ornate and colorful. Eventually she moves in to her Beast Hunters appearance as she rises to equal footing with her mental opponent. It's fantastic visual storytelling conveying so much with such a simple shift from panel to panel. The shifting scale as the sequence progresses is also handled nicely, helping to define the changes in relative strength between the players. Outside of that, basically the entire issue is a series of Starscream shots, which you may know by now I really enjoy the particular expressiveness Sara brings to him.
Sara continues the character pair covers with this month's featuring Metroplex and Vigilem ...which mostly highlights the design flaw in Metroplex where it would seemingly be rather easy to snap him in half at the waist. Inherent design issues not withstanding, the paint-style coloring on this is absolutely lovely. The back lighting looks perfect, and it has an atmospheric quality, just a bit more hazy than usual that looks great. Priscilla Tramontano delivers the subscription cover which follows thematically, but showing Vigilem looming behind Starscream. I really like the sharp color contrast here, with Vigilem being lit in reds and oranges while Starscream's face and helmet remain neutral, except for the eyes, whose color matches Vigilem's lighting. Finally the incentive cover by James Raiz and John-Paul Bove is a nice portrait of Starscream, backed by a face shot. The Starscream face in the background is not really consistent with his appearance in the foreground figure, but that may be intentional if this is meant to reflect the issue itself at all. I really like how Starscream looks here. The inking is still typical of James Raiz in being rather heavy, but the detail work is rather cleaner than what I associate with his art. Plus he's given Starscream a great expression in the main figure.
It is a sad thing, as what became my favorite Transformers title ends next month, well ahead of what should have been its time. But I'm confident Mairghread, Sara, and Joana will be giving their all to bring us a good send off until the annual comes along to try to close out any lingering plot threads. I'm looking forward to it, but I still don't really want to acknowledge that it's almost over. Join us next month for a review sure to be full of conflicting feelings!
| | |
| --- | --- |
| Reviewer | ExVee |
| Date | July 3rd 2017 |
| Score | (10 out of 10) |
| Reads | 3864 |
Back to Reviews Index