This month in
Optimus Prime
: family, friends, and warriors coming to terms with both war and peace. "The Life of Sideswipe" is written by John Barber with art by Kei Zama and colors by Josh Burcham.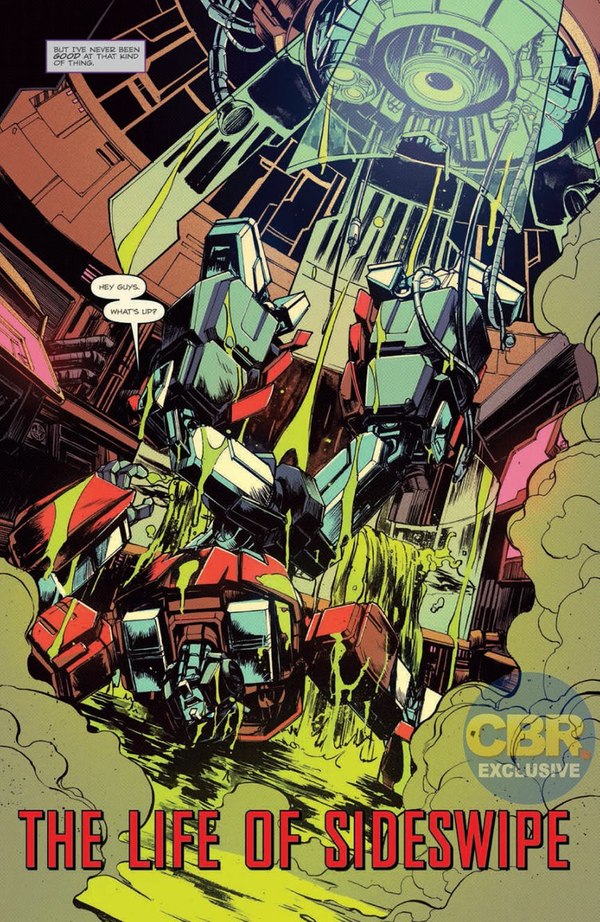 The color! The detail! The odd angle to put us all as off-balance as Sideswipe is! This comic looks so good.
This is the third issue dealing with the aftermath of Optimus Prime's opening story arc. You'd think that would give the waiting feeling of the pre-
Dark Cybertron
"holding pattern" of
Robots in Disguise,
but I don't get that at all. It helps that each issue has had its own point of focus. And this issue focuses on Sideswipe, and Arcee, and to a lesser degree Sideswipe's brother Sunstreaker. Sideswipe's is a voice we haven't heard in the comic in a good while due to his injury, and getting a good examination of him and his perspective is refreshing. What does a person who thinks in terms of "Good Guys" and "Bad Guys" do when a war is over? How do you change their mind? How do they move forward, or at least make peace
with
peace? This is one of those issues where I want to spoil as little as possible, but the themes it deals with are interesting and worthwhile ones and addressed in a pretty compelling way. For as long as there's war there'll be important things to say about war and what it does to people, and this is one of the greatest strengths of a Transformers comic written with adults in mind.
It's so nice to have Kei Zama back this issue. We've said before how her style puts us in minds of the best parts of
Transformers: Generation 2,
and having Sideswipe here with his bandolier and G2 guns sure does back that up! I've probably said this before but I'm still really impressed with just how much Kei Zama gets the importance of hard black shading in comic art. Nuanced color is good - and Josh Burcham's colors can and do have nuance where it's needed! - but the impact of actual black used liberally is something that is rare enough anymore as to be refreshing. And also, the story gives Zama plenty of interesting and fun things to do. In terms of both mood and location, we get to see some things that she hadn't done much of in
Optimus Prime
up to now, and that's really nice.
And Josh Burcham, as always, gets exactly what Zama is going for. The blue highlights on Sideswipe's mostly-black helmet are a classical comics thing, and it works. The intensity and the saturation of Sideswipe's red, Sunstreaker's yellow, Arcee's pink... it's nice to see the giant, colorful robots being as colorful as they can possibly be. This is so striking, even this many issues in, and I love it. And I very much like that all of IDW's books have their own different looks and their own approach to Transformers.
Kei Zama and Josh Burcham's cover is great image. The shadows in the foreground draw the eye to Sideswipe's bright red and the vivid yellow of the tank liquid. And again, dig that G2 grimace on Sideswipe! Love it. As a cover, it's hard to say if how busy the image is will overpower the draw of that bright screaming red and yellow. I don't know if it's the most effective cover image but it's definitely the most indicative of the contents! But it's something I'd really like to see in person to see how well it works. Casey Coller has a much more subdued cover with a quiet moment between Sideswipe and Arcee. It's simple but not undetailed, and looks really good. An artist by the name of
Tom Whalen
gives us a cover of Optimus Prime - red eyes, so Powermaster Prime maybe? - in a very stylized, "flat" looking image that creates shapes and depth entirely with color. I like it! Lastly, a very lively color by an artist named "Zerob" who I cannot find a website for. It's stylized in a totally different direction than Whalen's, depicting a disturbingly happy Arcee. The looseness and energy of it just seems to fit the book.
Next month, we return to the days of Galvatron the Barbarian and Livio Ramondelli, the usual artist for such stories, will return with him. What will Galvatron's adventures tell us about what's happening on Earth and Cybertron now?
| | |
| --- | --- |
| Reviewer | RAC |
| Date | July 10th 2017 |
| Score | (9 out of 10) |
| Reads | 3932 |
Back to Reviews Index