Meet Stardrive! Found by Rom and raised by the Solstar Order, she's not your average Spaceknight. But, by virture of being a Spaceknight, she's not your average Cybertronian either...
Rom Vs. Transformers: Shining Armor #1
is written by John Barber with art by Alex Milne and colors by Josh Perez.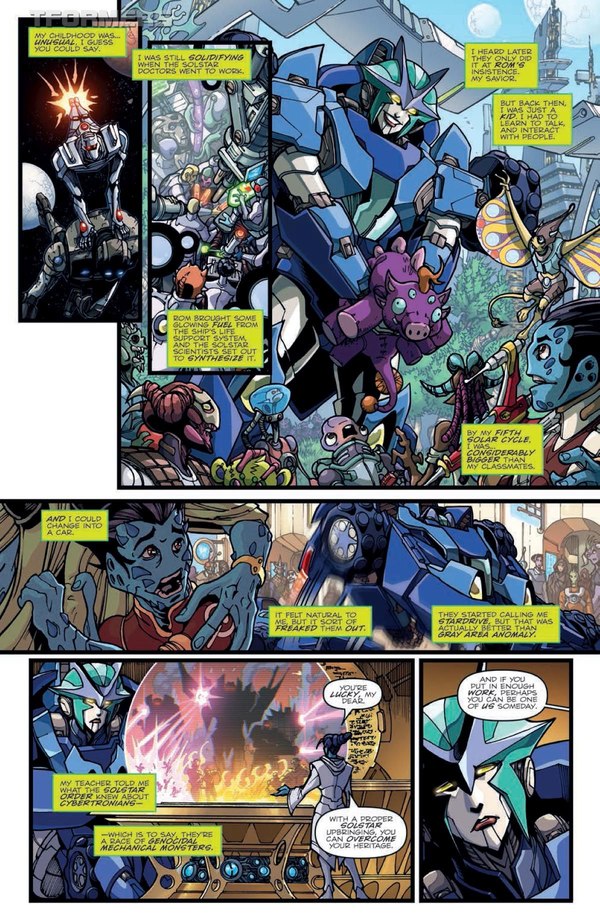 It is so nice to have Alex Milne back on interiors!
The story focuses on Stardrive, a Cybertronian orphan found and raised in Solstar space. Rather than Superman like you might think, she grew up more like an X-Man, hated and feared by those around her. (Cybertronians have a pretty terrible reputation in the larger galaxy, and it's... pretty well earned, honestly.) Stardrive is shaping up to be an interesting character so far, holding to her goals and ideals despite a lot of scorn from other Spaceknights and not even really being able to understand her own origins.
This is a setting-heavy issue, establishing a lot for those who haven't followed IDW's entire Hasbro stable. To be honest, I've only followed the Transformers part, but it seems that's the expectation, as setting the story within the Solstar Order puts a lot of focus on them. There's also a fair bit of the Galactic Council, who've been recurring adversaries in
More Than Meets The Eye/Lost Light
. That said, you really don't need to have been following IDW's Transformers comics to figure this issue out. In fact, though a specific timeline isn't given you may want to take note of the fact that Stardrive is narrating the entire issue in the past tense, as otherwise the presence of certain characters near the end of the issue may confuse you for a moment. (Like it did me!) The Cybertronian knowledge of female character Stardrive's existence in the past is something that may need further explanation later though - and if anybody can do that, it's John Barber, who has always excelled at telling stories that make the pieces fit together in logical and entertaining ways. Looking forward to the answers!
I've been very much looking forward to this comic because I have really missed Alex Milne's interior artwork. Milne's ability to render highly-detailed characters - be they organic or mechanical - would be noteworthy enough on its own, but his range of facial expressions makes this work, particularly with Stardrive herself. But also with the Spaceknights, who manage to be entirely expressive despite barely having what you'd call a face, even by Transformers standards of abstraction. And it's doubly good to see him drawing some Transformers characters that didn't generally turn up in his MTMTE run, as well!
Josh Perez works really well with Alex. There's a shot of a space station later in the issue which is just lit beautifully from inside and out. But more importantly, the metallic Spaceknights and Transformers all look glossy and very attractively metallic, which helps them stand out against the more subtle background colors. There are a few panels where I think that a more vivid background, coupled with the details of Alex's linework, could have made things a bit difficult to read. But this is complex, detailed art that reads with near-perfect clarity.
Alex and Josh get the main cover, and it's a nice movie poster style image. I like the expression on Bumblebee, especially. Also there's a bear? I don't remember seeing the bear in this issue. Maybe next time! Nick Roche and Josh Burcham's cover show Rom facing off against a swarm of Dire Wraiths... and Starscream. The composition here is just excellent, showing this gigantic cluster of muddy darkness bearing down on Rom. Paolo Villanelli and Alessandra Alexakis' cover has Rom and Stardrive headed into an asteroid field, and I like how Villanelli draws Stardrive here in particular. And lastly, we get a cover from David Lafuente and Lovern Kindzierski showing Bumblebee and Rom having a fistfight during what appears to be atmospheric entry. Again, that's not in the issue, but it'd make for a neat scene if we see it in a future issue!
This is a good establishing issue and does a good job of introducing us to the major players in the mini-series. I think it should be equally readable to those who've been following Rom, Transformers, both, or neither. And it looks great as well. I'm looking forward to learning more about Stardrive and how she fits into current IDW continuity, and seeing where else in the universe this art team gets to take us.
| | |
| --- | --- |
| Reviewer | RAC |
| Date | July 17th 2017 |
| Score | (10 out of 10) |
| Reads | 4029 |
Back to Reviews Index