Starscream comes to Windblade's rescue, but is not prepared for the enemy he must face. As Vigilem turns his attack to Starscream's mind, it's now up to Windblade to save them both and stop the echo of the corrupted Titan from escaping. Written by Mairghread Scott, art by Sara Pitre-Durocher, colors by Joana Lafuente.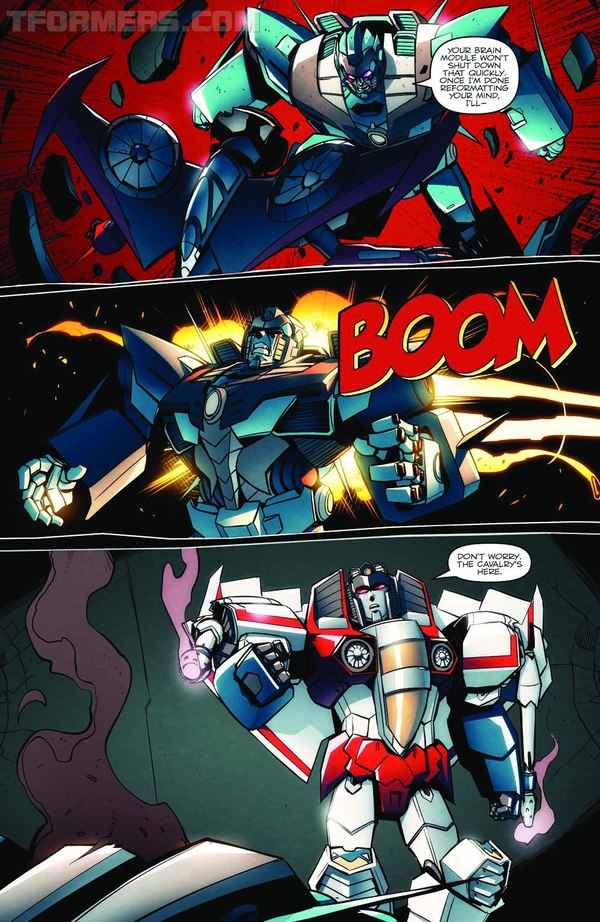 Starscream has his moment; it is brief.
Till All Are One is over, for now. An annual is planned for release at the end of the year to address some of the lingering threads left by the untimely ending of the title, but for now this is it. It's something I find very regrettable, as this series quickly established itself as the best of what IDW's Transformers output had to offer during the past year, and the license and certainly the readership suffer for the loss of it.
This issue is the culmination of some of Starscream's development, as seen over the past few issues. But for reasons, it doesn't really get to be about that. Without knowing how far along in process things were before the decision was made to end the book, I can only speculate at what might have been. What the issue does with Starscream feels like a bridging point to move in to a new chapter with Starscream by giving a very real point to start to break away from who he's been, who he was made to be by all the influencing factors in his life until very recently. If that assumption is correct, I hope some aspects of that move can be retained going forward, for as much page time as Starscream may get to have from here on out. And that's a big part of the loss here - Mairghread writes the best Starscream going today, and IDW's Starscream has had such a fertile ground around him to raise stories out of, being a feature character in this title was a perfect outcome. We're not really going to have a place for either of those things to go after this.
Windblade's role in this issue ends up being more to facilitate Starscream. I kind of don't like that it ends up feeling that way, especially since she has her own epiphany in the course of what happens, but since she's been out of action for a while prior to this issue, there's no exploration of that. It's something that falls in basically out of nowhere and then has no place to go, so it comes off forced and rushed, and there's not really a way I think we the readers can really grasp the real meaning of what she's saying in that moment. It's something I'm sure would have worked really well given an extra couple of issues to actually build out the concepts either before or after. Knowing that we can't really expect that anymore amplifies the problem of the presentation. Windblade does some cool things in this issue that I like conceptually, but it's majorly in support of Starscream which makes the issue feel much less "about her" and yet it still tries at the last to turn things around so that it actually was supposed to be partly about her all along, about her "finding herself". It just didn't work for me in this presentation.
There's some fun art here. We get a quick and interestingly executed look back through some of Starscream's previous body styles, something I'll admit I didn't quite catch on my first read. Remember, it's always worth going through a few times to look at all the pretty details! There's one page that has a fantastic panel taking up the entire middle third. I love the framing of it, the pose and build of the figure in focus, it's a wonderful image. Starscream gets a nicely done "heroic entrance" moment, as seen in the preview. Plus as usual, an assortment of great faces on both Windblade and Starscream at various points through the issue. There's even a bit of original character design that I really liked. The colors are all completely on point as usual. A panel of an explosion is colored brilliantly solely in the energy of the blast and it looks amazing. Definitely a stand out highlight of coloring, but all of it looks really great. The team of Sara and Joana on this book has been an outstanding match, and I'm going to miss regularly seeing their work together like this. It's so hard for me to call out things in specific that I liked in the art just because the two of them together are so consistently good.
Writing, lines, color, this book had a fantastic team behind it all along. It told stories I wanted to hear - and some I didn't know I wanted to hear. It kept focus on the most interesting setting in the current IDW Transformers universe and explored and grew characters within that setting wonderfully. It's a crime that it couldn't stay around longer, but Till All Are One made an incredible mark on its world while it was here. I'm grateful to have had the chance to read - and write about - this book, and I hope beyond hope that this team can be brought back together to tell more stories together in the future. Thank you for my favorite Transformers comic, and I can't wait to see that one more chapter when it publishes later this year!
| | |
| --- | --- |
| Reviewer | ExVee |
| Date | August 5th 2017 |
| Score | (7 out of 10) |
| Reads | 4278 |
Back to Reviews Index