Today's the day! Earth is about to take its place in the Cybertronian Council of Worlds in a grand public ceremony. That's not an invitation for disaster or anything, right?
First Strike
#1 is written by Mairghread Scott and David A. Rodriguez, with art by Max Dunbar, color by Ander Zarate, and lettering by Tom B. Long. Backup story
The Origins of Evil, Part One: Redcliffe Club
is written by John Barber with pencils by Netho Diaz, inks by Walden Wong, and colors by David Garcia Cruz.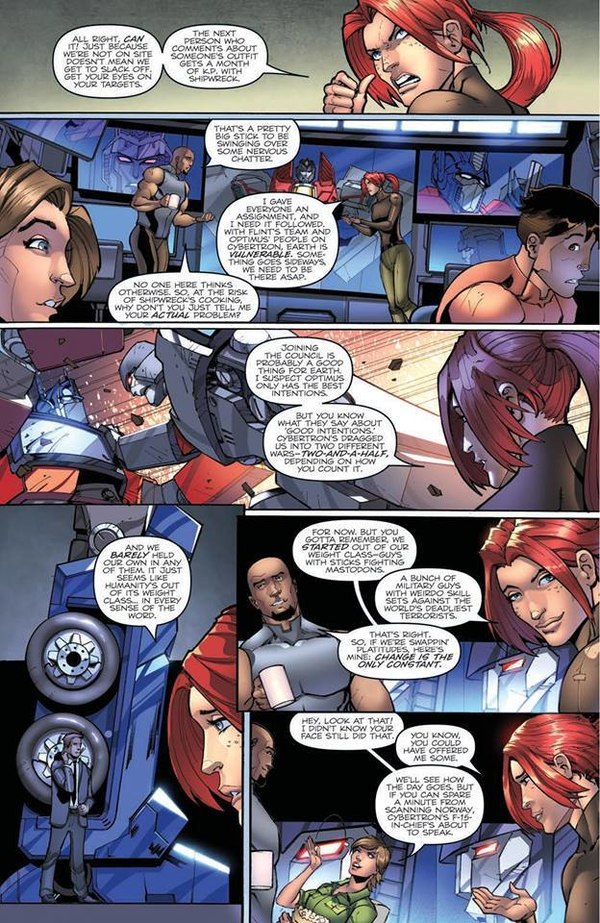 Meet the new, improved, Scarlett. This is as angry as she gets about anything for the entire issue, and it's a tremendously better book for it.
SPOILER WARNING:
The review is spoiler-free, but just to warn you, the issue itself contains spoilers for
Till All Are One
#12 and
Revolutionaries
#8!
I've recently talked about reader trust in my comics reviews, and
First Strike
is a great example of writers rewarding that trust. We're now in another IDW Hasbroverse crossover; frankly, I didn't enjoy
Revolution
much at all. A big part of that was their depiction of GI Joe's Scarlett, who came off as an impulsive fool and a poor commander. But I gave this a shot because Mairghread Scott - whose excellent (but sadly) final issue of
Till All Are One
is also out this Wednesday - is someone I trust to write characters who aren't stupid. And this issue is definitely living up to that expectation. In fact, a fair amount of this issue spotlights Scarlett being pretty much as cautious and analytical as the situation demands, and it's simply night and day compared to
Revolution.
The simple act of having her ask questions and keep an open mind (for lack of a less punny term) transforms her as a character - and since she's once again at the center of the story, that's very important. This is a Scarlett I don't mind reading, and one who drives the plot in intelligent ways.
Mairghread Scott's name on the cover is the reason I read this, but that's not meant to short Scott's co-writer, David A. Rodriguez (who was one of the writers on
Transformers: War For Cybertron
). In fact,
in a recent interview,
Rodriguez was talking about how much he enjoyed writing Scarlett. So we may have him to thank for making her into a much more believable commander and a much less infuriating human being all around. At any rate, no party in this issue is being pushed into conflict with another by snap decisions made out of fear and anger, and that makes a world of difference.
And though the action revolves around a terror attack on Cybertron, it's a pretty GI Joe-centric book! Considering what we learn about the villains during the course of the issue, that's not too surprising. (And though there are spoilers within if you've been following
Revolutionaries,
it's not at all necessary to follow the book. I've been skipping all of the non-
Transformers
IDW comics and this reads pretty clearly so far.) This issue spends as much time establishing the motives of the enemy as it does with the action, if not more, and I think that's a good thing.
This is the first comic I've read from
Artist Max Dunbar,
but Dunbar does a good, solid job. Both humans and Transformers are expressive and move well. You can have any two women in a single panel and their faces aren't completely identical. The layouts are easy to follow. The colorist,
Ander Zarate
, is new to me as well. At least on sequential work; they colored some of the profiles found in the back of
Revolution
. They seem to work well together, with Zarate making the most of the space in Dunbar's compositions. Zarate also has a very smooth hand in terms of shading which works well here. I feel like IDW's crossovers are usually working towards a very specific look that I want to compare to `90s and early 2000s superhero comics, and
First Strike
seems to fit that mold.
The backup story is written by John Barber with pencils by Netho Diaz, inks by Walden Wong, and colors by David Garcia Cruz. It's a simple story that expands on the formation of the alliance of enemies that our heroes are facing in
First Strike.
It contains spoilers for
Revolutionaries
so I can't go into much detail here, but it does help explain a few things - though it'll probably mean more to those who've followed the non-Transformers books than it does to me.
Since this is a Big Crossover, we've got
ten
covers going on here. So we'll take a look at the highlights. The main cover by Freddie E. Williams II and Jeremy Colwell is in an interesting if, in some ways, off-putting style. The robot faces are very organic looking in a way that reminds me of classic Transformers artist Andrew Wildman. The cover by Dunbar and Zarate is actually a pretty good summation of the issue, with Optimus Prime, Scarlett, and a bunch of Ninjas featured. Frequent
Doctor Who
artist Alex Ronald gives us a pretty painted cover of Optimus Prime and Scarlett. It's sometimes hard to do painterly takes on Transformers and humans together in a way that leaves both looking good and, for lack of a better term, "natural," but this works pretty well. And lastly,
Till All Are One
artist Sara Pitre-Durocher gives us the precise moment before everything goes wrong: Starscream addressing a crowd of humans while flanked by his bodyguards and security forces... as shots are headed directly for his face. Quite a few good covers for this issue, and that's only about half of them!
First Strike
is off to a much better start than Revolution. Everyone's motivations and actions make sense, even the villains, nobody comes off as dumb, and I like all our characters so far. This one's going to be twice a month for the next three months (not counting tie-ins), and that's a pace I think I can live with. Maybe this will be the book that makes me see this expanded universe in a positive light where
Revolution
couldn't - but really, I'll settle for it being an enjoyable comic in its own right.
| | |
| --- | --- |
| Reviewer | RAC |
| Date | August 7th 2017 |
| Score | (9 out of 10) |
| Reads | 3690 |
Back to Reviews Index