Baron Ironblood is on the move, and it's up to Scarlett and GI Joe to figure out what he's up to and how to get to Cybertron to stop him. But not all of the Baron's allies are from his own home planet... or even
universe.
First Strike
#2 is written by Mairghread Scott and David A. Rodriguez, with art by Max Dunbar, color by Ander Zarate, and lettering by Tom B. Long. Backup story
The Origins of Evil, Part Two: A Game Of Chess
is written by John Barber with pencils by Netho Diaz, inks by Walden Wong, and colors by David Garcia Cruz.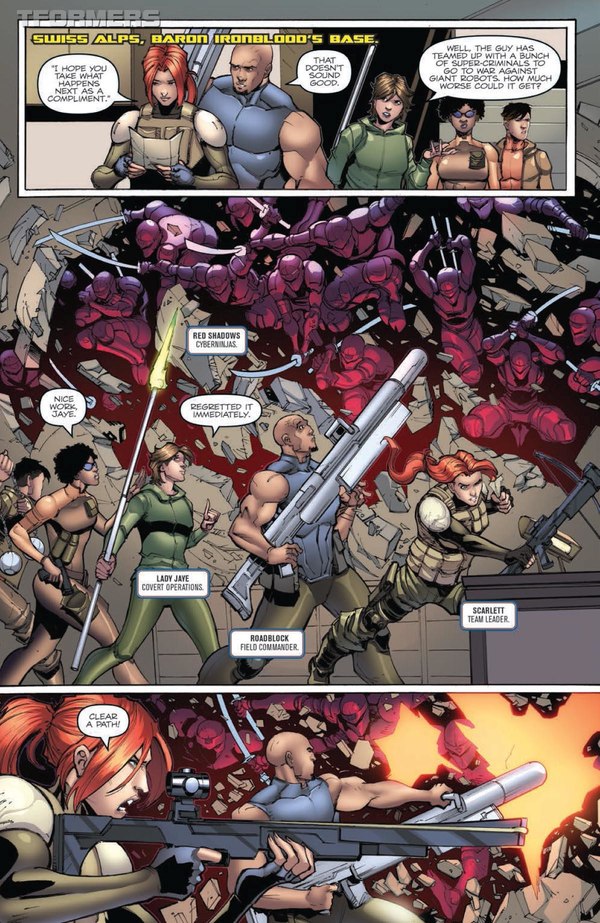 Isn't that just a nice effect?
SPOILER WARNING:
The review is spoiler-free, but just to warn you, the issue itself
still
contains spoilers
Revolutionaries
#8!
(Number 7 just came out!)
I'm still really enjoying this. For the amount of exposition in this book, it never feels like it's sitting still. And once again, nobody here is being written badly to facilitate the plot. Everyone here has their own motivations and skills and they're being used very well. It's nice to see some of the key players in
Till All Are One
here - obviously you're going to have Starscream since this happens on Cybertron, but Elita-One is here as well. The presence of humans is something that she never had to deal with in TAAO, and to see how she responds to them is enlightening to say the least. Also on hand are Skyburst and Stormclash from the Torchbearers, and I'm always happy to see any members of the team get a chance to break off and be individuals. Especially someone other than Pyra Magna, who's been getting a lot of the focus lately.
First Strike
is doing a fairly good job of character juggling as well, and a decent job of giving you at least some minor explanation of where everybody came from. There's a few exceptions: one is the Talisman, which apparently hails from
Revolutionaries,
and Lady Shazraella, the wife of Baron Karza, who first appeared in
Micronauts
#1 and previously encountered Cybertronians in the
Transformers: Till All Are One Revolution
special. For them, there's the TFWiki. I find it a bit hard to navigate to the page for TAAO Revolution, so
Let me save you a couple minutes and click here for the link.
Max Dunbar's art is still really enjoyable. It seems like Dunbar is slightly better at drawing female Transformers than male ones. Even blockier designs like the Helicopter Twins. But that could just be because the two male Transformers we spend the most time with are Optimus Prime and Soundwave, and those dudes are big piles of boxes. Ironhide's current body is a little more streamlined than either of them and he looks good. And in vehicle mode he looks great. On the Optimus Prime front though, there's a panel where Dunbar gets a fantastic expression out of Prime's minimal facial features, so there's good points to every part of the art. Ander Zarate is still doing an excellent job as well. The scene at the beginning of the issue really stands out to me. Here's GI Joe, standing around in a fairly grounded environment, earthy tones all around... and then darkness and blood-red ninjas come bursting through, looking appropriately like they do not belong there.
The backup story continues John Barber's tale of how Baron Ironblood got the band together. The art team from the previous issue is still here - Netho Diaz on Pencils, Walden Wong on Inks, and David Garcia-Cruz on Colors - and I really like how Destro looks in particular. I almost wonder if his face was patterned after Bela Lugosi. Other than that I'm not going to say much, because again, spoilers - but I do like having this running narrative in the back of the book explaining the villains' motivations.
We're down to seven covers this time! The main cover, by Freddie Williams II, is really made to shine by colorist Jeremy Colwell, whose careful delineation of foreground and background elements really makes the cover's complexity
work.
They're a good team. Dunbar and Zarate's cover is excellent as well, giving us scenes from three different parts of the universe. That Ironhide expression at the top is great. Alex Ronald's cover is a nice design in a movie poster mode. I get the feeling Ronald uses a lot of photo references for his compositions, because something about Roadblock's face reminds me of Christopher Judge who played Teal'c on
Stargate: SG1
. Rob Duenas is neat in how it's stylized, with its heavy outlines and Scarlett's Mega Man-grade boots. I don't know how this style of graphic design would work for sequential images, but it makes for a good cover. Jay Fosgitt has done
My Little Pony: Friendship is Magic
artwork for IDW, but this cover puts me more in mind of what a Hasbroverse Nickelodeon cartoon would look like. I really like Davide Fabbri and Monica Kubina's cover, because compared to the chaos on some of the others it's a very clean and orderly image, looking at times almost like a propaganda poster. It's not undetailed either - look at Destro's collar and some of the machine surfaces around the Talisman. But it's used for good effect as contrast, putting detail only where it's needed and not being afraid to have smooth, flat surfaces where
those
are needed. Nice! And lastly, Leonardo Manco's painted cover, which is of some of our villains and goes for an extreme contrast using highlights that works well.
This has been a pretty gripping story so far. It looks like next issue may put more of the characters in the same physical space, which could well be an invitation to spend more time with the corners of the Hasbroverse that First Strike
hasn't
touched yet...
| | |
| --- | --- |
| Reviewer | RAC |
| Date | August 21st 2017 |
| Score | (9 out of 10) |
| Reads | 3510 |
Back to Reviews Index