The four-way battle between the Autobots and Decepticons and Dire Wraiths and Spaceknights continues, with Stardrive caught in the middle. There's a lot to talk about, but nobody is really in the mood...
Rom Vs. TransformerS: Shining Armor
#2 is written by John Barber with art by Alex Milne and Josh Perez.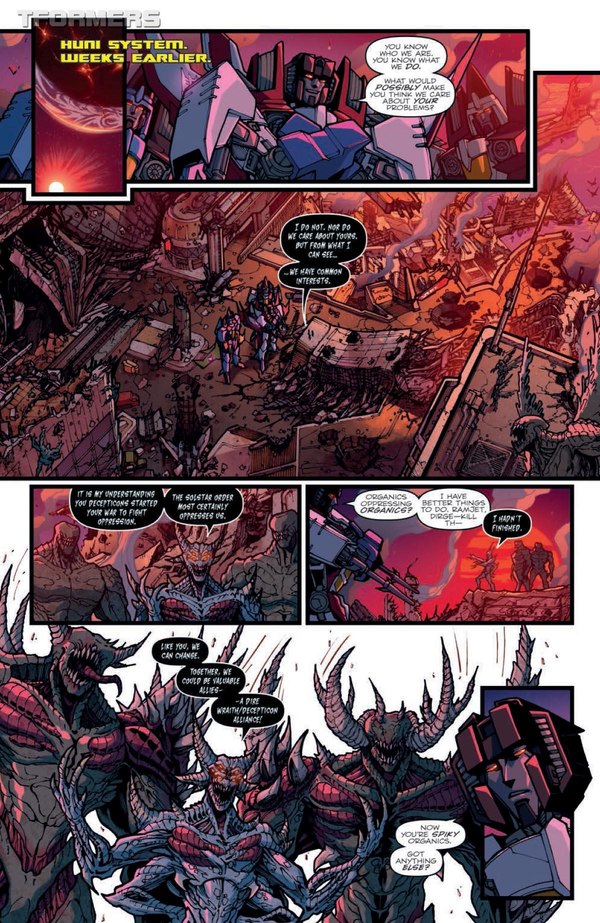 I was torn between this and the page with Starscream's "Don't touch me" line to Dirge. But I just love his bored face at the bottom there.
On the whole, this issue is about the mistakes people make due to prejudice and jumping to conclusions. Yup, it's the fight before the teamup. But it's handled well and entertainingly chaotic, and looks to be leading towards an interesting problem to solve in the following issues. Each character's prejudices and behavior are established perfectly well before they become problems, so there's solid setup for everything. And it's interesting to see a younger Bumblebee who's more focused on just getting along with everyone. Whether or not he's real, the Bumblebee in Starscream's head is a very different character, perhaps due to being forced to be the voice of reason in there. This Bumblebee still has strong ideals, but isn't perhaps as forceful about trying to get them across yet.
There's not as much Stardrive in this issue, though due to her Energon synthesizer being the point of contention the story remains
about
her. Near the end of this issue, her choices begin to move the story again. While a lot of this issue's narration comes from Bumblebee, Ultra Magnus stands out this issue - mainly by virtue of quickly showing us that this is not "our" Ultra Magnus. He's doing things that Minimus Ambus would absolutely never have done, and behaving in ways you can't imagine Ambus behaving. And oh wow, are the current Autobots better off without this guy, whoever he was! Tyrest was obviously not really thinking clearly for a very long time, if this is the enforcer he chose. Just for curiosity's sake, I hope we ultimately learn his true identity.
Alex Milne puts a lot of fun stuff into this issue. His Starscream is a smug, self-serving joy to watch, and Bumblebee's expressions are broad and great. And given some organic horrors like the Dire Wraiths to play with he goes all-out. There's one pair of panels I keep coming back to and thinking "Is there some
Evangelion
influence in that?" Whether there is or not, it's a great, monstrous image. Josh Perez could be just as responsible as Alex for the Eva vibe I get on some of these, because the strong red in the back of the one panel is just perfect for that mood. Again, they both work well together and they both seem to be enjoying themselves. Josh is a big Bumblebee fan and seems to be taking extra special care with him, because the coloring really adds to the comedy, especially in the big, expressive eyes.
Alex and Josh's cover is Starscream standing behind a horde of Dire Wraiths looking, as always, very pleased with himself. The attitude, the pose, and the variety of design to the Dire Wraiths all make this a really appealing cover. Tons of great detail! Nick Roche and Josh Burcham have Rom in the foreground, using the gleam of his weapons to delineate the factions in our story: Spaceknights, Autobots, Decepticons, and Dire Wraiths... all with Stardrive caught in the middle. It's a great design. And the layout works really well, because the space around Stardrive lets her stand out while still blending into the background behind Rom color-wise. They both draw focus in different ways. Bart Sears and David Garcia Cruz take a similar tack of using color (or the lack thereof, technically) to separate Rom from the background, but manages to separate the image into three distinct layers by giving Stardrive and Astrotrain darker delineation than the Dire Wraith monstrosity looming in the background. All really fine covers this month.
| | |
| --- | --- |
| Reviewer | RAC |
| Date | August 21st 2017 |
| Score | (9 out of 10) |
| Reads | 4179 |
Back to Reviews Index