As Optimus, Pyra Magna and Starscream wait to receive a very important phone call, Alpha Trion relates a story of the origins of the first Cybertronian unification, brought about by The Primes long before known history began. "Origin Myths" written by John Barber. Modern-day art by Kei Zama and colored by Josh Burcham; Ancient Cybertron art and colors by Livio Ramondelli.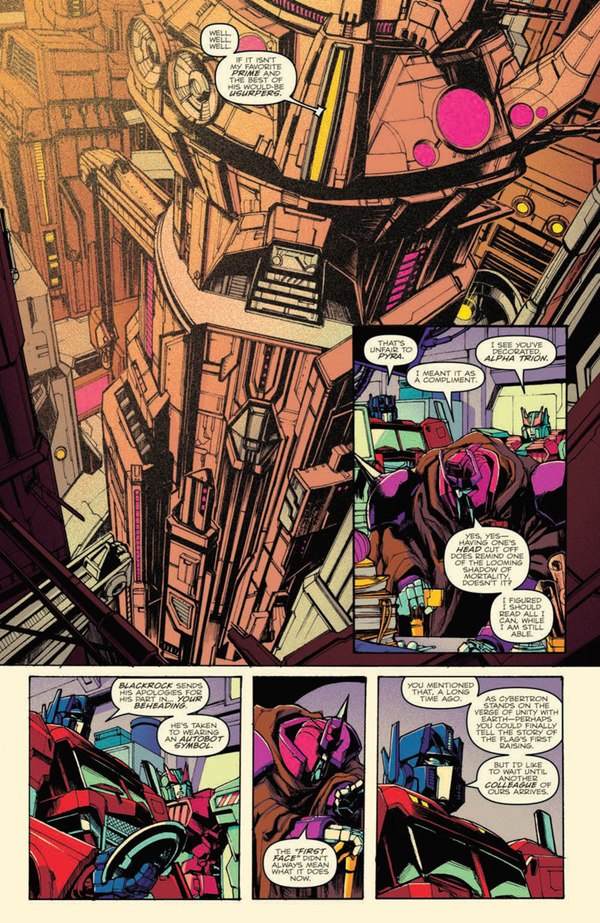 Kei, Josh, this establishing panel is brilliant.
I didn't like this issue. But I'm going to start with the positive qualities of it anyway. Livio's work on interiors has improved so very much even in just the last two years. This issue has some crowd action panels, and I don't have any trouble making out what's going on. It's clear enough in fact that I could even catch some of the more "easter egg"-esque design drop ins in such places. The filtering is restrained to where it actually just accents the art instead of overwhelming it. Details aren't lost in muddiness of moody coloring. The particular style he has with expressing character designs is probably still going to be an all or nothing factor: you'll either be fine with it or hate it, but I feel like being paired with Kei's art style leaves a little less of a style whiplash in the shift from present-day to flashback story. With the flashback being the bulk of the issue's content, I'm really glad to see the strength of Livio's presentation on it.
That said, I have little clue what this issue is actually about. It is a story of the time of The Primes and the beginnings of the first unification of Cybertron. But I mainly only know that because the preview blurbs said so. There's ...sort of... origins given for Galvatron and Arcee. But in a way where they have zero specific importance to the story and literally could have been anyone else's names dropped in to functionally the same effect. This looks like it was going for giving some backstory on the original Primes in effort to build up to them coming in to the modern story in a bigger way in the probably nearish future. And in the strictest of senses I guess it did, in that several made on-panel appearances and said words and so have a greater degree of identity within this continuity than they did before. The entire exercise seems hugely truncated or abridged. Like, Trion is telling the shortest, Cliff's Notesiest edition of the story of Cybertronian Unification he possibly can because he's got an early bird dinner to get to at 3:30. There's the faint impression of an interesting story of Cybertron's extremely early history - or maybe prehistory is more correct since there's almost no one alive now that is aware or seems to remember any of it?
But what I really get out of this is like checking off bullet points. There's an outline for this part of the timeline, and this issue was just knocking out a specific piece of a list of events to depict: Arcee + Galvatron history? Got it. The Primes being a living thing among the population? Done. Titans? Yep, got them in there too. See, I look at this like mixing together all these elements that for whatever longer reaching narrative reason need to be set up now but with little regard for if bringing all these things together at once makes immediate sense or indeed even fits together as a single story (they don't) or fit within the confines of a single issue's worth of pages that also has a few pages of framing story eating away at the available pagecount. Nothing feels like it's accomplished, little or nothing feels like it's revealed through the course of this. Maybe this is really secretly the story of Trion becoming senile and that's why it seems like this goes nowhere. One character even expresses confusion as to the point of Trion's history lesson, which only seems to reinforce that there's supposed to in fact be a deeper and important meaning to it, because isn't that always the trope? But going through multiple times, I'm at a loss to get anything more out of it that I had at the start.
Barber is usually good at putting together over-reaching plots while still keeping individual issues accessible. That and the continuity are kind of his hallmarks. But I'm not really seeing that on display here this time. It's genuinely disappointing, but I guess nobody can be in top form every single time around. At this point all I can really do is sit and hope that at some point in the nearer future we do get a followup that ties some of this together more so that in retrospect its purpose and meaning will end up being clearer. I love seeing the universe be expanded, so these ancient times tales are typically welcome. I'm sure there's a ton of depth to draw from here, but this issue was not at all the best representation of that idea, I'm sorry to say.
| | |
| --- | --- |
| Reviewer | ExVee |
| Date | August 28th 2017 |
| Score | (5 out of 10) |
| Reads | 3863 |
Back to Reviews Index