The Joes, the Helicopter Twins, and Soundwave are on their way to Cybertron! But what will be waiting for them when they get there?
First Strike
#3 is written by Mairghread Scott and David A. Rodriguez, with art by Max Dunbar, color by Ander Zarate, and lettering by Tom B. Long. Backup story
The Origins of Evil, Part Three: A Little Bit Of Mayhem
is written by John Barber with pencils by Netho Diaz, inks by Walden Wong, and colors by David Garcia Cruz.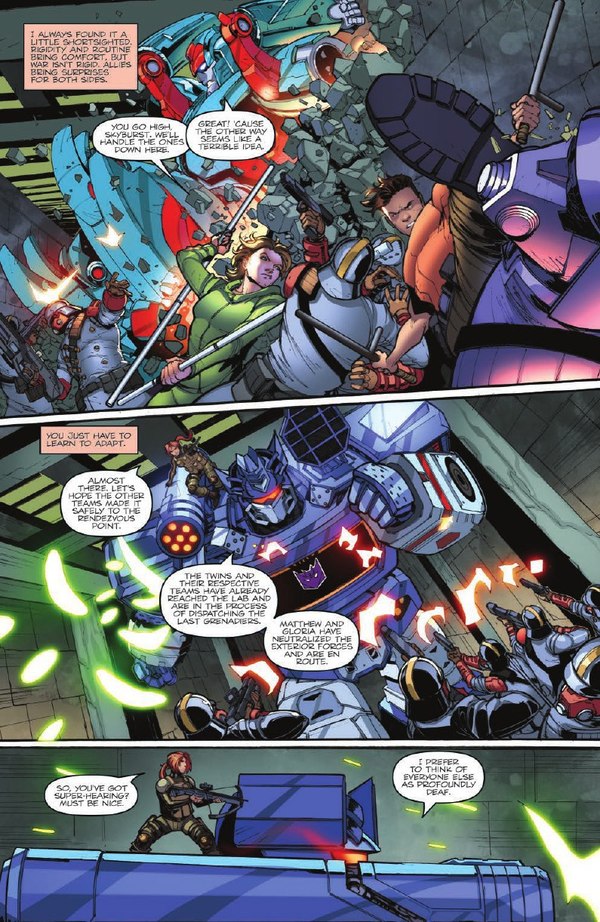 Best line in the book, though definitely not the only good one.
This issue feels like the momentum of the story has slowed a little bit; this is right around the midpoint of the story so that's not entirely surprising. But the character interaction and dialogue are fully able to take up any potential slack in the pacing. Soundwave in particular gets some good moments, particularly the one in the image above. But even the villains' squabbling and disparate personalities are played entertainingly. Colton, Snake Eyes, Destro, Miles Mayhem, and Lady Shazraella are a functional team, albeit barely, but they do not like each other. Which gives them something to talk about, definitely! It's fun to try and figure out who's betraying who first, but my money's on Mayhem at the moment. But the important thing is that I enjoy seeing all of these characters. There's not a single one who's a nuisance or a drag, and they pretty much all get a chance to contribute to the plot and the enjoyment of the book.
Max Dunbar is doing a great job here. As I said last time, his Transformers are getting more solid-looking just across these three issues. So at this point everything looks good and solid and moves well, and the facial expressions are great. It's hard to single out any specific thing while avoiding spoilers, but that's largely because Dunbar is good at
all
of it. But there's some great expressions here particularly on a character I shouldn't name. Ander Zarate continues to work well with Dunbar, particularly in the panels where Dunbar chose to omit backgrounds. Zarate ensures the colors enhance emphasis and mood there. Beyond which, the metal, cloth, and flesh in the book all "feel" different without having any kind of obvious textures, which is pretty impressive!
The backup story is still fun. Considering how much flack that Miles Mayhem takes from the other villains in the main story, it was a good move to show him getting recruited this time around. Also, shout out to John Barber's
Revolutionaries,
referenced in this story, for digging up the first of the more sci-fi/fantasy oriented GI Joe characters from the `70s: Mike "The Atomic Man" Powers, and Bulletman. Netho Diaz and Walden Wong give us a very grotesque scene as Mayhem dismantles Blitzwing, and it's appropriately creepy. David Garcia Cruz colors everything in muddy, bloody shades- again appropriate. Although, Blitzwing's removed optic looks disturbingly human...
Cover highlights: Leonardo Manco's RI cover shows a furious Optimus Prime shooting at someone or something. The level of detail on this just makes it creepy-looking - but in an interesting way. Cartoonist Jay Fosgitt gives us a cover that would possibly count as a spoiler if not for how abstract and goofy the character is. Alex Ronald's cover features a super-realistic looking Soundwave who I'd swear is based on a toy. I just can't figure out which
one
. Lastly, Dunbar and Zarate have another cover along the same theme as last issue's, showing off three different scenes from the story, and I just like how those work.
So far this is a pretty enjoyable event. I don't know that it's going to sell me on the non-Transformers books when all is said and done, but it's fun and it's keeping me engaged. Looking forward to seeing how this cliffhanger plays out next time.
| | |
| --- | --- |
| Reviewer | RAC |
| Date | September 11th 2017 |
| Score | (8 out of 10) |
| Reads | 4074 |
Back to Reviews Index