Thanks to Paramount for providing us with this sample copy of the film to review!
Transformers: The Last Knight hits Blu-Ray on September 26th, 2017, and we've got an advance copy to go over so you know what you're in for. We've gone with what's likely to be the most common release, the Blu-Ray/DVD Combo Pack. Let's take a look!
Packaging
It's pretty straightforward. A cardstock slipcover with foil finish and image identical to inner package. Very standard packaging for a major studio movie release on Blu-Ray. The interior has a slip with the Ultraviolet download code, but no other inserts or packaging. Bonus materials disc is on the left, movie discs stacked on the right. I don't particularly like disc-stacking like that in my packaging, but it's not too big a deal to me.
Disc 1: Blu-Ray Special Features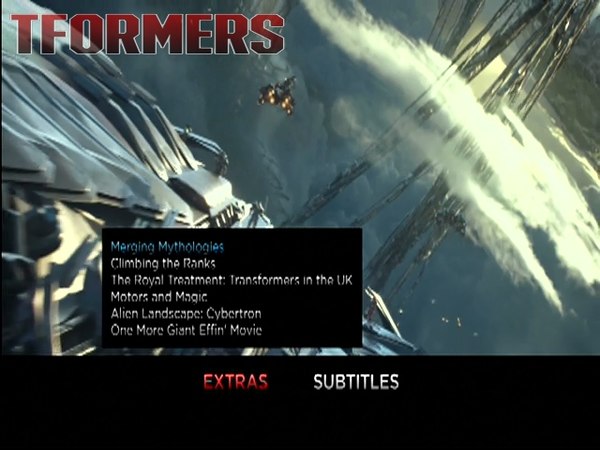 On the package this is Disc 2, but I'm going from left to right here. Bonus Disc Menu is very basic and easy to navigate. There's video running in the background, so it at least looks attractive.
This disc is all mini-documentaries about the film, including:
Merging Mythologies: The Secret Transformers History
- describes how TF5's script was created and how the history of the Transformers on Earth was developed. A full WWII movie and Arthurian movie were pitched, but ultimately folded into
The Last Knight
as the background for the film. A set designer created a full, intricate family tree for the Order of the Witwiccans complete with back-story, which we only get glimpses of in the movie. There's a fair amount of interesting details to be seen. The rest of the documentary covers the intricacies of the initial Arthurian sequence, which more than doubled in size after Michael Bay watched a battle scene in
Gladiator
and decided he wanted more horses.
Climbing the Ranks - Military Training
- a documentary about the military's relationship with the
Transformers
movie franchise. Michael Bay has a long relationship working with the US Military, and all Naval personnel you see in the film are authentic. Josh Duhamel and Santiago Cabrera also discuss their training regimen.
The Royal Treatment - Transformers In The UK
- Details the various shooting locations in the UK, including the Arthurian sequence and the car chase in London. The production was very happy to get locations that are usually not made available to film companies! A lot of time is spent on the production's time in Stonehenge - a replica had to be built nearby for the pyrotechnics, which could not be used near the original, naturally. Or, to quote a person interviewed for the documentary, "Hollywood isn't happy unless it's fake!"
Motors and Magic
- The most interesting documentary on the disc is about the design process for the Transformers seen in the film, and how existing vehicles were modified for the new movie. All the Autobots are covered, but the documentary only provides info on Megatron, Barricade, and Mohawk. No Nitro Zeus, Berserker, or Quintessa, let alone the Knights or Infernocus. The Knights get some time in one of the other documentaries, but Nitro Zeus and Infernocus are nearly completely absent from the bonus materials. A pity.
Alien Landscape: Cybertron
- Ah, here's Quintessa! The Cybertron scenes are discussed here. The reason that Cybertron looks more organic at the end of the film than you might expect is that the production decided that there needed to be some kind of soil holding together the hexagonal lattice seen in previous films. Also to better facilitate the creation of live-action footage taken on location.
One More Giant Effin' Movie
- Is a montage of entertaining and funny moments from on set. It's only a few minutes long and is pretty much worth the time it takes to watch it.
My usual favorite special feature on such a disc is Deleted Scenes - and there are none here. I think one of the special releases may have some, but the general releases don't seem to.
Disc 2: Feature Film (Blu-Ray)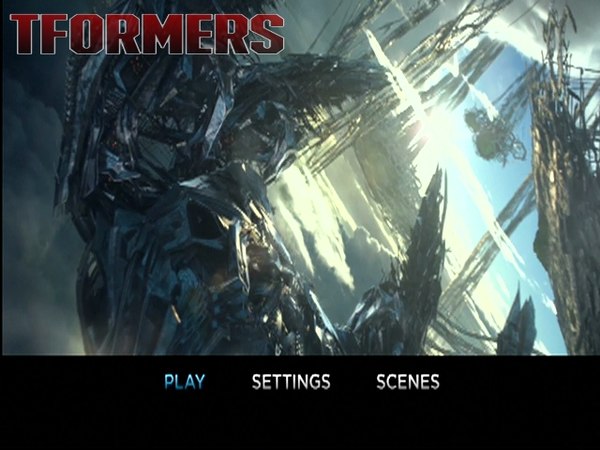 The menus are more or less identical to the Special Features disc. The transfer is good, looking clear and bright and colorful on my 720p monitor - I have no doubt it'd look yet better on a 1080p display. Likewise, the sound is fine on my 2.0 speaker setup, and if you have a 5.1 Surround or Dolby Atmos setup, the Blu-Ray is ready for that as well. As for the movie itself, I'm here to review the set more than the content, honestly. But I may as well spare a few paragraphs to talk about the film itself. It's still
Transformers: The Last Knight.
You knew whether or not you would like it before it came out, because it's just another live-action Transformers movie. If you love this movie, you might want to just skip down to the "Overall" section.
What did I like? Cogman is legitimately funny. Anthony Hopkins is too, and he manages to sell the latest rewrite of human/Transformer history to a greater degree than I'd have thought possible. Isabela Moner does a great job and she plays well with Mark Wahlberg. I wish she'd been in the middle part of the movie as well. The mechanical designs this time around are pretty solid. This is absolutely the best looking Megatron yet, and I'm happy Frank Welker has finally gotten to join Peter Cullen in claiming his classic role. It's probably the best movie in the series since the 2007 original. It's less pointlessly, viscerally cruel to its robots than any of the other sequels. It's lightest on stereotypes. It's the sequel I would qualify as possessing the least character assassination of Optimus Prime.
But...
We now know that it's not just two incomplete movies awkwardly stapled together, but
four
: Arthurian Transformers, WWII Transformers, Wahlberg/Moner, Wahlberg/Haddock. Izzy and Sqweeks are introduced at the beginning of the movie and vanish for most of it, only to reappear at the end so she can rush into danger with everyone else, which is stupid. But turns out to be good, because the US Armed Forces, the TRF, and the Autobots cannot destroy a single turret - but Sqweeks can. The tradeoff to Prime's being less vicious is that he is absent for much of the film and very nearly reduced to a Pokemon named "I Am Optimus Prime." People have painted and sculpted art with Transformers in it for centuries but somehow they have remained a secret. No soldier who served in World War II ever thought to mention all the robots either. Laura Haddock gives us a Big No as Optimus Prime is attacked by the Knights - why? He was evil the last time she saw him and they'd never met before! Bumblebee's voice is heard for the second first time after
last
being first heard at the end of the first movie. Excalibur has the magical power to allow Mark Wahlberg to block a blow from a robot 20 times his size and probably 200 times his weight. (Incorrectly blocking a
kick
from another human being is a great way to break your arm. Perhaps more apropos to this scene: there are historical accounts of people blocking an attack from a heavier weapon using their longsword and rendering their fingers wholly useless for
life.
) Despite this incredible, magical power, it is never used again. Hey, let's all laugh at Nerdy Science Guy rejecting nebulous, nonsense Robot Mysticism in place of real science! Ha ha, Nerdy Science Guy! Logic has no place here!
...oh wow, I just realized: they really did it. They included Nerdy Science Guy in the movie for no reason at all but to mock the idea of serious logical thought applied to a Transformers movie.
If you enjoy the movie I'm not saying you're wrong, certainly! It's a technical marvel as always, and there's definitely enjoyable parts, and more of them than we've seen for a couple movies now. But it's not for everyone; nothing really is. More to the point, if you think about any part of it logically in comparison to another part, or in comparison to previous Transformers movies, or other Transformers fiction, or
reality
, you're simply done for. If you're reached a point in your life when "just turn your brain off" isn't something you can do when you consume media - or something you don't feel you should
have
to do to the degree that Transformers movies demand of you - just let this one go, watch some clips of Hopkins and Cogman when and where you can, and know that you're not alone.
Disc 3: Feature Film (DVD)
As above but in 480p. Seems to be a fine transfer, though on my HD monitor it looks a bit less saturated than the Blu. I bet it looks just fine on a CRT television.
Overall
It's a pretty standard presentation for a big summer movie, as far as home video releases go. I've got no complaints, and anybody who wants a physical copy of
The Last Knight
in HD should be satisfied with this.
If this release doesn't match your preferred format, Paramount is also readying versions for every currently active home media standard with 4K Blu-Ray and 3D Blu-Ray being the ones that aren't represented in this set.
| | |
| --- | --- |
| Reviewer | RAC |
| Date | September 20th 2017 |
| Score | (8 out of 10) |
| Reads | 3913 |
Back to Reviews Index