Finding themselves on an alien world, four intergalactic factions work towards different goals. But how to achieve those goals isn't something anybody agrees on - and the differences don't fall squarely along party lines.
Rom Vs. Transformers: Shining Armor
#3 is written by John Barber with art by Alex Milne and colors by Josh Perez.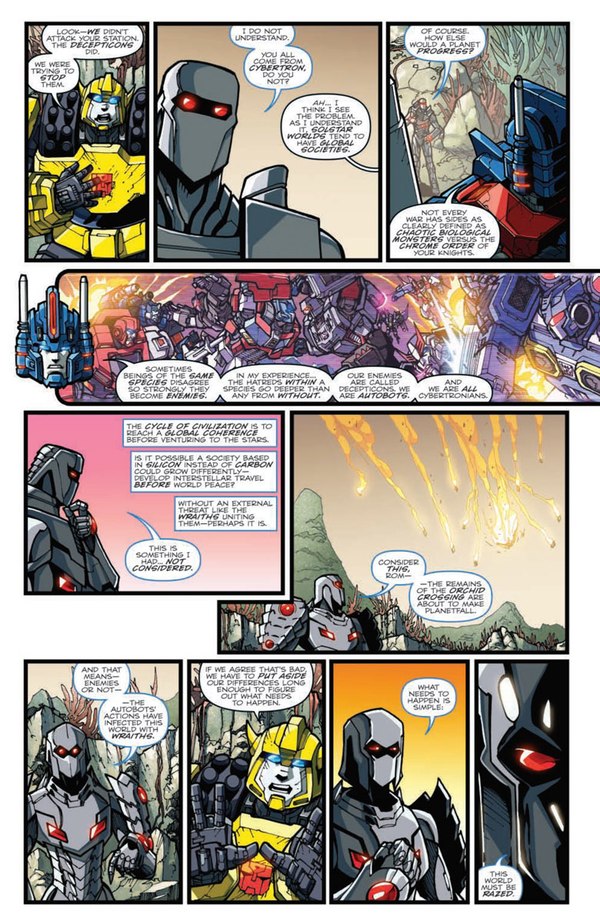 This is such a Star Trek conversation. Love it.
There's a lot of world building detail here that I like, and that fits into the story naturally. The Solstar Knights have a lot of trouble understanding the concept of a society that didn't unify itself before heading into space - which is a lot less likely when you have people who turn into spaceships. Meanwhile, Starscream has trouble wrapping his head around the concept of a fully-disposable army like that of the Dire Wraiths. Which, though Starscream himself has little issue with disposing of people, does make sense: he tends to do that quietly and without their consent. Being able to sacrifice people for the merest whim would be an odd one for him. Meanwhile the Spaceknights have their own quandry: should they exterminate the natives of this world to prevent the spread of the Dire Wraiths, or is there another way? If you've been following the comic so far, you'll have a pretty good idea of who comes down on which side of that argument.
Alex Milne gets a lot of fun things to do this issue. There's a lot of fighting, a lot of aliens, and a lot of heated conversation - all very different things that Milne is very good at rendering. After years of
More Than Meets The Eye
his style of faces and facial expressions feels very natural and very comfortable. Also, I really like the design for Bumblebee here, which calls back to his 1984 Cybertronian form and adds some big, chunky wheels. I think this issue also has the best look we've had at Stardrive's alt modes - plural, explaining the name! - and man, I would be more than fine with a figure of her. Maybe in next year's SDCC set? Meanwhile, Josh Perez's colors give us an alien landscape with a sky that ranges from beige to magenta while the sun is up. Battles with colorful characters firing colorful energy blasts against vivid sunsets... it's always nice to get a comic this bright.
Three covers this month. Alex & Josh have Rom, Stardrive, and Bumblebee trapped in a space swamp with Dire Wraiths bearing down on them. Again, so much great color here, and well in keeping with the palette of Xetaxxis as shown inside the book. Nick Roche and Josh Burcham have Stardrive and Rom fighting as Bumblebee tries to stop them. Not anything that happens specifically within the issue, but nicely provocative. I love Roche's old-school metallic shading on Rom, and how well Josh Burcham picked up on it. Casey Coller and John-Paul Bove pit the Spaceknights, Stardrive included, against Starscream, Dirge, and the Dire Wraiths. The art is super-clean and I like Starscream's expression. Bove did a good job of picking up on Perez's palette for the issue's backgrounds and putting his own spin on it as well.
I'm still enjoying this series a lot. It's a lot of fun, and it's great to look at. Over the next few issues we'll find out which perspective(s) win out on what to do for/with Xetaxxis, and what Stardrive decides to do with her life. Looking forward to it.
| | |
| --- | --- |
| Reviewer | RAC |
| Date | September 27th 2017 |
| Score | (9 out of 10) |
| Reads | 3864 |
Back to Reviews Index