Scarlett, the Joes, MASK, and their Cybertronian allies know exactly where Joe Colton is going and have a good idea of what he's trying to do. Unfortunately it's not their planet, and they don't get to decide how the pursuit will be handled - or who will handle it.
First Strike
#4 is written by Mairghread Scott and David A. Rodriguez, with art by Max Dunbar, color by Ander Zarate with inking assistance from John Wycough, and lettering by Tom B. Long. Backup story
The Origins of Evil, Part Four: Hitting The Big Time
is written by John Barber with pencils by Netho Diaz, inks by Walden Wong, and colors by David Garcia Cruz.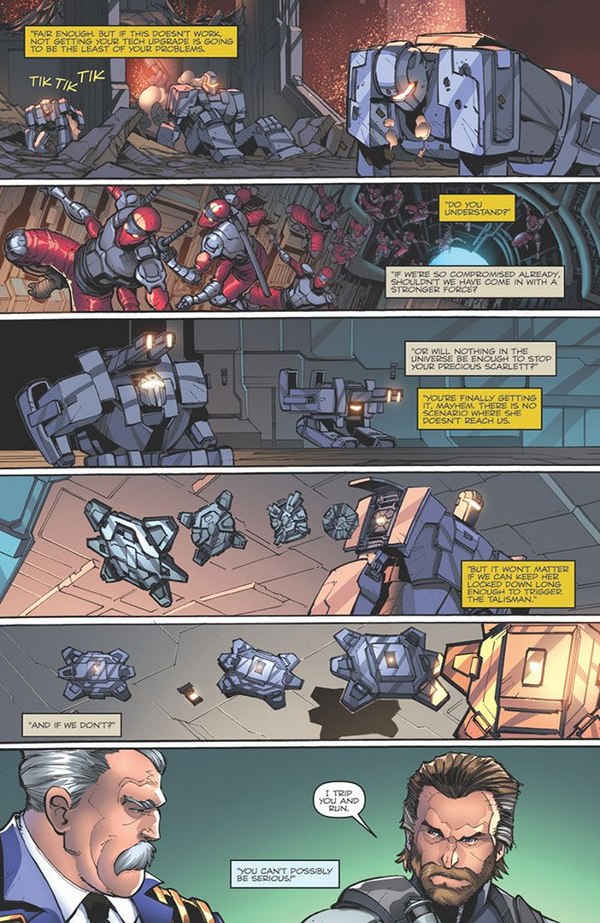 As I said last issue, the villains are just as entertaining to watch as the heroes.
There's a lot of things to like in here. My two favorites are, again, the interplay of the villain group, which remains entertaining, and also Scarlett's extended conversation with Optimus Prime. It contains an origin for GI Joe as an organization that I like very much, and manages to get to the heart of both character's personalities, their motivations, and their failings. And, ultimately, what it is about those failings that gives them common ground.
The argument that Prime isn't as good a peacetime leader as he is a military commander is made by more than one character, and that's something that's come up in discussions I've had with people going back to the original cartoon version of him. It's a good way to look at the character, I think, and helps flesh him out. Er, so to speak. It complements John Barber's writing in
Optimus Prime
to not only point out that Prime is flawed, but to have his failings
called out
by others here. Barber's done that to a certain degree, but I feel like Mairghread Scott and David Rodriguez manage to put their finger on it in a succinct way - one that will work well for those who haven't been keeping up on
Optimus Prime.
There have been versions of Optimus who have been less than perfect to be sure, and startlingly so at times - but what sets IDW Prime apart is that the narrative is willing to
accept
that this is the case and put a spotlight on what his issues are. Because if the world a character inhabits doesn't acknowledge a character's flaws, they then become a flaw in the world or how it's presented. That's not a problem here.
Max Dunbar does a pretty good Starscream. I feel as though I can almost put my finger on the specific action figure head design he was inspired by, but it works, most importantly. Also, I think there's a little bit of Kurt Russell in his Joe Colton, and I like that. I think the more organic looking robots like Shazraella work better in his style, but overall everything looks pretty decent. Ander Zarate makes everything look good in a very glossy kind of way, especially for the robots, and does an excellent job of making sure the cast stands out from the backgrounds. That's not always easy with this many different colors in play!
The backup story for this month is the recruitment of Lady Shazraella - who in case you've forgotten is the wife of
Micronauts
foe Baron Karza. The backup stories have been both enjoyable, and well-coordinated with the main story so far - and in this case the two of them combined hint at a bit of chemistry between Shazraella and Miles Mayhem. Sure, why not?
My three favorite covers this month in no particular order: Leonardo Manco does a pretty simple composition of Scarlett standing in Optimus Prime's hand, but something about it just reminds me of a late-`70s-early-`80s movie poster, and I like that. This is the first cartoony cover from Jay Fosgitt that has really hit for me. Something about Soundwave's suit and labeled briefcase just makes that work. Lastly, Dunbar and Zarate have another triptych - and the whole thing is good, but the bottom part is my favorite. Scarlett's team, in shackles, standing in Starscream's silhouette... that could make a great cover in and of itself.
With two issues to go
First Strike
has definitely been worthwhile and entertaining to me - and I say that as someone who decided with
Revolution
to stick mainly to the Transformers comics. If the TF comics are the only part you read as well, I think you'll still find it enjoyable.
| | |
| --- | --- |
| Reviewer | RAC |
| Date | September 27th 2017 |
| Score | (10 out of 10) |
| Reads | 3723 |
Back to Reviews Index