Joe Colton has to be stopped and Scarlett and her team are the only ones with the knowledge that Optimus Prime needs. So it's time to bust them out of prison. But it's not going to be that simple - on any level.
First Strike
#5 is written by Mairghread Scott and David A. Rodriguez, with art by Max Dunbar, color by Ander Zarate with inking assistance from John Wycough, and lettering by Tom B. Long. Backup story
The Origins of Evil, Part Five: One Unholy Machine
is written by John Barber with pencils by Netho Diaz, inks by Walden Wong, and colors by David Garcia Cruz.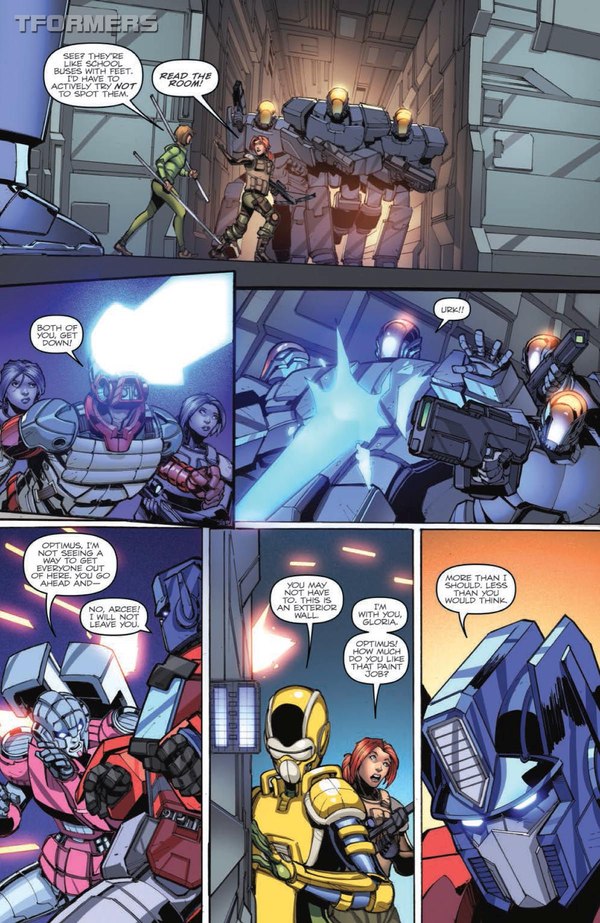 I like the setup here: Optimus Prime is going to break the rules to break out Scarlett and help her stop Joe Colton. But where the world bends for people who do such things in other universes - even other
Transformers
universes - it's made abundantly clear that Optimus isn't going to come out of this clean. There will be consequences for breaking the law on Cybertron - and it may even cost him a friendship or two. I think that's a logical thing and a good way for these stories to work; "break the rules, get rewarded" is not a thing that actually happens, nine times out of ten. "Break the rules and perhaps be legally exonerated on the rare occasion there was an actual good reason" is a more realistic perspective. And most of all I like that Optimus realizes this, and accepts it. If you're really serious about breaking the rules to do what's right, you have to be ready and willing to accept the punishment afterwards - something, just for an example, that Prowl was never willing to do.
And the back-and-forth within the heroes' and villains' teams continues to entertain. These are entertaining people to watch, even the villains. Watching both teams bicker and crack jokes is a lot of fun. I like having the opportunity to laugh even when something serious is going on. It's a component of the comics I grew up with that I think is sometimes greatly underestimated. I crack jokes when I'm nervous and I know I'm not alone in that, and the comics I enjoy most tend to reflect that, as this one does.
Later on there's a scene that has Colton displaying the leadership qualities that you'd expect from the founder of GI Joe. It points to the tragedy of Colton as well: he's not your average self-serving tyrant like the rest of his team, more a man trying to do what he thinks is right for everyone(human) and has taken a seriously wrong turn. I think the story is drawing parallels between what Colton is doing and what Prime is doing in that, in both cases, intentions aren't as important as actions. I'm hoping that the sixth issue helps tie that together.
Max Dunbar (with inking assists on two pages by John Wycough) continues to do a good job with this story. The robotic cast is looking better every issue, though Optimus' truck mode does seem a little bit too square. That's a tough balance to strike though, and other vehicles drawn by Dunbar throughout
First Strike
have looked very good. And Dunbar's Windblade is particularly good too. That's a head design that is difficult to do well if you over-emphasize the headdress. Ander Zarate's colors remain great and bright. And there's a scene later in the book that has a lot of nice, subtle shading as well. Great work from everyone involved!
The backup story this time concerns
Sgt. Savage & His Screaming Eagles
villain Garrison "General Blitz" Krieger, his contribution to Colton's team, and his motivations for joining it. I feel like Krieger is probably the least fleshed-out of the villains so far, but that's likely my fault as I haven't been following
Revolutionaries
. This feels a lot more like catch-up material than the rest of these have, but it's still good and gives us a solid amount of background on Krieger.
I'm going to keep doing the thing where I talk about the three covers I find most interesting, because eight is just a lot to be writing about and for you to read through. Dunbar and Zarate's cover is another triptych, with Colton's eyes staring furiously out from the cover as Prime's team and the Cybertronian government bear down on him (and possibly each other!). Rob Duenas' cover is very stylized and busy but I kind of like it. I'm not sure what bearing it has on the contents of the book either - no sign of ROM or Dire Wraiths yet, are we ahead of ourselves by one issue, perhaps? Lastly, Ilias Kyriazis has a simple cover showing off some of our villains. This is another one that gives off a Kurt Russell vibe for Colton, and I think it fits. I wonder if that was a specific art direction that was given, or just a coincidence?
The finale is in two weeks. If things continue on as they have, I fully expect it to be very entertaining, and for
First Strike
to be the most successful of all of IDW's Transformers-related crossovers to date, even as far back as Dark Cybertron. I hope so, anyway!
| | |
| --- | --- |
| Reviewer | RAC |
| Date | October 8th 2017 |
| Score | (9 out of 10) |
| Reads | 3883 |
Back to Reviews Index