Stardrive has had it - with Autobots, with Decepticons, with Dire Wraiths, and even with her fellow Solstar Knights. So then, what is she going to do about it?
Rom Vs. Transformers: Shining Armor
#4 is written by John Barber and Christos Gage, with art by Alex Milne and colors by Josh Perez.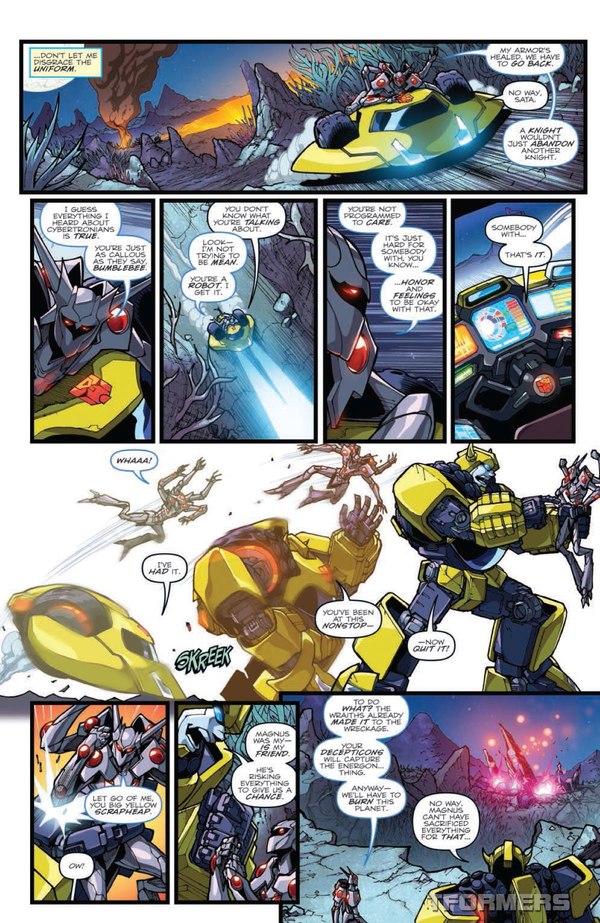 Gotta be honest here: not feeling the warm fuzzies for the Spaceknights as a whole.
First things first, a
CORRECTION:
Boy do I feel like a chump, because I've been forgetting to credit ROM writer
Christos Gage
in every one of these reviews. That's just bad, sloppy work on my part, and I apologize to Mr. Gage for the omission. I've been enjoying this book quite a bit and his contribution should not be overlooked.
Stardrive has a lot to cope with in this issue. Rom obviously cares about her, but the rest of the Spaceknights are, to put it bluntly, racist jerks. This Ultra Magnus isn't exactly friendly. And Starscream is Starscream. Meanwhile Rom and Bumblebee mean well, but Rom has his own priorities to attend to and Bumblebee isn't really willing to press a point unless it's an emergency at this point in his life. So it's little surprise she's pushed to a point of not wanting to trust anyone. It's a natural outcome of the characters and forces she's surrounded with, and... well, I'm kind of
with
her on this one. I'm really hoping she comes out of this alive because I'd be happy to see her again in the future.
Starscream is in great form in this issue as well, playing the manipulator and (as usual, especially prior to his ascendance to the rulership of Cybertron) thinking he's better at it than he is - even as he pauses mid-pitch to whisper uncertainty about the identity of his lamented dead subordinate. And in classic Starscream fashion, it looks very much like all of his schemes are about to backfire on him spectacularly. Every writer handles a character differently of course, but it doesn't take much to see how Barber & Christos Gage's Past Starscream would grow into the version we've all come to love from Mairghread Scott.
I don't think it's possible to overstate how good Alex Milne and Josh Perez make this book. There's some truly monstrous stuff in this issue, and like every other aspect they nail it. I can't be specific due to spoilers, but I love this one panel looks to have some
Evangelion
influences. Regardless of whether that's intentional or not - but I bet it is -it's just perfectly framed and colored. So good. I know I've said it before, but Alex in particular is doing spectacular work here. Robots, monsters, humanoids... all with tremendous emotional range, even when their face is two red dots floating in a tin can. Even when it's just a visor in the middle of a facemask.
Alex & Josh's cover is excellent, a little more muted than the interior of the book to match the grim happenings it shows. It's a good comic book cover that gets the point across without being a literal representation of the interior. Nick Roche and Josh Burcham's shows Dire Wraith leader Vekktral attempting to possess Ultra Magnus... complete with an Autobot colored version of the background used when Unicron recreates Megatron in
The Transformers: The Movie.
I like that! Fico Ossio and Joana Lafuente's cover shows a wounded Bumblebee in the foreground as Rom fights a Wraith behind him. Lafuente is always good, and Ossio does a good Bumblebee here in particular, and I think he's growing on me in general.
Next issue is the last. We'll find out the fate of Stardrive, and as I said above, I hope it'll be a good one. Regardless, it'll be an interesting one.
| | |
| --- | --- |
| Reviewer | RAC |
| Date | October 16th 2017 |
| Score | (10 out of 10) |
| Reads | 4610 |
Back to Reviews Index