It's almost time for the big ceremony admitting Earth to the Cybertronian Council of Worlds! ...wait, I feel like we've been here before. Have we been here before? Well, yes - but not from the Revolutionaries' point of view!
Optimus Prime: First Strike #1
is written by John Barber with art by Guido Guidi and John Wycough, with coloring by Thomas Deer.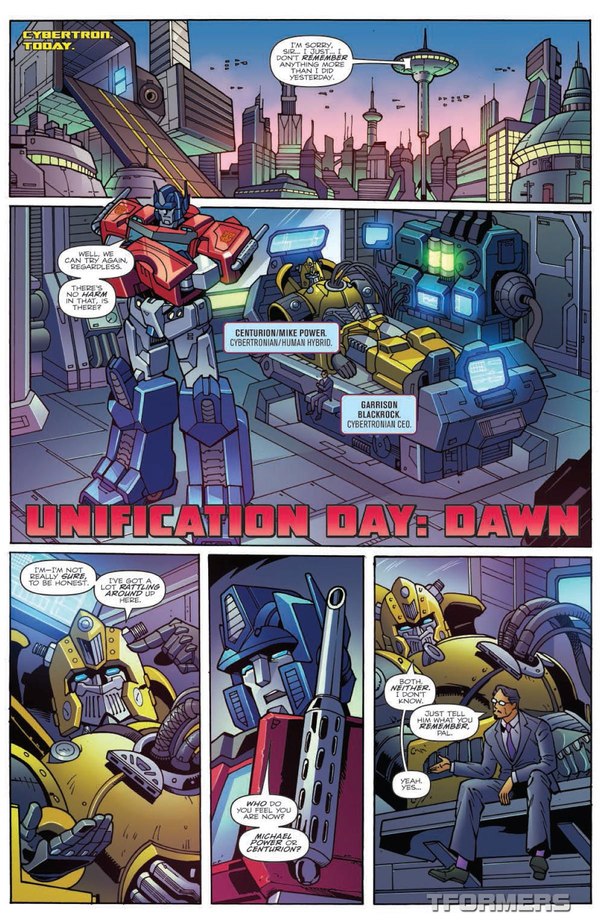 For those who haven't been following Revolutionaries, Centurion here is a fusion of `70s GI Joe character The Atomic Man and a character named after a G1 Marvel character who thought he was Bumblebee and was the version of Bee we saw during Hearts of Steel. I think we've reached Peak John Barber.
First thing to mention: for those who were looking at this and the
Transformers: First Strike
special hoping for relatively complete side-stories that related to the main story perhaps indirectly? The kind of thing that supported
Revolution?
That's not what we're getting here.
Optimus Prime: First Strike
is the first part of a story that continues in the second special that is more or less happening concurrently with the main
First Strike
book. I don't know if it's a good or bad change, but the
Revolution
one-shots were the best part of that event, in my opinion.
On top of which, though Optimus Prime - and, obviously the Transformers - appear within the story, it's seemingly not as focused on the cast of
Optimus Prime
as the cast of John Barber's
Revolutionaries
. I think that's fine and worth exploring, even if
Revolutionaries
isn't a book I've been keeping up with... but it adds to the not-what-I-expected aspect of this issue. Since Prime ends up in the events of
First Strike
proper it looks as though the next issue will be even more so. It's pretty enjoyable overall, that said, and it's nice to see what Barber's been doing elsewhere. And having read
First Strike
but not
Revolutionaries
it's not hard to follow, and I don't think you'd find it cryptic if you hadn't read either. (And it's a good way to get people caught up on those characters if they'd been sticking to Transformers comics only like I have.) That said? I think people who've read both are going to be the ones who get the most enjoyment out of it.
The art is credited to Guido Guidi and John Wycough. Wycough is credited with inks on
First Strike
issues 4 and 5, so I assume that's what he's doing here as well. They make a pretty solid team, though I feel like Wycough's inks have a softening influence on Guido's lines. It's not bad, just feels a little different from most of Guido's work. Of course, since he's an incredibly versatile artist he may have made this choice himself, though his cover art makes me think otherwise. But regardless, it's still good-looking, and intricate in a very clean way - that's something I've always associated with Guido. He also has a certain grasp of how the G1 characters' faces looked and worked in animation, and any time he pulls that out it's a treat to see. Thomas Deer's coloring is a great match for this. He uses some very hard, nearly animation-style highlighting on the robots here. He also conveys the heat and haze of the fire and explosions going on throughout nicely.
Four covers here. Sara Pitre-Durocher is fantastic as always. She always draws great metallic textures in her painted covers, and if she's done Optimus before in this style I don't think it's been recent. So nice! Guido's cover really brings home the
Revolutionaries
bent of the issue, with Kup, Optimus, and Blackrock overlooking Centurion, who looms over his other self: Mike Powers, the Atomic Man. It's a good cover design, and it helps to illustrate the difference between Guido alone and Guido with Wycough's inks. Image artist Whilce Portacio's cover with colorist David Garcia Cruz is my favorite of his late Transformers covers, with Prime carrying a flaming sword across a battlefield. His art would work well with the style Kei Zama and Josh Burcham have been laying down in the main
Optimus Prime
comic, I think! And Paolo Villanelli and John-Paul Bove have a nice-looking cover focusing on characters, save Kup, who haven't featured on any of the other covers yet.
The next issue is titled
Transformers: First Strike
#1. I'll reserve my feelings about that for when I read it, but if it continues along these lines I think
Revolutionaries: First Strike Special
#1 and 2 might've been the better titles for these. If not just
Revolutionaries
#9 and 10. But hopefully we'll get a good sense of how these characters fit into the event, and where they're headed afterwards.
| | |
| --- | --- |
| Reviewer | RAC |
| Date | October 16th 2017 |
| Score | (8 out of 10) |
| Reads | 4366 |
Back to Reviews Index