Scarlett and Optimus have caught up to Joe Colton's band of villains, and now they have to stop them. Mentor and protege fight for the fate of a changing world!
First Strike
#6 is written by Mairghread Scott and David A. Rodriguez, with art by Max Dunbar, color by Ander Zarate, and lettering by Tom B. Long. Backup story
Coda: The Signal
is written by Scott and Rodriguez with art by James Raiz, and colors by David Garcia Cruz.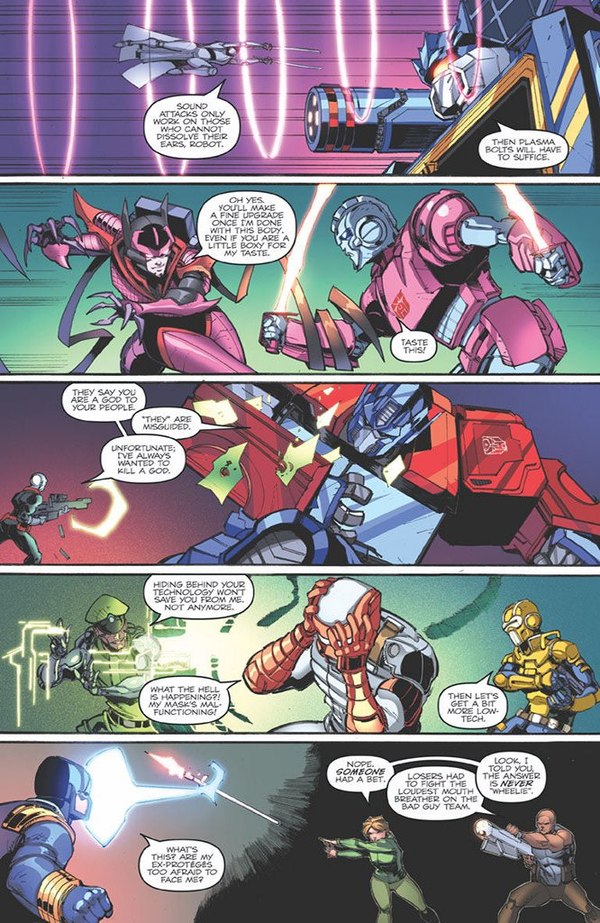 Good fight scenes this issue!
The ending comes out of left field a little bit. Once you see what happens and take it in context with what we know about what's coming next via recent announcements, it all clicks into place. I'm not saying it's poorly done, because it's not. But there is a small hitch that I wish I'd known about before researching this review. A line from an earlier issue is called back to: specifically, from
First Strike Issue Zero.
If you've never read that... there's a variety of good reasons, as the TFWiki lays out. The four-page comic that the ending of
First Strike
calls back to was included in the back of a
Hasbro Heroes Sourcebook
that was delayed until two issues into the series it was prefacing, and so hastily sent out as a near-completely unannounced comic in advance of
First Strike
in June. It's not necessary to make things make sense, but I suspect that reading it would have helped the plot twist seem less abrupt.
No mistake, I've really enjoyed Scarlett and the Joes here even though Transformers are why I'm reading this. Scarlett and Colton's conflict isn't really resolved, because some things can't
be
resolved. That lack of personal resolution is compounded by the fact that there are no clear winners in the end due to the plot twist. It's a very Event Comic thing, the Twist, in that it's more in the service of setting up the next round of comics than it is in the service of
this
story. That's the nature of the beast, and I suppose I should've seen that coming... but I hope that Mairghread Scott and David Rodriguez will take it as a compliment that I was invested enough in
this
story,
their
story, that seeing this turn of events and knowing what it's for feels like an intrusion on some level, an interruption of the personal story between Scarlett and Colton. But then again, real life does intrude on personal stories all the time, so how the Twist hits you is probably going to vary by how invested you are in the conflict at the core of
First Strike
- and how invested you are in what's being set up.
The fight between Scarlett and Colton is really well staged, very clear and easy to read. Max Dunbar has a great grasp of the fundamentals of comic art here, and keeps the fight focused and never disorienting. Things do get intentionally hard-to-follow when the chaos starts a bit later in the story, and Dunbar does well with that too. Ander Zarate's color still complements Dunbar's lines very well, and the issue is very bright and colorful. I almost wish the backgrounds in the Colton/Scarlett fight were a little bit
less
so, because the fight itself is so grounded and so solidly done that I wish the colors were maybe a bit more muted throughout, because at some points they're practically a distraction. That's just my personal preference, though.
The backup story this time, the "Coda" is another setup piece, but one that I'm a lot more comfortable with - likely both because it's more directly connected to Transformers, and also because it happens fully independently of Scarlett and Colton's conflict. While Scott and Rodriguez remain on writing this time - taking John Barber's backup slot - James Raiz takes over on lineart. While undeniably talented, I've felt in the past Raiz' very detailed style wasn't working for me on IDW's Transformers characters. But oh wow, did they pick the right subject for him to come back for! His detail work is just what this story calls for, and I'd be more than happy to see him come back and work with these characters again later. David Garcia-Cruz remains as the backup story colorist, going for solid colors and hard shadows. He leaves the detail and nuance up to Raiz' linework, and this is a great choice that helps put Raiz in a more favorable light along with the subject matter.
Zarate and Dunbar get one last triptych cover in, and it spotlights Scarlett and Colton, as you'd think, with the Talisman between them. I really like these. Freddie E. Williams II & Jeremy Colwell's cover has pretty much all the good guys (plus ROM, who wasn't even in this issue, and Starscream, who is Starscream) leaping into the fray. I like Colwell's coloring on this, and I like how Williams draws both human and robot faces. I especially like how, even at the size she's drawn, you can tell Scarlett doesn't have the same face as Lady Jaye! Lastly, Jay Fosgitt's thumb-wrestling cover is cute.
So, while
First Strike
stumbled at the end, I still enjoyed it quite a bit. It was less chaotic than
Revolution
and easier to follow, and most importantly I come out of it liking Scarlett, which
Revolution
was not good at making you do. Nobody in this was ever made dumb just to advance the plot; characters' motivations were believable and the flaws that drove the plot were also believable. While the ending's not doing it for me, the Coda is great. And my dissatisfaction with the ending isn't enough to keep me from recommending the series as a whole. It's well worth reading.
| | |
| --- | --- |
| Reviewer | RAC |
| Date | October 23rd 2017 |
| Score | (7 out of 10) |
| Reads | 3890 |
Back to Reviews Index